What's better than getting high on Cannabis on 4/20? Cannabis and Sex, yes please!
Whether it's love with someone or yourself, we don't judge here at Cannapolitan. We're pretty free spirited ourselves. So when we were approached to review this set of Cannabis and intimacy products by High on Love, we couldn't resist to see what they had to offer. After all with a name like "High on Love" it better be good! HighOnLove®, a luxurious woman-owned line of sensual and self-care products. This review required our team of reviewers to actually split up and try out these new "toys" on their own. We put our sexiest Cannapolitans on the job, here's the details.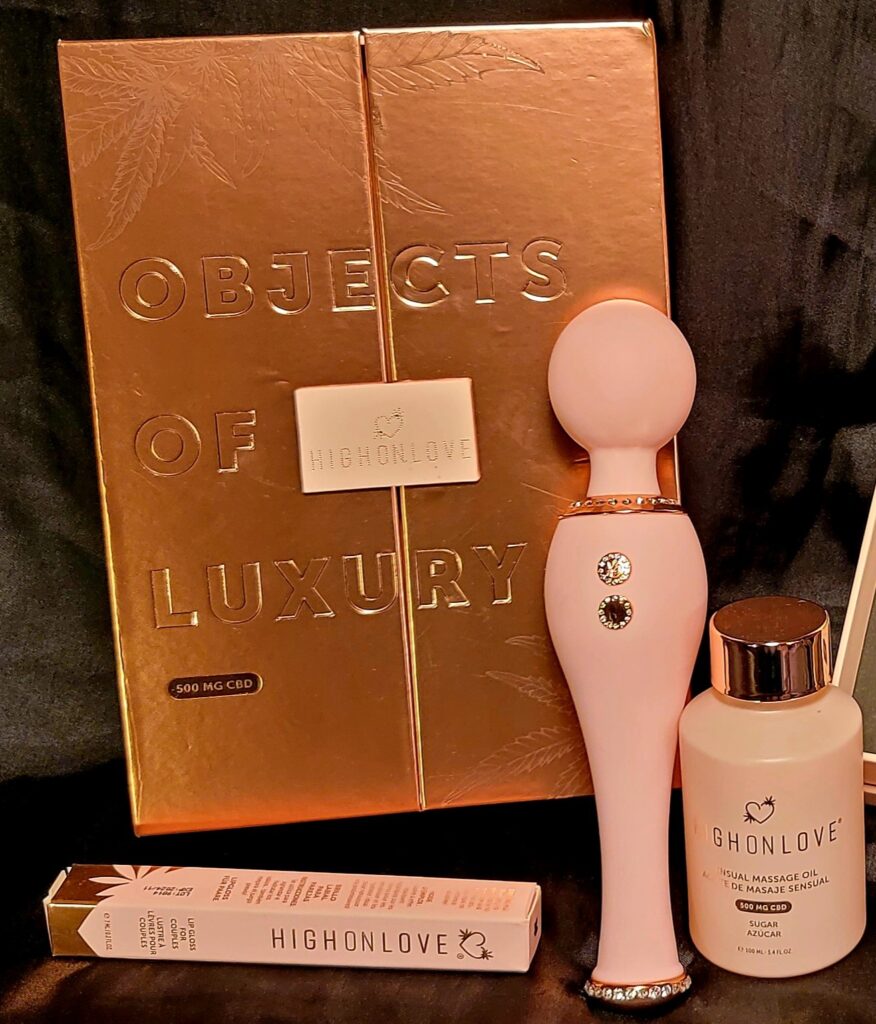 4/20 Love Fest Everyday
Welcome to the world of High on Love, the full service Cannabis sex experience! We were quite turned on to learn that this brand is available nationwide for their CBD line, which includes a wide array of massage oils, "stimulating O gel", bath oils, body butter, even water based CBD lubricant. They even have a stimulating lip gloss!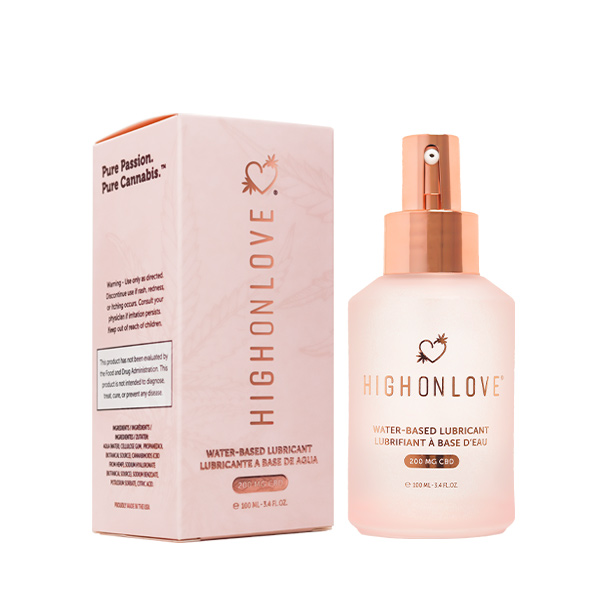 Personal CBD Lubes are Not All the Same.
For many people, adding CBD lube to your sex play has been known to assist in a variety of reasons for use including; heightened, increased pleasure, reduce pain during intercourse and more. Cannabis and personal sex lube isn't a new idea, but it has been tricky to find a Cannabis lube that was latex friendly. If you use latex condoms you can't use certain types of lubricants. High on Love addresses this problem by offering a water based CBD lubricant.
HighOnLove's Water-Based Lubricant, made with 200mg  CBD. It's safe for use with all types of condoms. It provides long-lasting moisture while encouraging blood flow for heightened pleasure. Fragrance-free, non-staining, vegan and cruelty-free. HOORAY!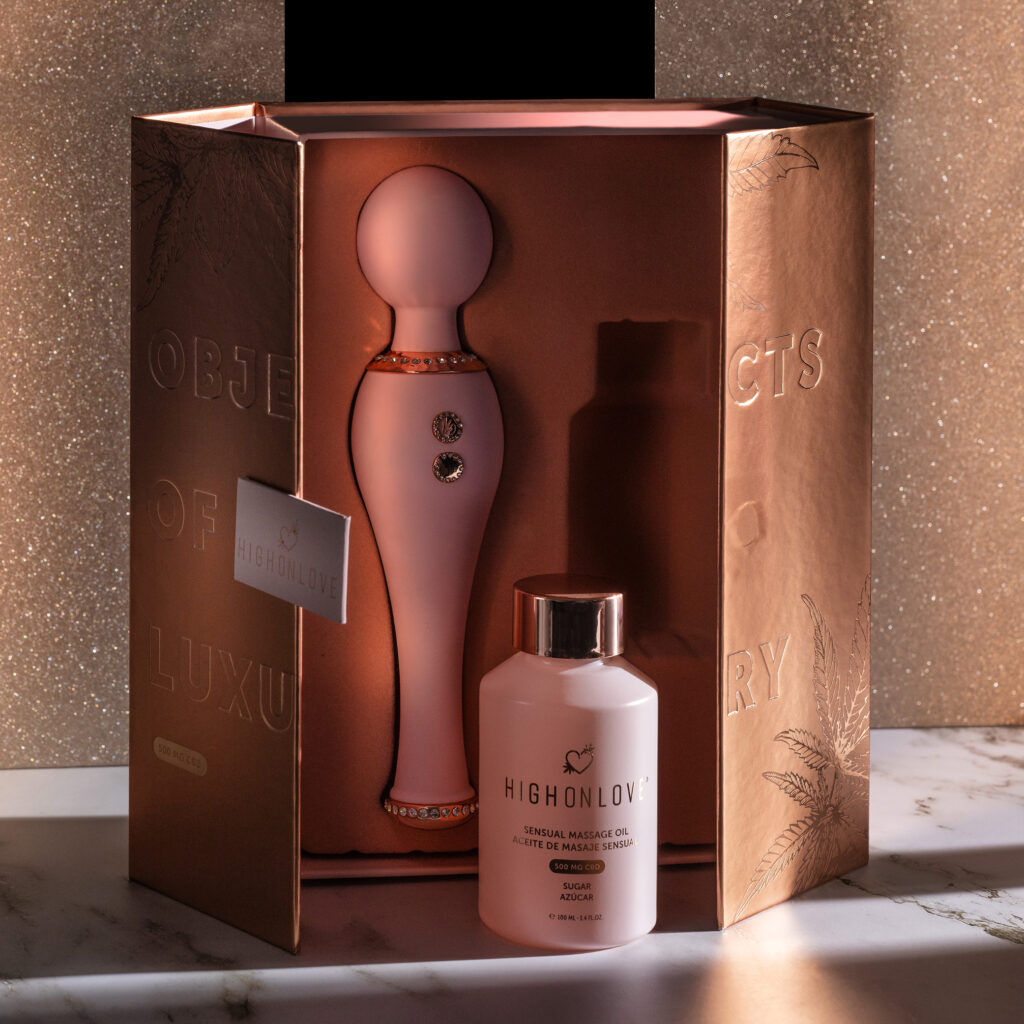 HighOnLove's Objects of Luxury
This massage set is perfect for solo massage and with a partner. With just a few drops of this sugar scented massage oil, you're sure to get in the mood for some relaxing vibes. This set offers both the massage oil and this powerful rechargeable flexible head massage wand has five speeds of intensity. The very feminine detail makes it even more attractive with gold and diamond like embellishments on the bottom and at the base of the neck. Even the buttons are blinged out! This thing can work out your stress all the while providing yourself or your partner a well deserved massage.  High On Love's Objects of Luxury will keep you and/or your partner engaged and excited all at the same time. You're welcome!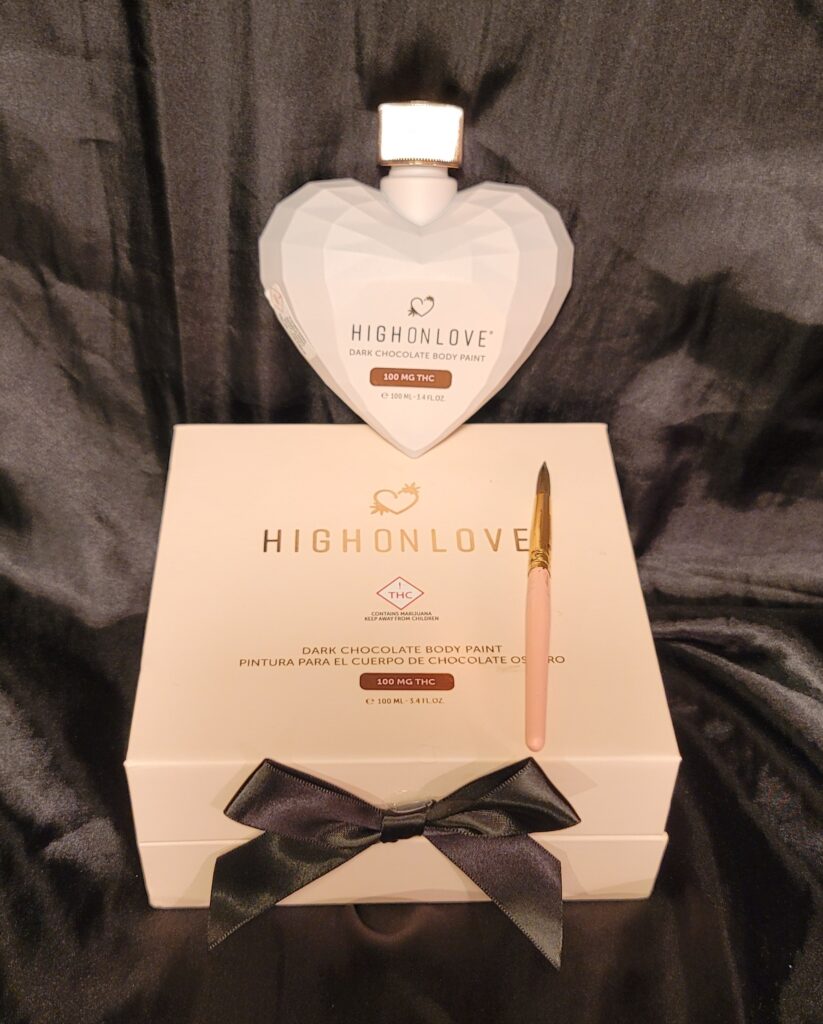 High On Love's Dark Chocolate Body Paint
Ya, we aren't done yet! You got time to get kinky, this is the set for you! Currently the THC version is only available in Colorado or Oregon at this time of press, but we're hopeful they will be able to expand their THC versions into more states as time goes by. This ultra luxurious dark chocolate sauce is next level!
Never in all our years of experience have we seen a THC infused chocolate body paint!
This beautiful glass heart bottle contains a total of 100mg of THC infused in a dark chocolate that has to be tasted to believe. One key thing is to shake it and really mix the bottle vigorously so that the THC oil stays blended well with the dark chocolate sauce. The kit even includes a paint brush so you can get creative and get high with every lick! We'll leave it to your own imagination on how to make the most of this sexy enterprise. This luxurious dark chocolate body paint is one of a kind. There is also a non THC version available, check it out here.