710 (aka July 10th) is that other Cannabis holiday that celebrates Cannabis concentrates exclusively.
July 10th is here, the second most popular Cannabis holiday of the year, aka 710. What inspired this holiday you ask? Well 710 upside-down gives the image of OIL, thus a holiday celebrating Cannabis oil or otherwise known as concentrates. Just like all things in culture, especially Cannabis culture, these traditions and inventions travel through the country over time and then are cemented as another Cannabis cultural holiday.  This holiday started long before legalization in many states. Yet your local dispensary (in legal or medical states) will be gearing up for great sales on all concentrates and vape pens, and more to take advantage of the day.  But, honestly do we need a holiday to celebrate Cannabis? YES, WE DO!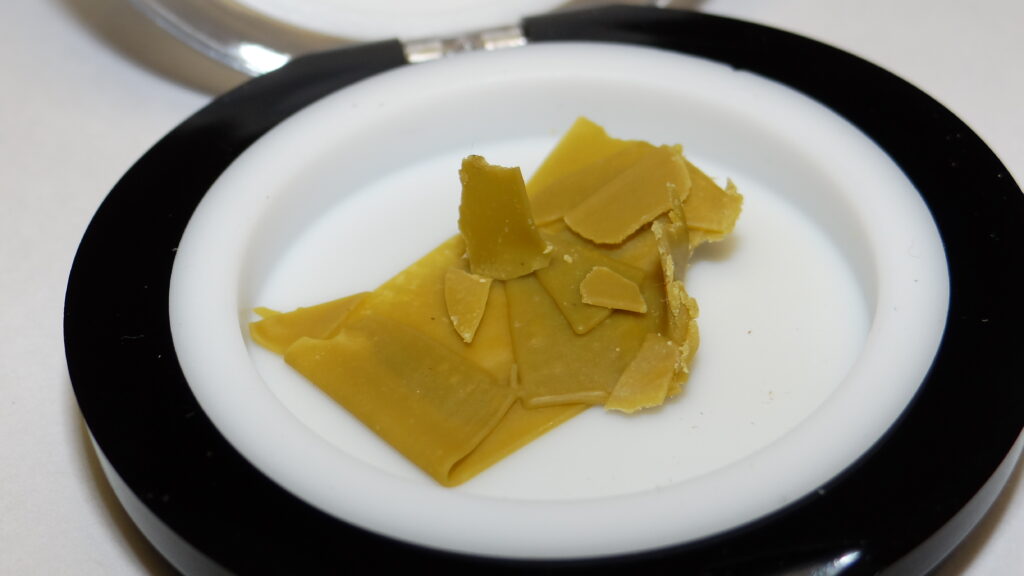 The above hash is created by pressing Cannabis flower by heat and pressure called Rosin.
In fact, any day we can use Cannabis to make our days better, more meaningful, more accepted and appreciated, we're there!
Now that you know what 7/10 is all about, (yes, it's a Monday this year) find a sesh near you to gather and share your concentrates with friends alongside with your favorite rig. How to enjoy concentrates without having to buy a torch and water pipe that is designed for concentrates, check out our recommended product highlight below on the Ispire DAAB device that takes the guess work out of "dabbing".  This is a brief feature, if you want to check out our full length review of the Ispire Daab, click here.
Dabbing Devices
Cannabis consumption has come a long way, especially in the last decade with concentrates particularly. What once was metal nails and torches (no offense who enjoy that method). Now there are all-in-one electronic devices that safely heats your dabs and vaporizes them at exactly the temperature range you desire.
As consumers we've evolved as well, we're living in an electronic world. These devices have opened doors and minds of people who would not consider Cannabis concentrates. Especially for the ease of use these devices offer today. Every year new products come on the market that take it to the next level.
Introducing the Ispire Daab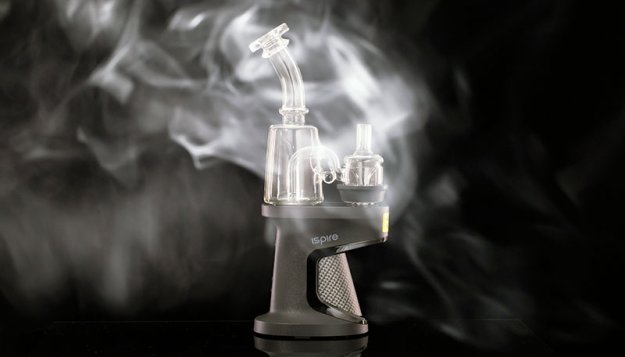 Open the box- easy installation and operation from the jump!
The Daab is so user friendly from the moment you open the box you're set at ease with easy instruction. Ispire knows we Cannapolitans can get a bit carried away and lose the instruction book, so they put the most important details on a soft Daab pad so that you always have them. Another immediate thing that you notice when you open the box is the wonderful hard-shell case that houses your Daab. This right there had my attention like they care how we care about carrying our dab rigs, secured and safe while traveling. This device is going to beckon you to take it with you everywhere, so it's nice to have such a dope case! Get ready to blow some minds too when you bring your Daab to the sesh! Ispire has created a few other limited edition styles of the Daab. Check out our feature on the out-of-this-world Astro Daab here.

The Technology and Functionality Creates Superior Taste & Precise Temperature Delivers
Perfect dabs every day, all day! Yes, we said all day because you can charge your unit at the same time use it! That's something most other devices on the market today don't do! Nothing spoils a great sesh like a dead battery, not with the Daab! With a temperature variance of 200-800 F, you're sure to find that special temp that you prefer. However, we recommend if you enjoy your Terpenes, then low temp dabs are your jam, just like ours. In our experiences temps between 515-530F seem to be as hot as we need them to be. Batters, sauces, and soft concentrates melt and vape beautifully around 515F. Whereas diamonds melt and vape best around 525-530F.
Less fuss, more dabs!
The functions we most enjoy about the Daab is its ease of use, cleaning, and quick heating times. It's super easy to clean the bowl with a Glob Mop and take your second extra bowl and load it up and drop it in the device. Seshin' hasn't been this easy, ever! Check out our FULL detailed review on the Daab here:  This device checks all our boxes!
We have tested the Daab with various team members of different ages from 25 to 68, the learning process to use the Daab is quick and successful. I can't get my 60 something mom to use her smart phone right, but even she can operate the Ispire Daab. That's how easy and inviting it is to use. The induction heating technology that Daab uses is reliable and we feel like Ispire is a company that backs up their products well. To learn more on how you can purchase your own Daab visit here: Go to getIspire.com
Get Your Dabs On and Taste The Flavors!
The only thing left to do is decide what concentrate to put inside and enjoy. If you're unfamiliar with how to use these devices at first, don't worry, there's always someone in your crew that will know or there's certainly no shame in watching you tube videos on use is always a good place to start.  A guide to quality concentrates is coming to Cannapolitan in the upcoming print issue, we'll keep everyone informed on that date as soon as possible. Stick to us and bookmark Cannapolitan to visit often. Thank you for sharing Cannapolitan with friends and family too!
As always, stay elevated, hydrated and above all- Cannapolitan! Happy 710 Everyone!