We're Professional Grade Cannabis Enthusiasts (and smokers) at Cannapolitan
That said, we only want to bring you the very best products and Cannabis brands that we use or partake with everyday. The culture and technology is ever changing, so every year we go searching for the coolest, cleaver, and most functional items to make your Cannapolitan life all that much better. This year's class of products were thoroughly tested by our most discerning team of Cannapolitan experts with our top recommendations. Top Products for 4/20 & Everyday pt.2. This one's all about technology smoking and vaporizing.
Top Products for 4/20 & Everyday pt.2
Top Tech Smoking & Dabbing Devices
Cannabis consumption has come a long way, especially in the last decade. What once was metal nails and torches (no offense who enjoy that method) is now a all in one electronic device that safely heats your dabs and vaporizes them at exactly the temperature you desire. As consumers we've evolved as well, we're living in an electronic world. These devices have opened doors and minds of people who would not consider Cannabis concentrates if it wasn't for the ease of use with many of these products available today. Every year new products come on the market that take it to the next level. This year we have a new version of one of our favorite devices along with some new devices that are functional technology unlike anything you've seen before. Each serves Cannabis consumption differently.
Cannapolitan's TOP Dabbing Device for a Second Year in a Row is Ispire's Daab!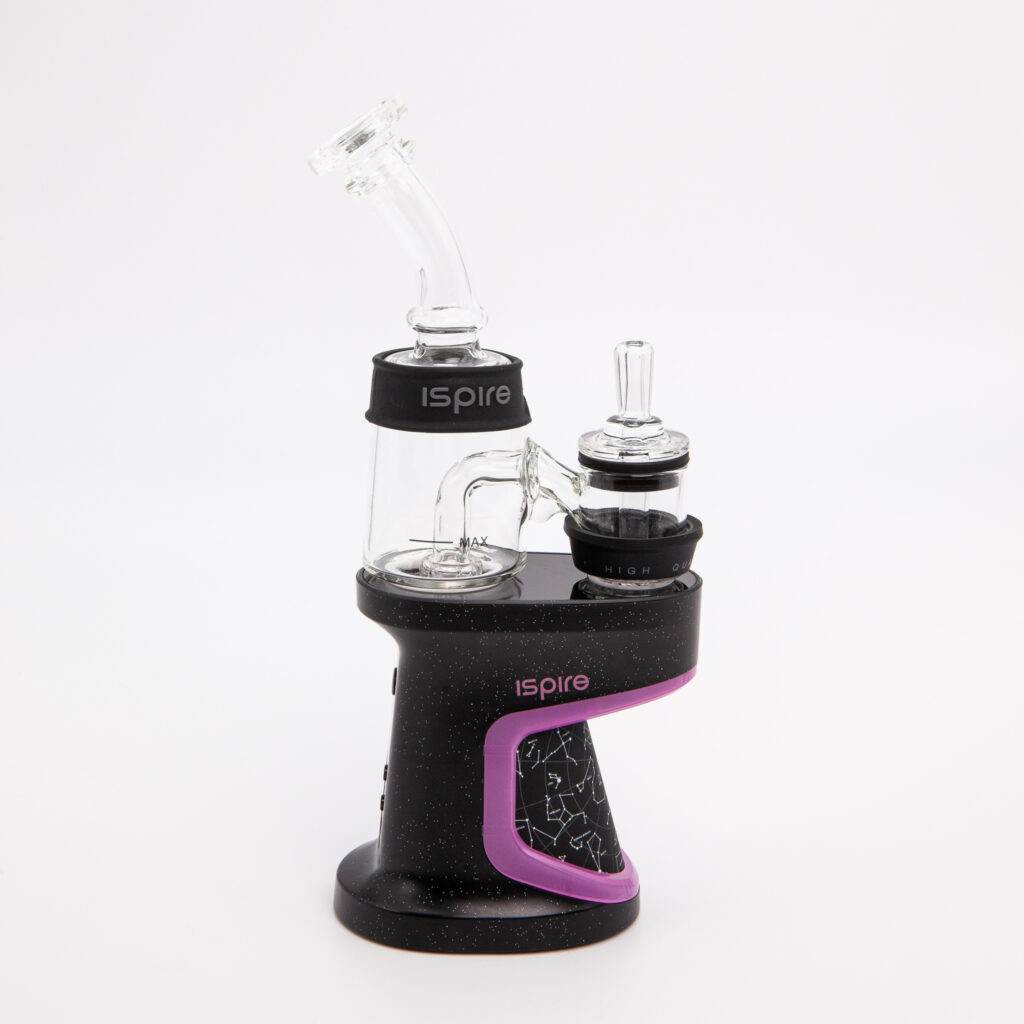 This device checks all our boxes! The latest version of Ispire's Daab comes with a new look. Introducing Ispire's Astro Daab. This out of this world device is so beautiful! From the case to the device itself, Ispire amazes with their outstanding technology and fun additions this version has. This limited edition Daab is limited in numbers, so we recommend not sleeping too long to get your own.
The Astro Daab is not just a damn fine looking device, it also has had its carb cap updated with a thicker glass and a silicone seal that seats between the cap and the top of the dome, providing a greater seal. The device itself has had a make over with the glow in the dark constellations on the grip with the galactic purple trim. If that wasn't sexy enough the light that pulses when heating and solid when at temp is now a beautiful purple haze. We lit up the grip with a powerful light and took this picture to demonstrate the glow in the dark feature you see below.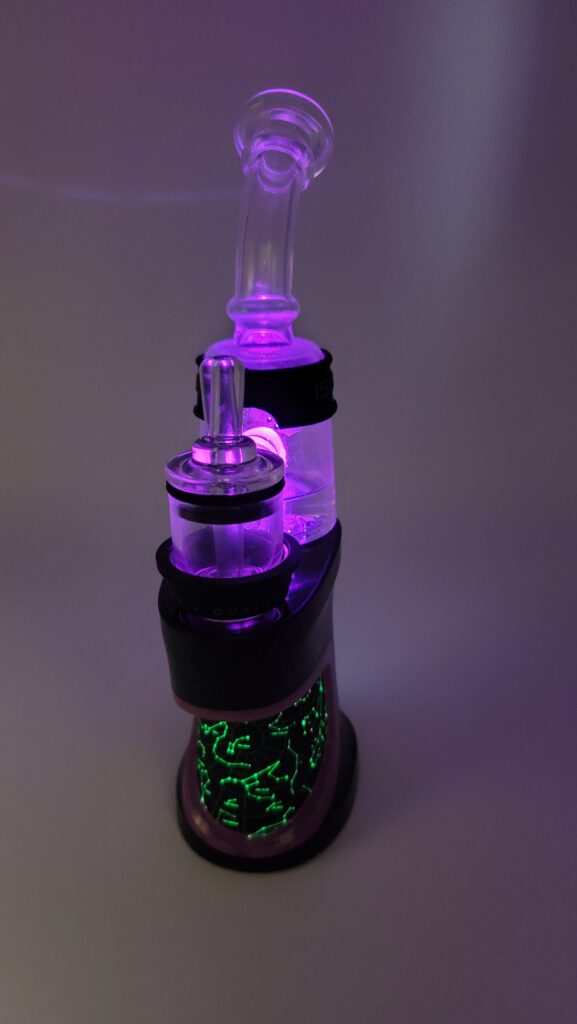 The Technology and Functionality Creates Superior Taste & Precise Temperature Delivers
Perfect dabs everyday, all day! Yes, we said all day because you can charge your unit at the same time use it! That's something most other devices on the market today don't do! Nothing spoils a great sesh like a dead battery, not with the Daab! With a temperature variance of 200-800 F, you're sure to find that special temp that you prefer. However, we recommend if you enjoy your Terpenes, then low temp dabs are your jam, just like ours. In our experiences temps between 515-530F seem to be as hot as we need them to be. Batters, sauces, and soft concentrates melt and vape beautifully around 515F. Whereas diamonds melt and vape best around 525-530F.
Less fuss, more dabs!
The functions we most enjoy about the Daab is it's ease of use, cleaning, and quick heating times. It's super easy to clean the bowl with a Glob Mop and take your second extra bowl and load it up and drop it in the device. Seshin' hasn't been this easy, ever!
We have tested the Daab with various team members of different ages from 25 to 68, the learning process to use the Daab is quick and successful. I can't get my 60 something mom to use her smart phone right, but even she can operate the Ispire Daab. That's how easy and inviting it is to use. The induction heating technology that Daab uses is reliable and we feel like Ispire is a company that backs up their products well.  Get your Ispire Astro Daab soon before all limited editions are gone! Go to getIspire.com to buy your own today.
A Water pipe (bong) Unlike any Other You've Experienced.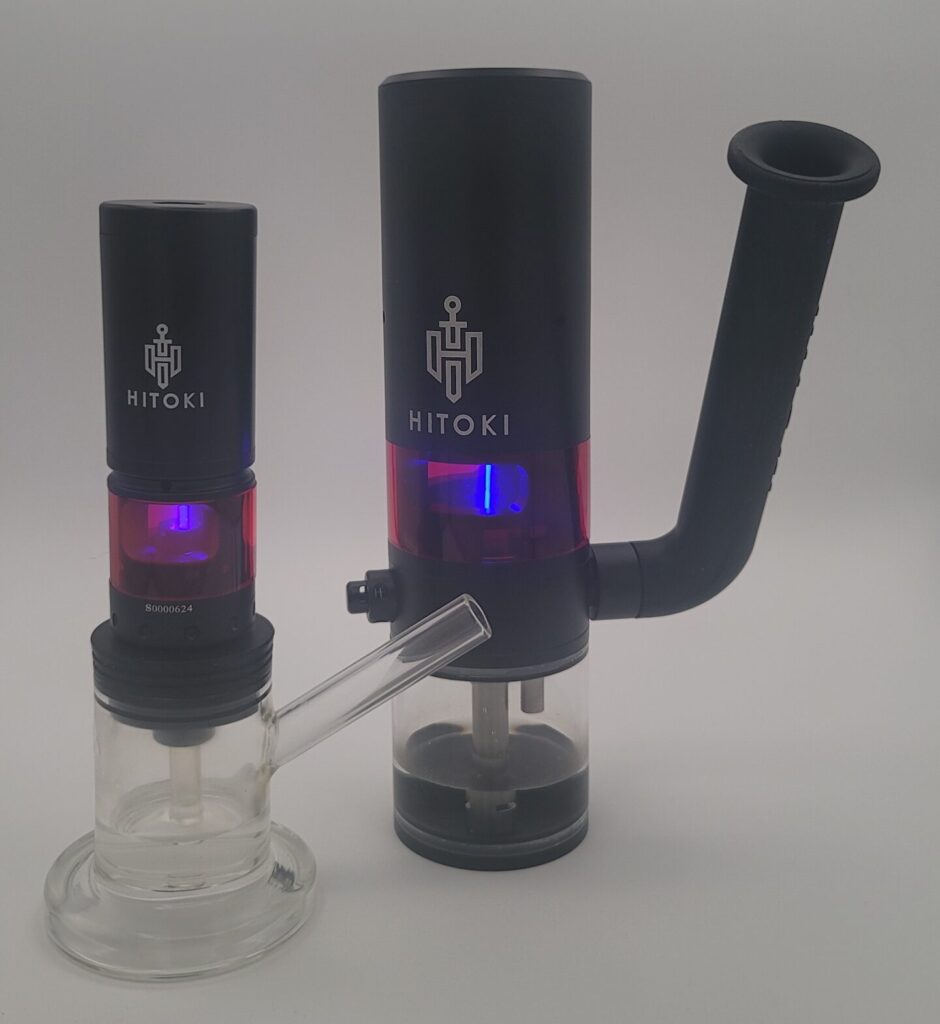 Introducing you to the next level of smoking, the Hitoki Saber and Trident!
This is the little sister of the Hitoki Trident, the first bong with a laser that ignites your Cannabis flower with preciseness beyond your imagination. This thing is something to be experienced! Both devices have lasers as the source to ignite flower, each have their own qualities that will appeal to each person differently. I can't help but keep hearing Dr. Evil in my head talking about "sharks with lasers attached". Hitoki has developed a device that stands on its own.
The smaller Saber is multi-functional as it can be attached to your own glass rig down stem or attached to Hitoki Saber's glass attachment.
Here's a video on how the Trident works:
There is a sale happening right now on the Trident, if you don't dangle: April 17th – April 30th: 40% off the Trident. Coupon code is "GRN40" Order directly yours at Hitoki.com
Here's another video on how the Hitoki Saber works:
This Saber is super cute, it's lightweight, easy to clean and compact. Get your sesh started with your friends and family and shock them when they see your smoking game has just been upgraded with a laser. We love this device for so many reasons, one of them being that it's a clean and butane free experience. The smoke is unlike anything you've experienced before.  This is truly worthy of your next sesh and it's especially cool to be showing off on 4/20 week! Get yours at Hitoki.com