Phases Cannabis Has a Strain For Every Occasion and Mood, This Valentine's Day or Any day, Make it Count!
We are in love! In love with Phases Cannabis and their variety of mood enhancing strains that are curated to enhance your mood and vibe, however you want it to be. Phases brings good vibrations to all with five different choices and are categorized by the effects they produce. Our review team has been reviewing several of their varieties recently. We all agree that Phases' "Vibration" strain, Lucky Charm is certainly one of our favorites. After reviewing several types of Phases' Cannabis, we feel each have been appropriately categorized for their effects.
Let's Get into it All!
Lucky Charm is uniquely its own, and yet it has strong qualities in the terpene profile that are similar to other strains such as Jack Herer. That said, this one may smell familiar initially, but once you vape or smoke it, you'll be treated to plenty of flavor and pleasure. Lucky Charm is a cross between Orange Push Pop and Sour Diesel. You will certainly smell and taste a field of sweet oranges followed by a walk in the woods that will have you surrounded in pines- and that's just the first hit. As you spend more time with this beautifully grown and cured flower you will discover how strong the smell is every time you open the jar. The art is in the drying and curing process in order to procure flower that has lasting smell and flavor.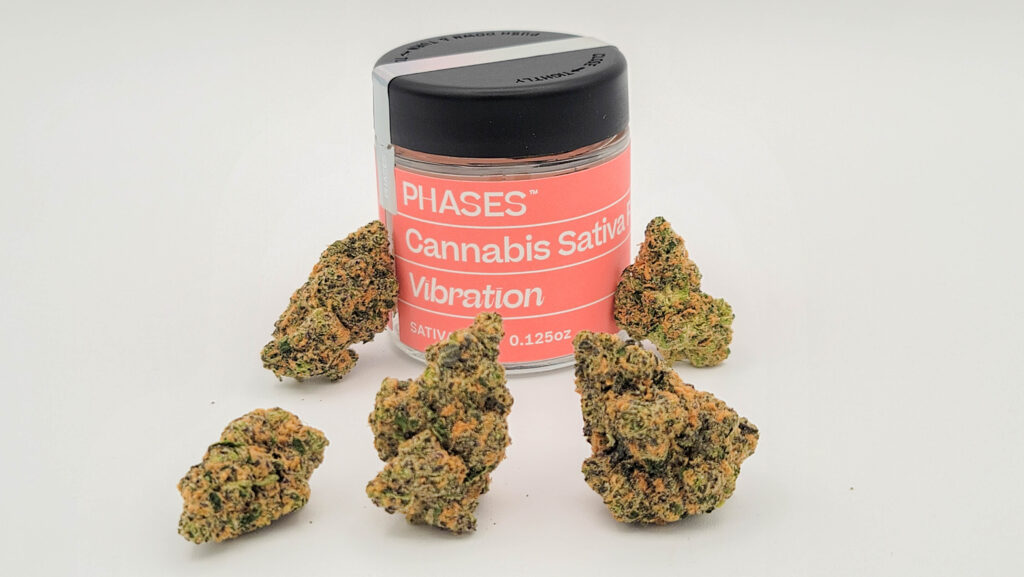 California Bred & Grown
Phases is California Cannabis brand that will have you rethinking your past choices when visiting your favorite Cannabis shop.  Grown in Northern California, their mineral rich nutrients combined with their years of experience and genetics, it's a perfect combination for success. We are told that their facilities are also carbon neutral, which to our knowledge is a first.
Loud Cannabis with Purpose!
A majority of Cannabis sold today no matter what state, the packaging can be so over the top in graphics or materials that often the packaging is louder than the flower inside. As a consumer, you don't want your money to go to packaging but rather to great quality Cannabis. Sadly, legalization in California has become a shelf struggle on all levels, you can no longer smell or see much of the Cannabis before you purchase it, thus why some brands have resorted to either over the top packaging or loud designs that leave the customer confused as to what they think they might be getting.
We appreciate Phases' design of their packaging. It has a welcoming appeal for the modern Cannabis consumer. In other words, there are no cartoon characters or dripping objects on the box. More importantly they focus on making the flower inside much louder than the modest packaging. There is a lot of Cannabis being sold in resealable bags, but the revered Cannabis, the good stuff is always reserved for the jar. The aroma of all Phases Cannabis lasts and continues to amaze every time you open the jar!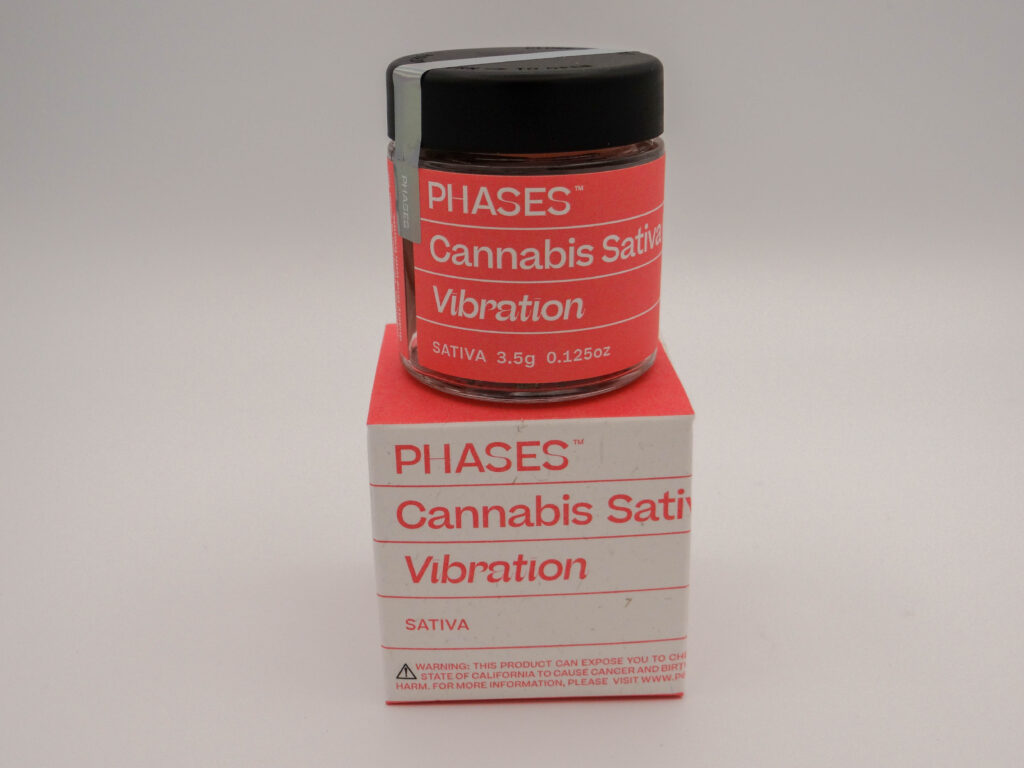 It's What Inside that Counts!
Lucky Charm's terpene profile certainly gives this strain much of the effects that it provides. This Sativa dominant strain is not so Sativa as we had expected it to be from the jump. In fact, this Sativa is best enjoyed in social situations, it has an uplifting happy vibe. We don't recommend this strain for focus or for energy if you have work to do, this is a chill Sativa designed to help you connect with others and allow you to go deeper into your thoughts.
Our reviewers responded with quotes like "super smooth, tasty, strong high with a slight body relaxing effect." Another mentioned that this strain produced a "tranquil spa like happy high." I myself found this strain to enhance my happy place, every time I smell the jar it sends me through California's vast citrus fields and reminds me of a 50/50 ice cream bars (orange and vanilla ice cream) that we would get from the ice cream man that drove through the neighborhood.
Beautiful Buds Well-Manicured & Priced, that Sounds Cannapolitan to me!
Phases is one of the few brands in California that is aware of the market and makes an effort to reduce the cost for the consumer.
Terpenes for days! Here's the breakdown; the top terpenes are Myrcene, Limonene, Terpinolene, and Pinene. Myrcene which has a sedative effect that helps take the edge off. Limonene provides that citrus smell that is uplifting and energizing and gives the user a sense of euphoria. Terpinolene is common terpene in strains like Jack Herer, this terpene is known for its antioxidant properties and can be a potential anticancer agent in the body. Traditional Terpinolene use includes: natural antiseptic, antifungal, antibacterial applications, and mild central nervous system depressant, exhibiting sedative effects. Pinene Anti-inflammatory, Antioxidant, and Neuroprotective Properties, in-vitro and in-vivo. Studies have shown that pinene protects against oxidative stress, inflammation, and neuronal damage. This is one powerful strain! These buds are power packed with anti-inflammatory properties that will improve your overall well being. For more information on Phases, visit their website and follow on Instagram here.

Cannapolitan Approved & Recommended!
This is one of our favorite strains for chilling and vibin with your friends or a lover. The smell, the taste, the effects are on point with the terpene profile that this strain contains. There is a Phases Cannabis strain for everyone and every mood. Make sure to check out their products at these fine dispensaries in California.
Here's a few of our favorites in Southern California:
The Woods, 8271 Santa Monica Blvd, West Hollywood, CA 90046
Stash Studio City, 12433 Ventura Blvd, Studio City, CA 91604
Sixty Four & Hope, 6803 Melrose Ave. Hollywood, California US 90038
Divine Wellness Center, 7246 Eton Ave. Canoga Park, California US 91303
Atrium Stores in Woodland Hills and Valley Village and Delivery available as well.
Strictly Delivery services