Photo credit: Cali Vibes 2022 Russell Houghton
Cali Vibes is one week away!  Limited Tickets Still Available for Sunday, Feb. 19! Let's GO!
Don't get the FOMO if you don't attend this super packed festival, we warned you this is one of the TOP festivals to attend in 2023. Cali Vibes kicked off their first year hard in 2022. This year's line-up this year is equally if not more packed with the biggest names in music. Sunday's line-up is going to be the cherry on top of the three day festival. Check out the line-up below:
Don't Sleep On Getting Your Tickets for Sunday!
This is your chance to dance and smoke with Slightly Stoopid on the shoreline of this beautiful city!
This year's California Vibrations aka "Cali Vibes" festival will make the second time around the sun. Once again, they're coming in HOT and hard with another incredible three day line-up. We were already impressed with the first festival this past year (click here to read about the full festival last year) as a whole from entry to the last act on stage on Sunday, this festival was made for you and me. One hundred percent Cannapolitan!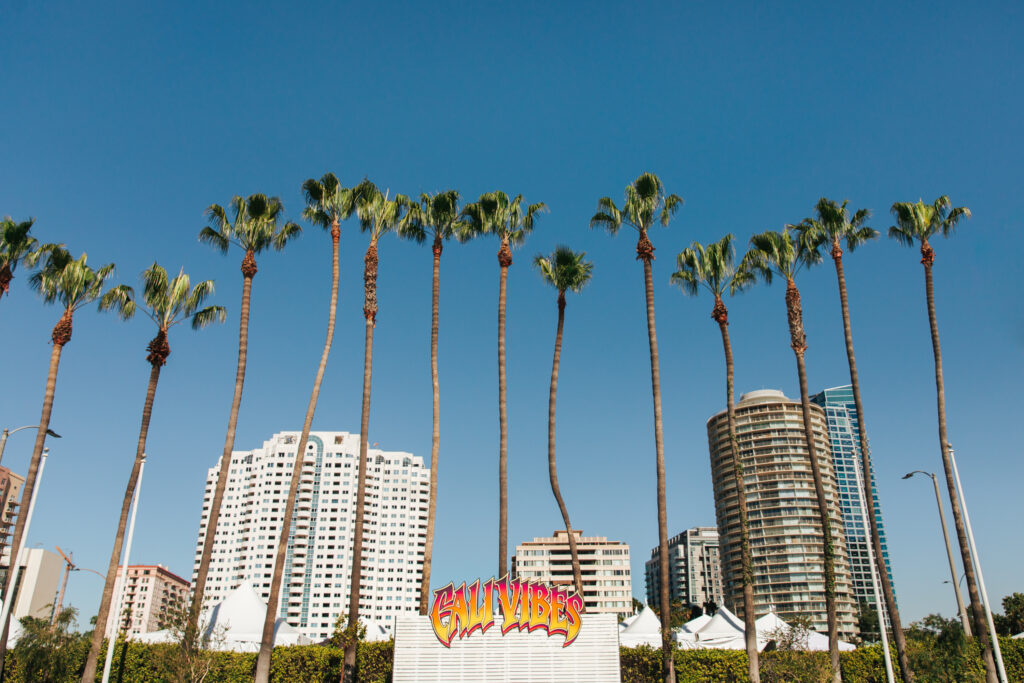 Photo Credit: Elli Lauren Cali Vibes 2022
Bring Your Sunscreen, Hat, and Your Good Vibes!
Cali Vibes brings the joy to all ticket holders of ALL days! Leave it to the legendary concert pros at GoldenVoice (Coachella and Stagecoach just to name a few) to produce such an outstanding show and provide an experience for all to enjoy. There are multiple stages, areas dedicated to Cannabis education and consumption, you're next to the ocean, need we say more? Oh yes, when the munchies kick in, Cali Vibes brings the best food vendors and much more to enhance your experience.
Cali Vibes planted a seed in Long Beach this last year. The festival has already gained the reputation of being one of the best Reggae festivals in the world, this year's line up is proof plus! Get high and feel alright with LBC's favorite sons, the legendary Snoop Dogg to Saturday's show along with Cannapolitan favorite- Cypress Hill!
It just so happens that the festival's newest additional headliners; Snoop Dogg and Cypress Hill are both celebrating legendary milestones in their careers as this year marks the 30th Anniversary of their debut hit albums – Snoop Dogg's "Doggystyle" and Cypress Hill's "Black Sunday" – released in 1993. Furthermore, Snoop Dogg's confirmed performance at Cali Vibes will give him the opportunity to connect with his beloved hometown fans from the main stage in the LBC!
Cannabis Friendly!! This whole Festival is a VIBE!
This year, Cali Vibes is taking the Cannabis conversation even further as they also have exclusively partnered with Dr. Greenthumb's dispensaries! Dr. Greenthumb's was founded in 2018 by Cypress Hill's front man, artist, cannabis advocate and activist B Real. Dr. Greenthumb's is recognized for its extensive menu of top-shelf cannabis and line of dispensaries located throughout California. This is going to be an ultimate sesh unlike any other you've attended. To learn more about Dr. Greenthumb's cannabis, please visit dgtworldwide.com.
This has to be one of the most intense Reggae line-ups in the world! Not to mention the bonus of all these other incredible artists all in one weekend!
We'll see you there! Cannapolitan will be on the scene ALL weekend long! Exclusive interviews with the artists and bands, the audience and much more! We'll have LIVE posts on IG at @Cannapolitan and much more! If you can't make it out to Long Beach, we'll miss you! Either way, please keep your browser open to CannapolitanMagazine.com for our post Cali Vibes coverage to come.