A Golden State of Mind Starts Here
When it was time to discover and get into A Golden State's Moonbeam strain review, our team got excited. This brand is one of our favorite Northern Ca cultivators, and here's why…
A Golden State is a California Cannabis brand that is grown in the farthest North part of the state. This is no ordinary Cannabis cultivator, nor is this an ordinary brand. A Golden State's founders and cultivation team has deep roots in growing unique strains of their own. They're not following trends or growing what everyone else is growing, instead they create their own strains. It seems that they also combine stable strains to create new ones that celebrate the lineage of each strain and complement each other's complexities and effects. This brand hails from the base of the Cascade Mountains collecting their water from snow melt from Mount Shasta. Ya, that sounds legendary and mystical, and it's true. These Cannabis cultivators have created their own world of flavors designed special for you the consumer. As they say:  "Our knowledge as cultivators and connoisseurs has led us to produce highly distinct cannabis strains, each created for recreation, relaxation, sharing with friends, unwinding solo, or finding the right head space for enjoyment."
You can tell that everything that these cultivators do is done with purpose, elevating the quality of the Cannabis experience with a highly valued product in every jar and pre-roll. We took our time partaking this strain for well over a month so we could really devour the flower with multiple methods so we could understand the complexities that this strain expresses. We achieved that Golden State of Mind and we're not going back! Check out all their flavors here.
A Golden State introduces us to their latest creation, Moonbeam
The strain that we have to share with you feels like a celebration in your mouth when you inhale the smooth smoke. This outer world wonder is called Moonbeam. Let us introduce you to your new favorite strain and brand, it has been grown for your appreciation and enjoyment. Like many Cannabis strains, everyone wants to know if it's an indica, sativa, or hybrid, AGS (A Golden State) has deemed Moonbeam as an indica strain. Our team members were surprised by this unique multifaceted strain. The terpene profile and the overall aroma seems to have different impressions from our team members, some pick up on the pinene immediately whereas the limonene is more obvious at first smell. We're calling this a multifaceted strain for a reason, it really has a dynamic strike to the nose regardless of what terpenes are most prevalent and it's the combination that makes this strain incredibly intriguing.
Moonbeam is one of those strains that smells different to each person that takes it in. We got different descriptions from each of our team members with this one on the aroma, some immediately smelled the pinene terpene, while others got the earthy aroma from the caryophyllene, whereas I immediately smelled the sweetness and earthy linalool and citrus notes from the limonene. Moonbeam has not just one particular smell, it's a multi-faceted strain. The jar captures these scents well, but if you really want to express the essence more, give a bud a gentle squeeze and then smell with your eyes closed and really take in the experience. If you're not smelling your Cannabis before you consume it, you're doing it wrong! This part of the experience we call the joy of Cannabis. Get intimate with it, take your time appreciating everything that makes it special and unique.
Moonbeam has the lineage of purple pineapple crossed with rainbow belts. This explains the sweet tones that you can smell and taste when you light it up.  Moonbeam's primary terpenes such as; limonene, linalool, caryophyllene, and pinene.  The aroma of this strain will have you wanting more in your life with a balanced head and body experience that won't drag you down. This is a perfect strain for relaxing in your favorite chair outdoors and take in all the beauty surrounding yourself. Do yourself a favor and don't plan chores or nonsense when consuming this strain, really take the time for yourself and enjoy every moment.
The THC content is around 29.30%, and with 2.15% total terpenes which explains why its so wonderfully loud when you open the opaque jar that's keeping the buds fresh with an additional freshness seal. This is the one! Like I said earlier, all of A Golden State's strains are uniquely theirs- they don't follow trends they set the standard for excellence in cultivation and packaging their own strains and flavors that sets this brand apart from the rest. Also something we admire is the balance of size of buds in each jar, each jar seems to have a balance of one or two large buds with several medium buds inside each jar, thank you Golden State! We're giving this strain and brand an A grade for overall excellence!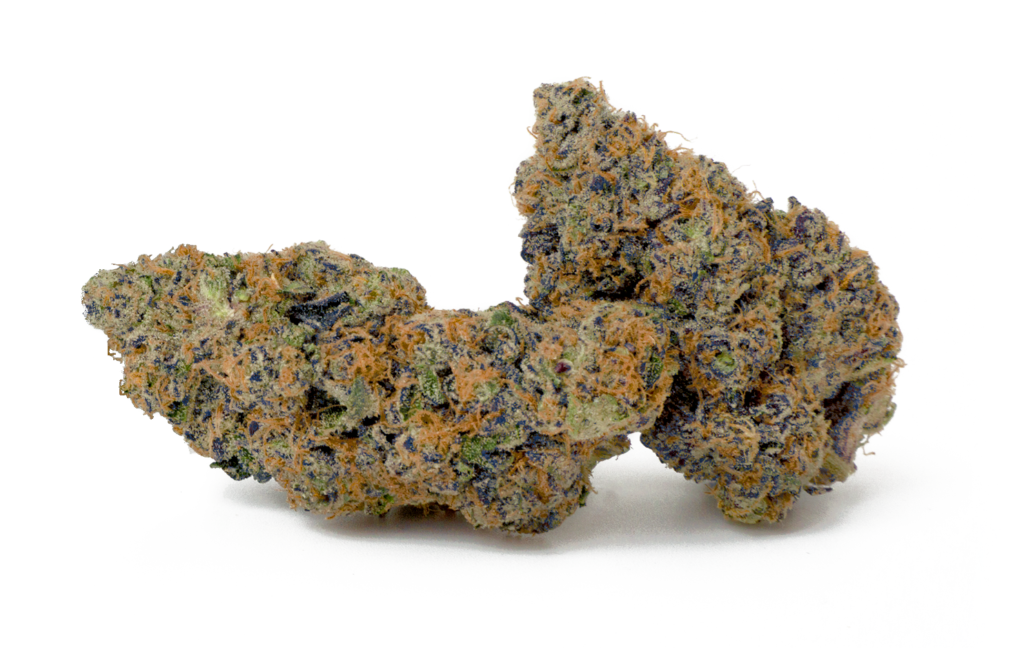 LOOK at that beautiful set of nugs!
The deep purple body with fresh hints of green and orange surrounding the surface, this is the perfect strain for the fall or anytime of the year really, but the colors are on point for Halloween. These frosty buds are even more impressive in person in your hand with good lighting. Once you inhale the aroma, it will have you hooked. Moonbeam has a very satisfying taste as it hits your lips, whether you are smoking it in a pipe, water pipe or papers, each method will unlock something you may have not noticed from the first time. We recommend trying every method and go with what makes you happy. So long as that method doesn't disrupt the smell and taste of this supreme bud.
Sativa, Indica, or Hybrid, what's your Jam?
As regular Cannabis appreciators, we recommend that you try all types for yourself and decide which kind of  Cannabis and what strains work well for you. Everyone is different, whether a strain makes you feel more relaxed and couch locked versus a more energetic strain that has you smashing your tasks and chores while being lifted is completely an individual experience.  Our review team has had members that get more energy out of Indica strains versus Sativa, so it really is an individual experience to be explored.  At Cannapolitan we want our readers to know and experience everything Cannabis has to offer, types of strains included. You never know what "hits" you the best until you try for yourself so don't let labels decide. If you can smell and see your Cannabis before you buy it even better, your nose will indicate whether you like it or not generally speaking. We don't discriminate against any Cannabis here at Cannapolitan, so long it is GOOD! That said, if you wanna go that extra mile with the snow melt water and the organic indoor soil grown method, we say BRING IT!
Discover for yourself
A Golden State has something for everyone, check out their full line of Cannabis strains by visiting their website Agoldenstate.com and get to yourself to A Golden State of Mind today!
Sweet Flower in California carries A Golden State Moonbeam, you can locate a store near you here.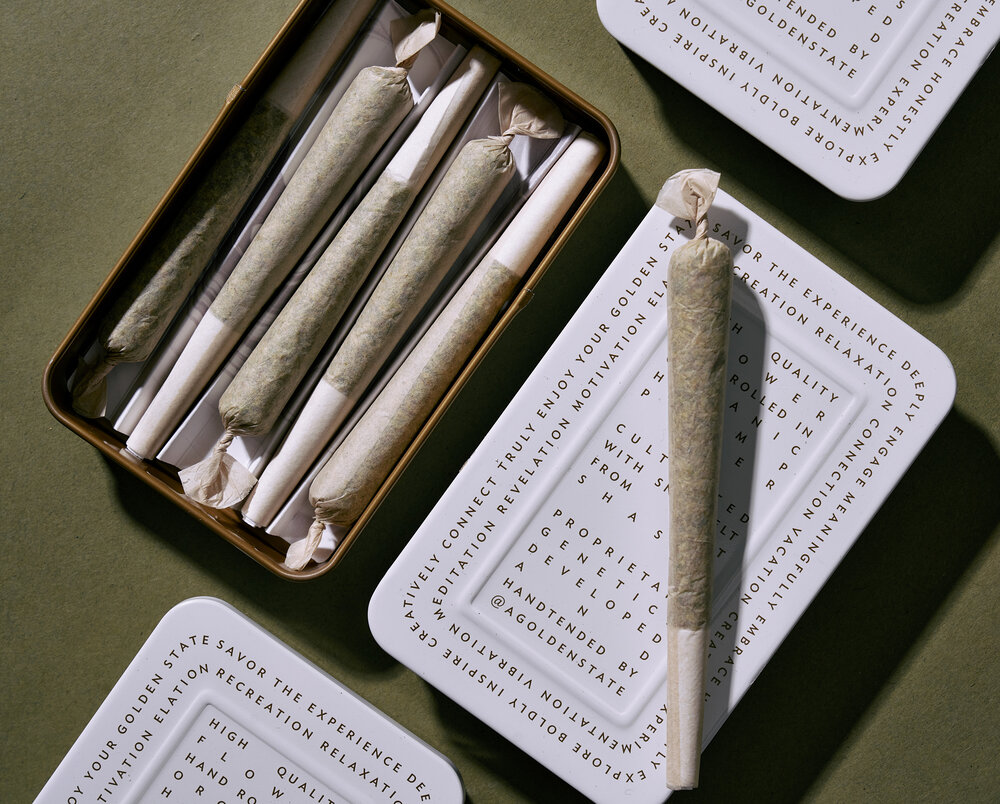 Wanna learn about more strains? Check out our full section of strain reviews here.