Green Street Festival Was a BIG Fatty of Success!
Downtown Los Angeles will never feel the same again, not after Green Street took over and that's a great thing! Yes, the first of many Green Street Festivals was set off on the buildings' birthday on 5/13/22 making it 108 years old. The exclusive and limited guest list for the first night was a huge hit, literally we took big hits off of some of the industry's top brands Friday night and Saturday. Here's a nice gallery selection of some of Friday night's festivities with Gary Vaynerchuk, Harry Mack, and the weekend's host and MC, Mike Glazer.
Welcome to Green Street Festival 2022!
Scroll through the gallery below of Friday night's highlights.
Magical Moments Happen Here!
Friday night had sponsors and Cannabis brands engaged with the guests on a one-on-one basis. This was a fantastic opportunity for the guests to experience each brands' offerings. There were booths with different types of products to taste and try like; Supherb vapes, Voyager brands dabs, Originals' flowers in pre-rolls, and more. Later there was an exclusive dinner with the guest of honor for the night, Gary Vaynerchuk (aka Gary Vee) whom is also a partner in Green Street Agency.
After dinner, Gary and the weekend's musical guest, Harry Mack had a Q&A on stage on the seventh floor where all the activations were also happening. It was an enlightening discussion between the two discussing art, FTP's, creativity, and entrepreneurship. At some point in the conversation Harry Mack educated the guests on his freestyle rap style has evolved and showed off his talent of taking a few single words from the audience and on the spot created a rap around them. It was rad! Harry's style and how he incorporated the random words to make meaning within the freestyle was impressive.
Up for the Challenge to Match Gary Vee at Bubble Hockey? (pictures in gallery above)
Gary is a partner in the Green Street Agency and has an office within the Green Street building. So it stands to reason, he's had some practice with the bubble hockey machine that is a regular fixture inside. That said, he's got mad skills with this game and he's a natural competitor. So, when they announced that Gary was open for challengers to play bubble hockey against him I was at first an observer. I watched my friend, Adam Ill get hammered by Gary. Adam of course lit that blunt a little too late in the game, as it was giving him some advantage with a goal or two before he lost to Gary's sweep. As I watched these guys go up and challenge Gary and lose, I thought well no woman had stood up for the challenge, so I had to.
Right off the top Gary had made a goal! I was just getting myself figuring out what color and players were mine before he had already three goals! Oh the humility! Finally, as I got a feel for the players (still didn't move my goalie at this point proper) I managed to sweep a goal! (short lived victory pictured in gallery) and said "I'm not gonna get cocky!" Cause of course right after that he kicked my ass for another 9 goals.  Gary-13, Lisa-1, and I'm totally good with that! My strategy was to get some time with Gary and make him laugh, mission accomplished! He's mindful and generous with his time and  gives each person he engages his full attention in the moment. He genuinely practices what he talks about and is a joy to engage with.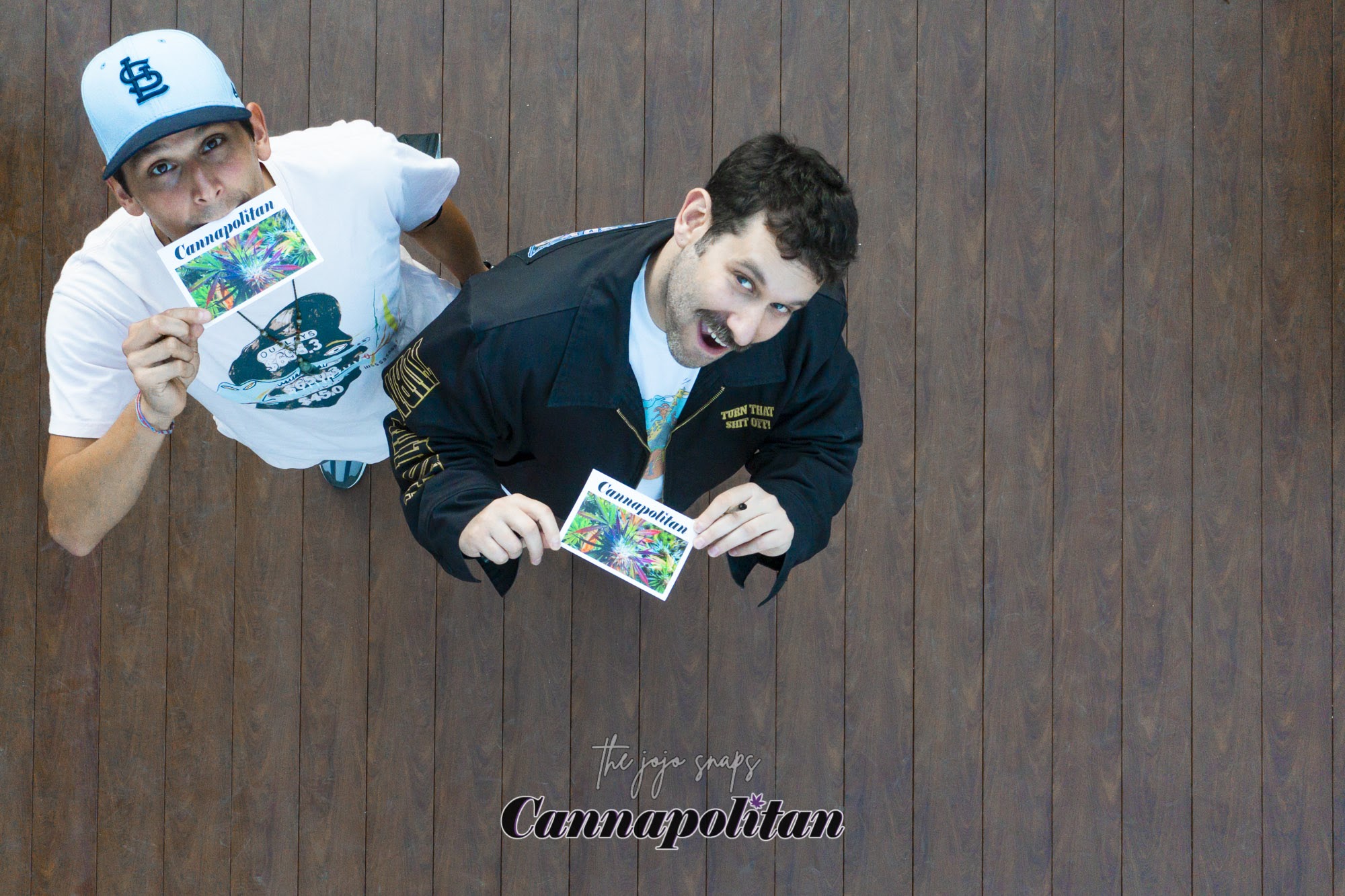 Above: Green Street Festival's Host:  Mike Glazer & friend Joel Hadley.
Check out the gallery of photos below and scroll through.
Saturday, Main Festival day
Green Street Festival kicked off at the Green Street building and it was full of excitement and the smell of sweet Cannabis. There were three floors of activations that was switched on. The roof level was also open to enjoy. One of the floors had an open space with artwork on each wall. So much eye candy everywhere you look, creative installations and inspirational imagery. There was a grocery cart carousel with street signs on the walls and fences, it was something out of a childhood dream almost.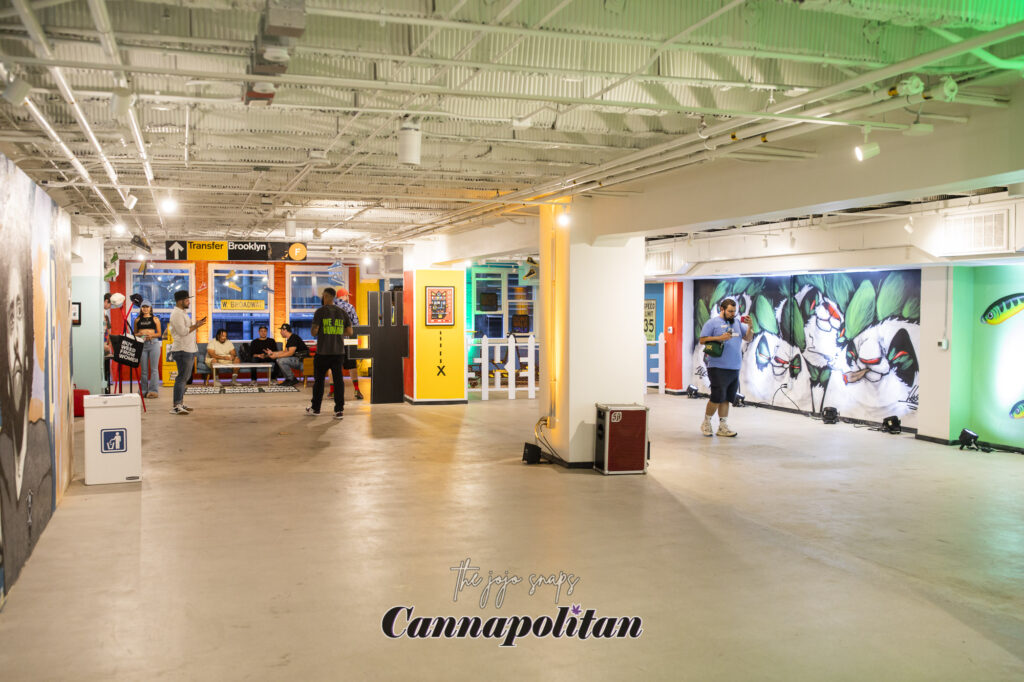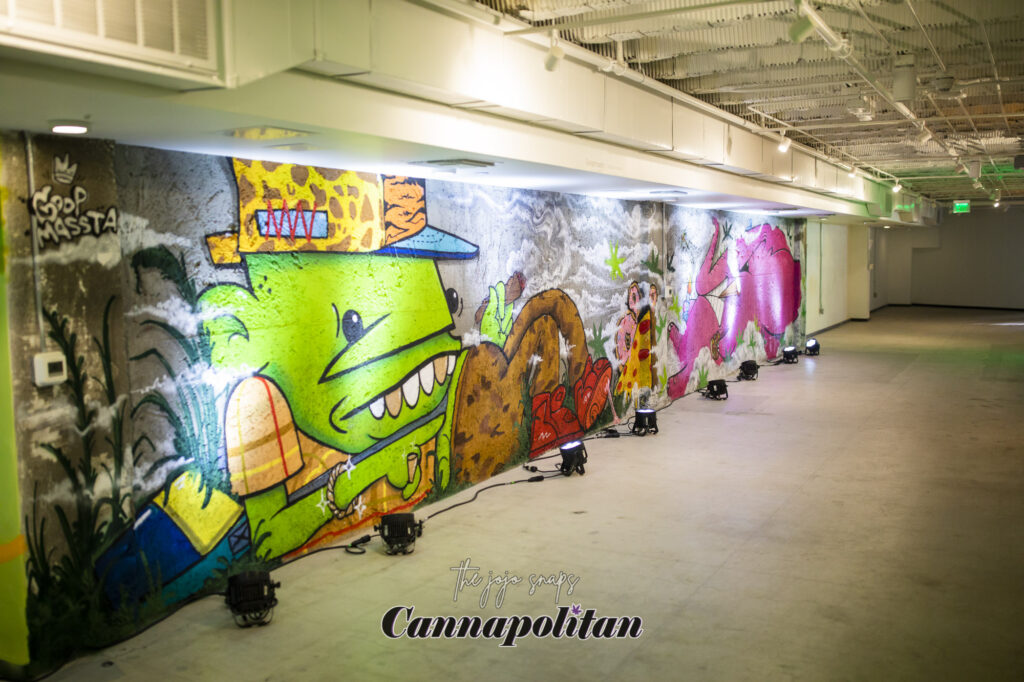 Green Street Represented What the Building was Built for: The Cannabis Community & Industry.
Throughout the day each floor of the building as well as the other businesses that were there to support the festival were busy with customers. The festival included top food trucks and restaurants like: The Yeastie Boys Bagels (bagels re-imagined!), Afters Ice Cream, Petite Peso, Uncle Paulie's Deli, and Green Street's home restaurant, Gusto Green. All of the brands were well represented on two floors of activations and booths. The traffic of people was well spread out and didn't feel overwhelming. Each floor of the building as well as the outdoor areas that were designated for the festival was really comfortable.
Inside the Historic and Beautiful Majestic Theater
GSF included the Majestic Theater, which was just a block or two behind the Green Street building. Inside the theater also had brand activations, a custom t-shirt pressing booth and more brand booths offering more swag and goodies. The theater was full of great vibes and outstanding tunes. I really enjoyed discovering Dam Funk and seeing Gary Mack and Juicy J's sets. Gary Vaynerchuk also took time twice in the day to talk with people in the audience as well as a one-on-one conversation with Adam-22, who is host of @nojumper and @plugtalkshow.
Before Juicy J and Harry Mack, Gary Vee took the stage with Rolling Stone journalist, Mary Jane Gibson (that can't be her real name?!)  for a little more Q&A and a deeper conversation about the future of NFT's, Cannabis, and how to improve your social media presence was also topics of conversation.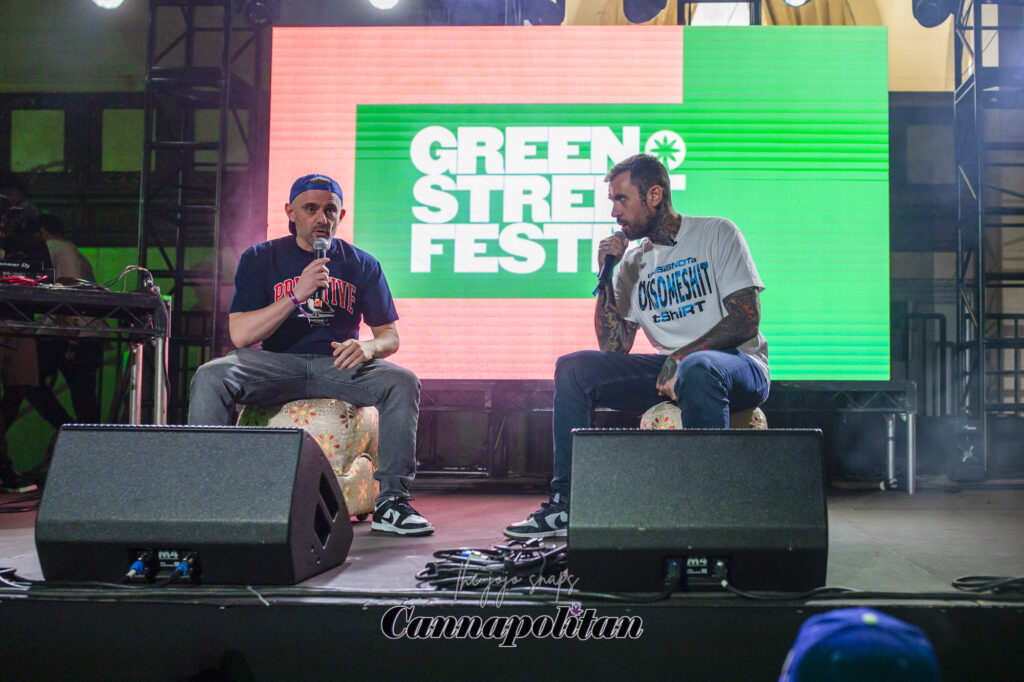 Check out our next photo gallery below, see arrows and click through.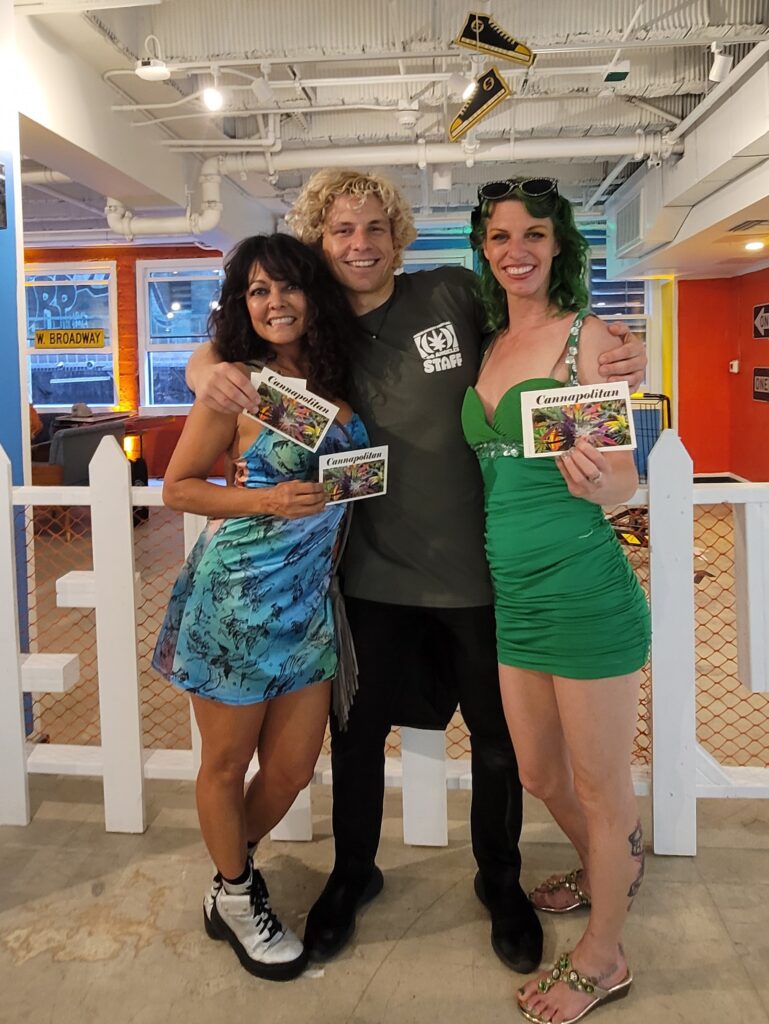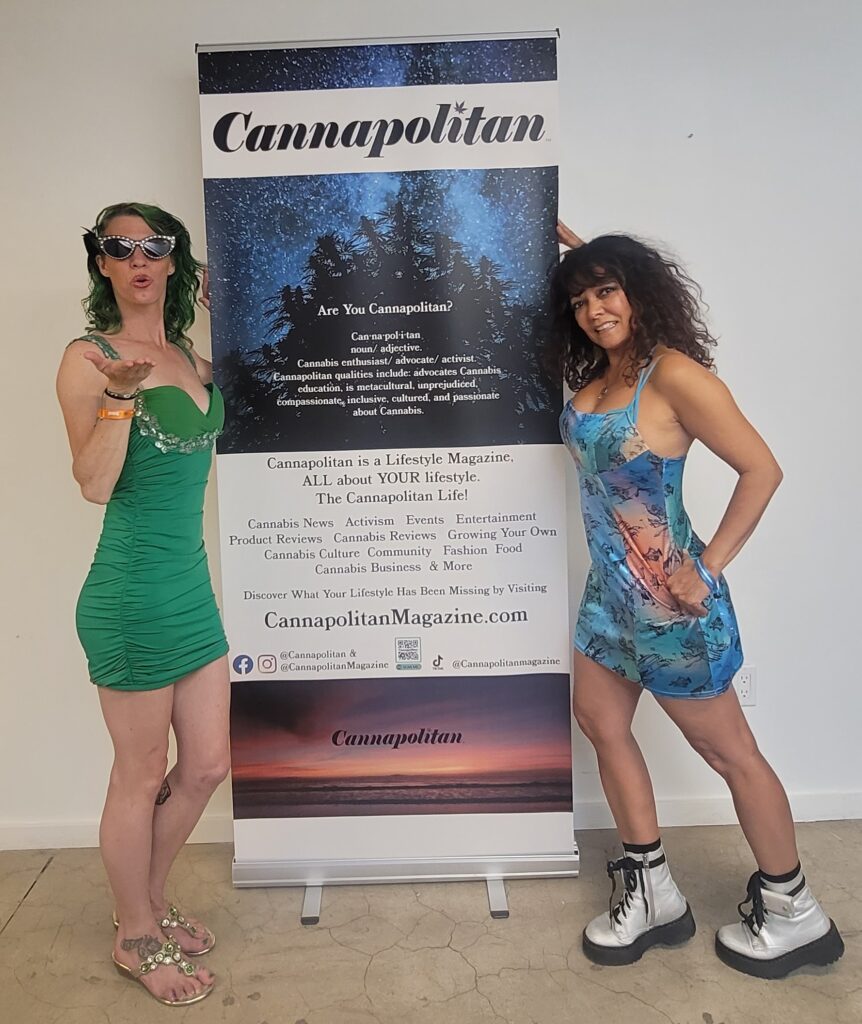 Cannapolitan Team Members Having Fun with GSF Staff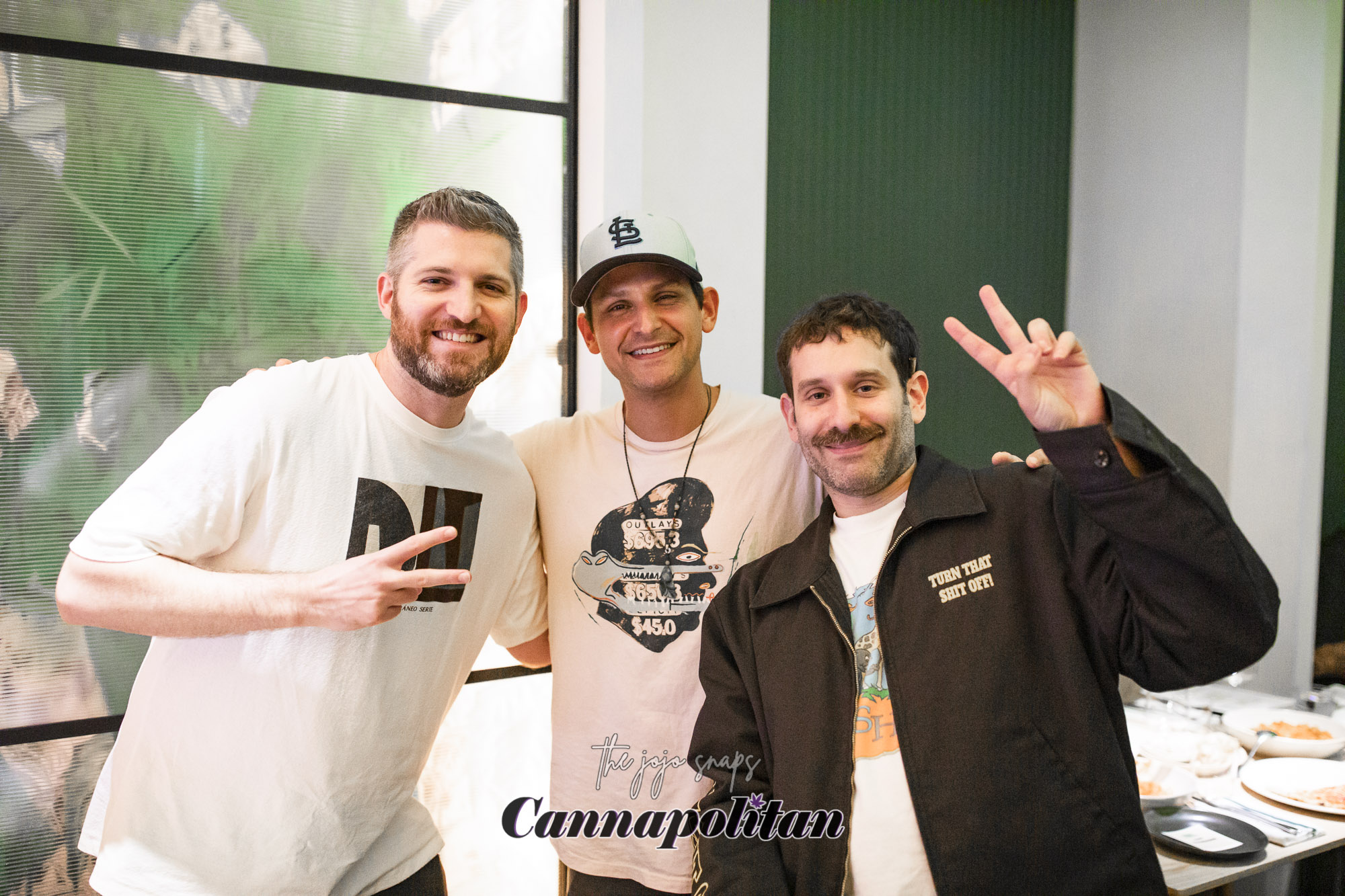 Harry Mack, Joel Hadley, Mike Glazer.
Looking Forward to Next Year's Green Street Festival!
The day and night were a huge success and the outlook for next year's Green Street Festival is looking even brighter and more LIT! If you're experiencing FOMO, here's a look at the festival with the Green Street crew as well as a video of our own from our dank and talented photographer, Jojo! We hope to see you all and the rest of the Cannabis community at Green Street Festival 2023!