The Blue Note Jazz Festival comes to Napa July 29, 30, and 31st.
Already a legendary festival in its own right. The Blue Note Jazz Festival, Napa promises to deliver the goods and much more this weekend (July 29-31, 2022) in the heart of wine country. This festival is more than just Jazz. The Blue Note Festival celebrates Jazz, R&B, Hip Hop and beyond. The combination of modern jazz combined with Hip Hop is having a serious coming of age and this festival will be showcasing a wonderment of collaborations.
Hip-Hop & Jazz Share the Stage
Just as the wine flows, so will the bars! Bars being delivered by artists like The Soul Rebels featuring GZA & Talib Kweli, Th1rt3en, and yasiin bey & Talib Kweli reuniting as Black Star and many more set to melt your mind!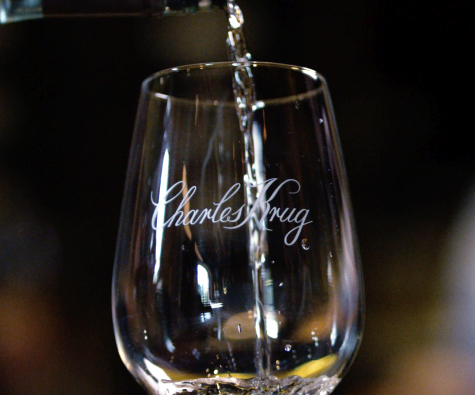 The Sounds, Smells, Sights, and Tastes, All the Senses Served!
It's certainly going to be an inspiring weekend between the top-notch line-up, food, wine and the beautiful surroundings of the Charles Krug Winery. This is the inaugural show for Blue Note Jazz Festival on the west coast. The line-up and all the experiences planned for the weekend will definitely setting the bar high.  There will be wine tastings, wine trains, and even more intriguing aspects of  the festival to explore and we plan to bring it all to you.
Tickets for all days are sold out… but don't fret, Cannapolitan will be there to share it all with you. We'll have all the highlights, features, artist interviews, smells, tastes and much more to follow the epic weekend.
Big Bands, Big Artists, BIG FUN!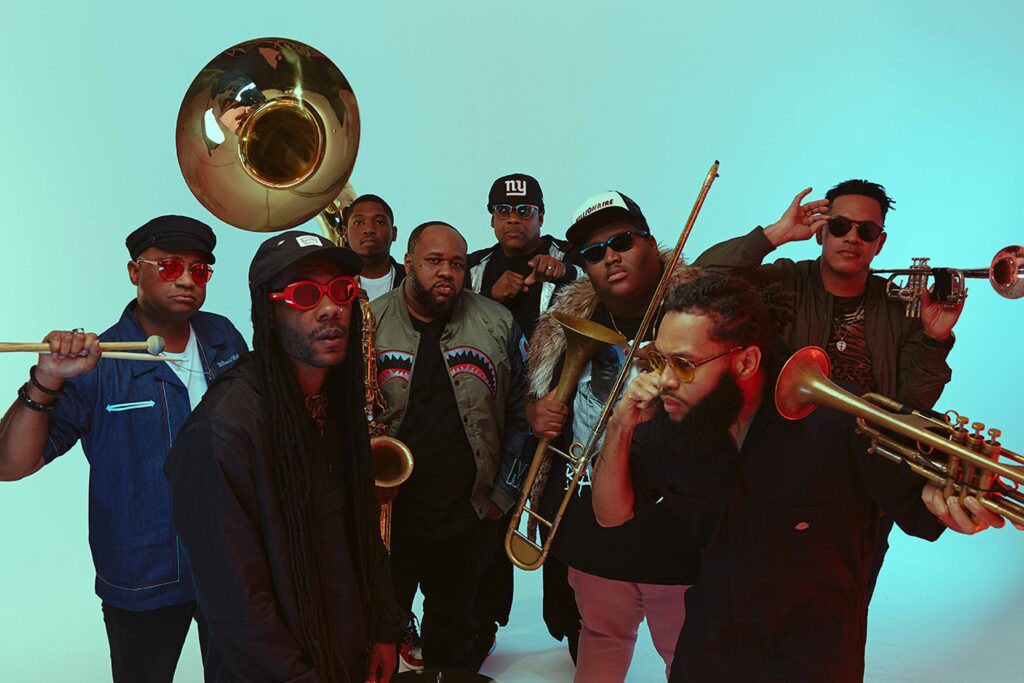 Above: The Soul Rebels.
History Being Made
Also, Blue Note Jazz Festival- Napa, in partnership with Luminary, will present the first-ever live audience recording of the award-winning podcast, The Midnight Miracle, on Friday, July 29. Hosted by Dave Chappelle, yasiin bey & Talib Kweli, "The Midnight Miracle Live from Napa" will feature special guests from the festival. This is groundbreaking and monumental on so many levels! What will Dave say? You'll soon get to find out in the second season of The Midnight Miracle Podcast, which will debut later this year on Luminary. If you're wondering, Luminary is a subscriber-based podcast platform.
R&B Heaven in the Clouds in Napa!
The sexy vibes will certainly be in effect all weekend starting with artists like Kiefer + Amber (of Moonchild) Domi & JD Beck, Kenny Garrett, BJ the Chicago Kid, Isaiah Sharkey, Butcher Brown, Thundercat, Chaka Khan and many more! There's so much talent packed into three stages in three days, Blue Note really knows how to put together some of the hottest and most talented artists in one place. This truly will be a festival unlike any other! Check out the entire line-up and schedule here.
Strong and Sexy Finishes is What We're All About!  
The GOAT of R&B, Maxwell (recently given the living legend award at the Soul Train Awards) will finish out the weekend on Sunday on what is sure to be a life changing experience. Soulful and sexy, there will be babies made this weekend -mind your contraception or not.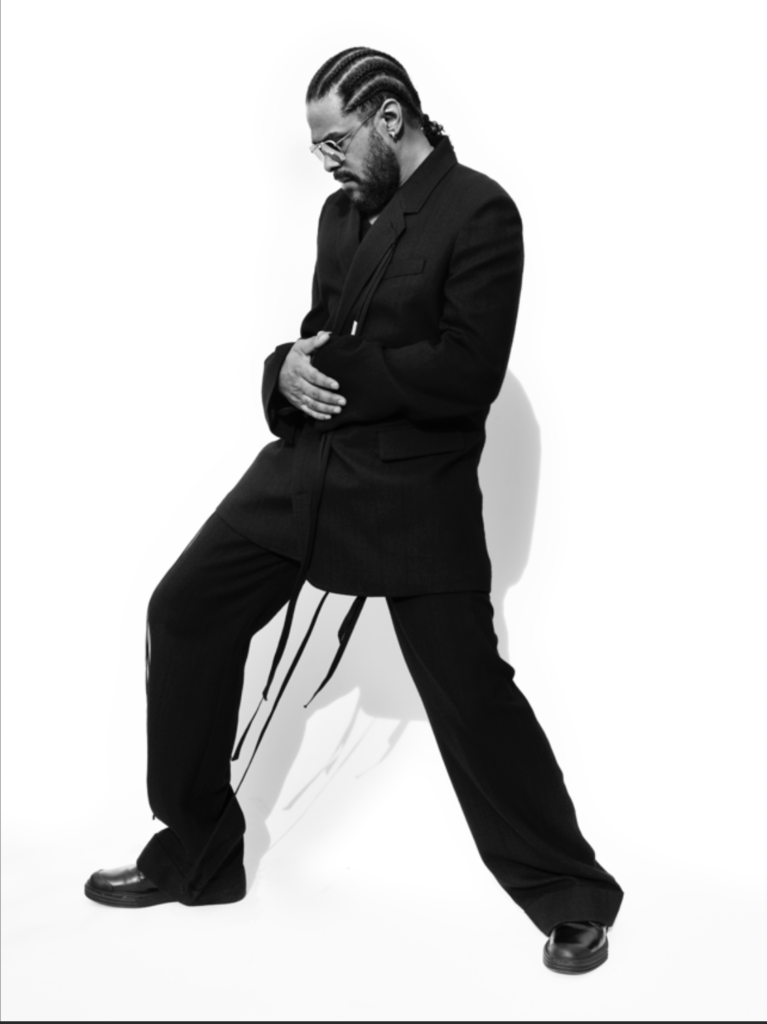 Above Photo: Maxwell
The Nights are Set to Stimulate and Entice All Your Senses.
At the end of each night resident artist, Robert Glasper will take stage with special guests; Dinner Party with Terrace Martin, Kamasi Washington with Snoop Dogg on Friday. Our Cannapolitan queen- Erykah Badu, Terrace Martin and BJ the Chicago Kid on Saturday night. Sunday finishes smooth with special guests Ledisi and D Smoke. If that wasn't enough, add Dave Chappelle as the badass on top of the sundae, as he hosts each evening's gathering. This will surely be a historical weekend!
Here's the full line-up poster: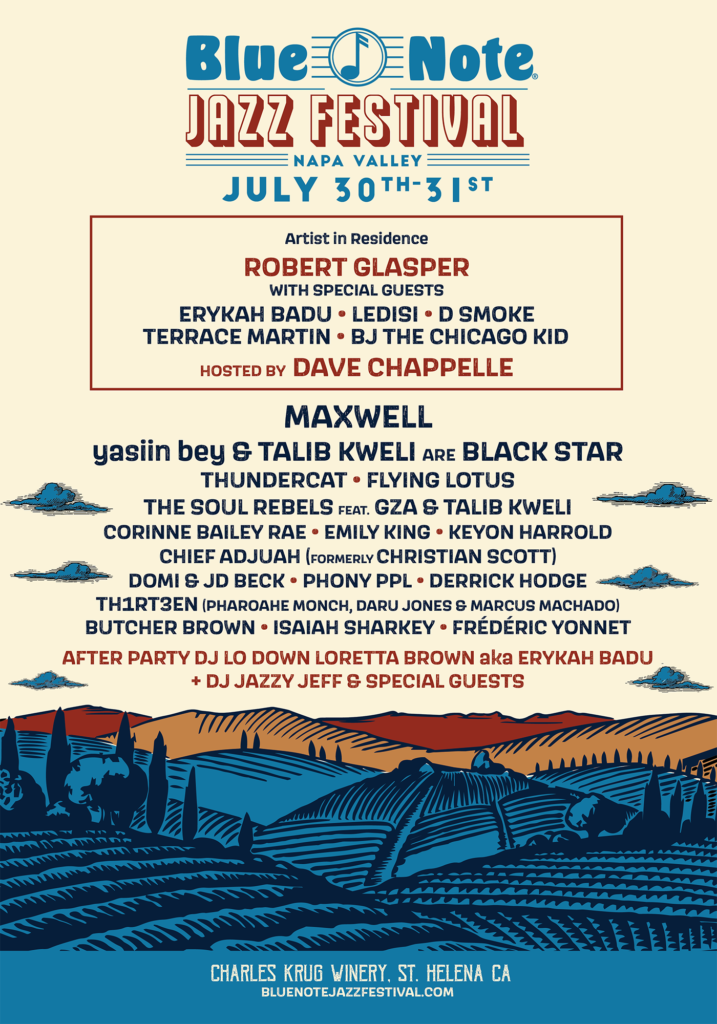 Stay tuned to Cannapolitan on Instagram for live feeds, reels, and posts. Be sure to roll and light up when you read all about it here at CannapolitanMagazine.com for the full feature recap of the inaugural Blue Note Jazz Festival in Napa.
This is certainly going to be one for the books!