This is Cannapolitan's Hottest Music Festivals for 2023 Nationwide
It's almost festival season! It's that time of the year when all of the year's music festivals open their ticket sales and reveal their line-ups, here's our picks for the best festivals and concert tours in the United States for 2023. Make sure to secure your tickets soon, these shows tend to sell out quickly! Life is too short to miss these once in a lifetime performers and performances! Cannapolitan plans to cover as many of these epic festivals as possible to share with you, but we sure would love to experience them with you! Gather your friends, roll up and let's party!
The following are organized by date, this way you can plan your year of festivals and concerts your way.
Cali Vibes Feb 17-19 in Long Beach, CA.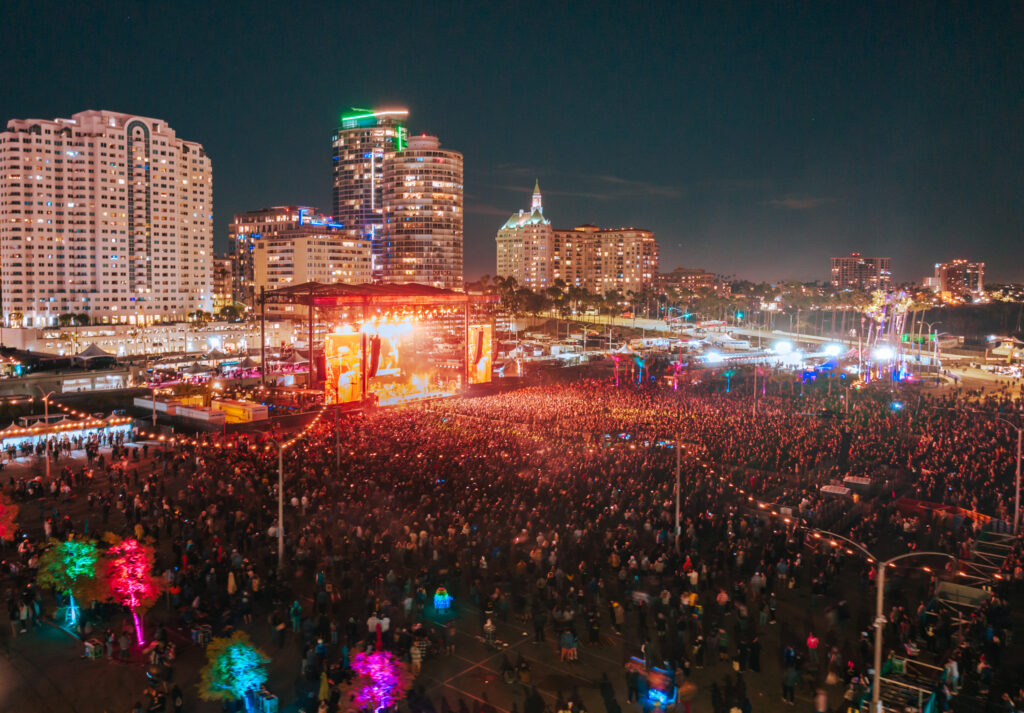 Photo Credit: Sanjay Suchak, courtesy of Goldenvoice.[/caption]
This year's California Vibrations aka "Cali Vibes" festival will make the second time around the sun. Once again, they're coming in HOT and hard with another incredible three day line-up. We were already impressed with the first festival this past year (click here to read about the full festival last year) as a whole from entry to the last act on stage on Sunday, this festival was made for you and me. One hundred percent Cannapolitan!
The VIBE is truly a pleasure for all ticket holders. Leave it to the legendary concert pros at GoldenVoice (Coachella and Stagecoach just to name a few) to produce such an outstanding show and provide an experience for all to enjoy. There are multiple stages, areas dedicated to Cannabis education and consumption, you're next to the ocean, need we say more? Oh yes, when the munchies kick in, Cali Vibes brings the best food vendors and much more to enhance your experience.
Cali Vibes planted a seed in Long Beach last year that has blossomed into one of the best Reggae festivals in the world, this year's line up is proof plus! They just added LBC's favorite sons, the legendary Snoop Dogg to Saturday's show along with Cannapolitan favorite- Cypress Hill!
It just so happens that the festival's newest additional headliners; Snoop Dogg and Cypress Hill are both celebrating legendary milestones in their careers as this year marks the 30th Anniversary of their debut hit albums – Snoop Dogg's "Doggystyle" and Cypress Hill's "Black Sunday" – released in 1993. Furthermore, Snoop Dogg's confirmed performance at Cali Vibes will give him the opportunity to connect with his beloved hometown fans from the main stage in the LBC!
Cannabis Friendly!! This whole Festival is a VIBE!
This year, Cali Vibes is taking the Cannabis conversation even further as they also have exclusively partnered with Dr. Greenthumb's dispensaries! Dr. Greenthumb's was founded in 2018 by Cypress Hill's front man, artist, cannabis advocate and activist B Real. Dr. Greenthumb's is recognized for its extensive menu of top-shelf cannabis and line of dispensaries located throughout California. This is going to be an ultimate sesh unlike any other you've attended. To learn more about Dr. Greenthumb's cannabis, please visit dgtworldwide.com.
Here's the festival poster with the line-up!
This has to be one of the most intense Reggae line-ups in the world! Not to mention the bonus of all these other incredible artists all in one weekend!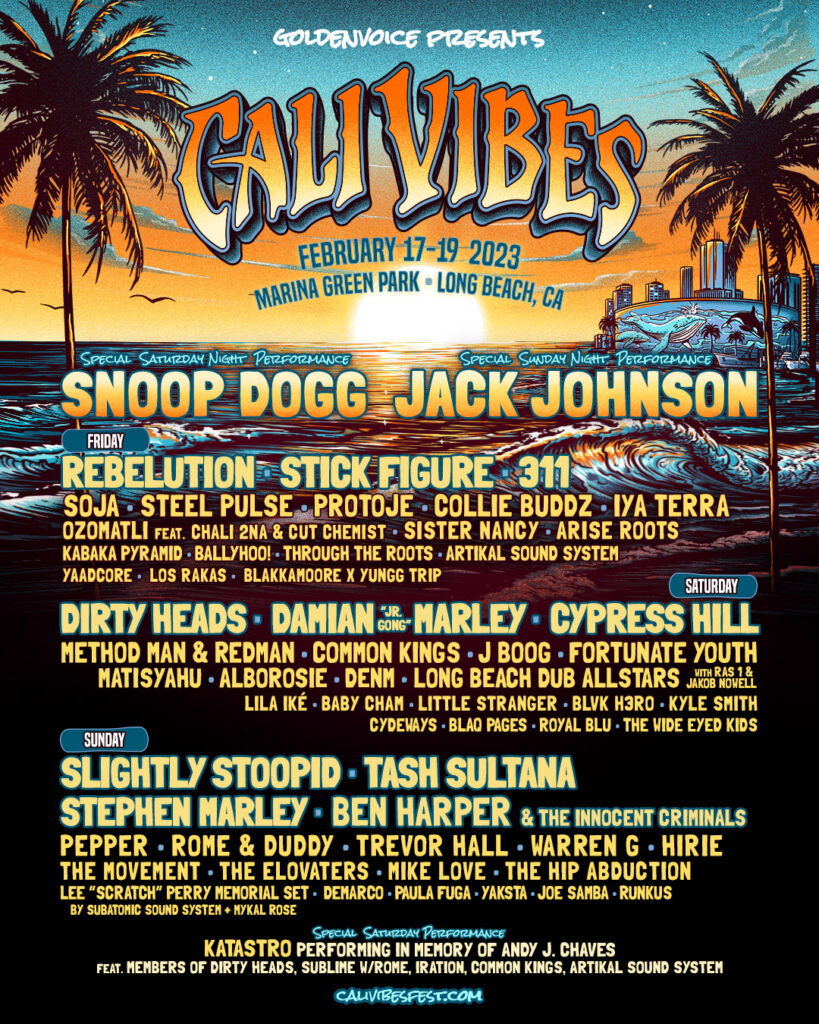 Rolling Loud  March 3-5  Los Angeles – old Hollywood Park grounds, adjacent to Sofi Stadium.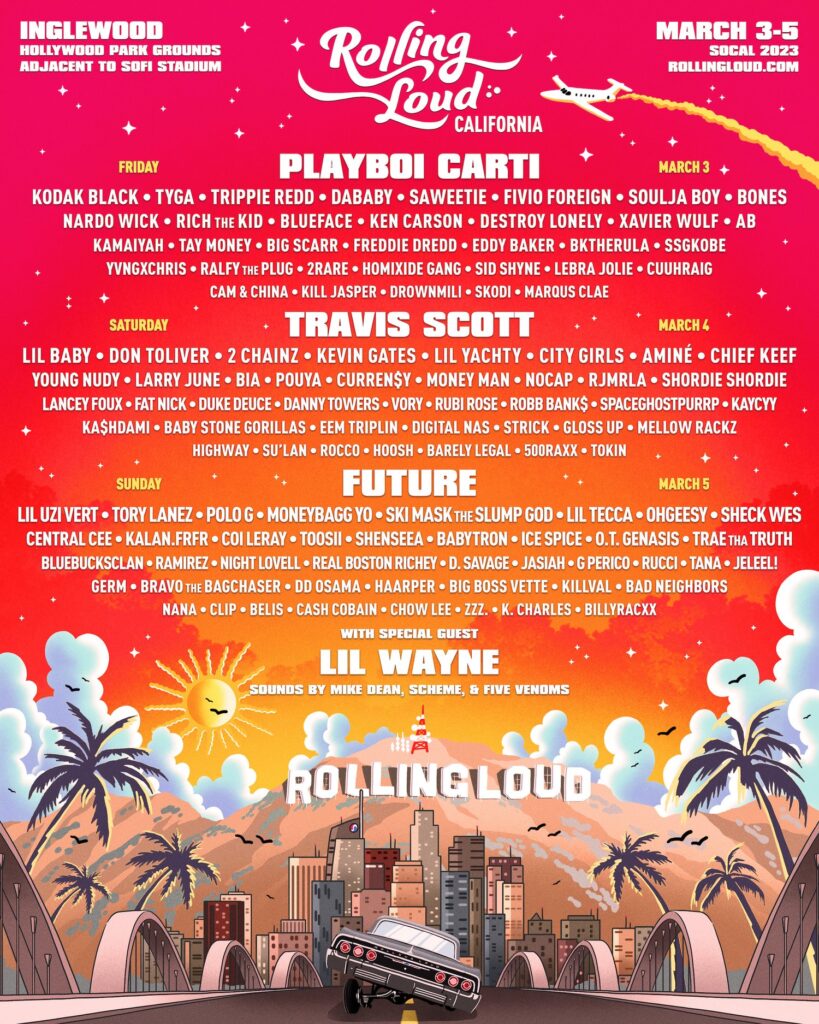 This festival has been traveling throughout different states over the past few years and now they are invading LA! This is an outdoor venue, so expect plenty of clouds of smoke in the crowd. After all, it is called Rolling Loud for a reason in our minds. This is a BIG festival, three days with a packed line-up of nothing but all Hip Hop. Check out the event poster below for the full list of artists performing. Hip Hop turns 50 this year, this would be a fun festival to celebrate it.  Get your tickets here.
Coachella Music and Arts Festival  April 14-16 & 21-23 Indio, CA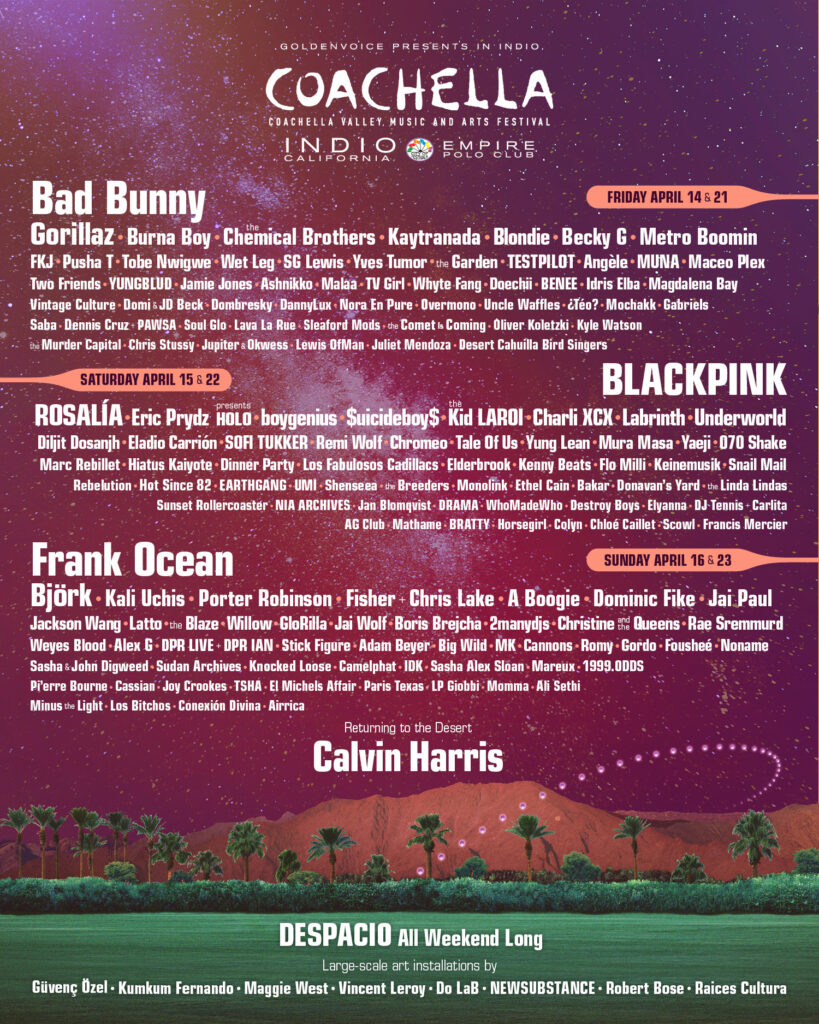 The legendary Coachella Music and Arts Festival returns to Indio, Ca in 2023 with a line-up of what's hot and upcoming stars yet to be discovered by the masses. This festival makes stars and produces once in a lifetime experiences on the stage and on the ground in the desert sun. This year's headliners are Bad Bunny, Black Pink, and Frank Ocean closing out the show. We're especially excited to see and hear Bjork, who always brings the unique and unusual to her performances. Coachella will be bumping the desert grounds for two weekends in April, prepare to be amazed and mystified.
Gather up your sunscreen, your floppy hat, and that kimono and secure your tickets starting 1/13/23. You can check out all the details of this year's Coachella Music and Arts Festival here.
BeachLife Festival  May 5-7  Redondo Beach, Ca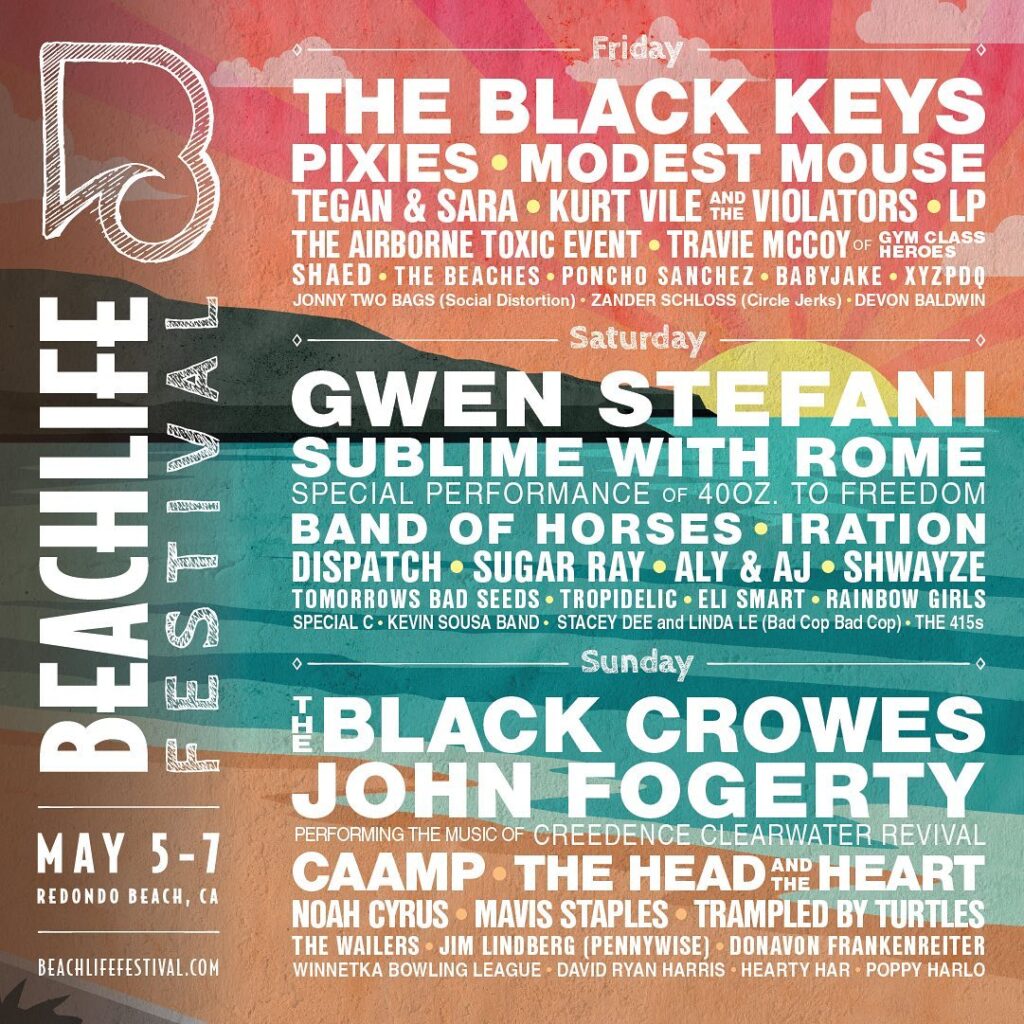 BeachLife Festival in Redondo Beach is truly a beach party! The quintessential California backdrop of scenery, beautiful beaches, people, and music make this south bay festival one of a kind. This year makes BeachLifes' fourth festival, it would be year five if it wasn't for the lost year of 2020 that we all experienced shows from home or not at all. This year is already looking outstanding for music festivals and concerts, many artists coming out with new music, it's a time of renewal and getting back to what we love to do. Music and art festivals give us a chance to unwind and step away from the norm and experience once in a lifetime performances and time spent with friends and loved ones. BeachLife represents all of these things and much more. The surf vibe is certainly in place considering this is surf city! Redondo Beach is a beautiful community full of fun shops, gourmet restaurants and surf culture.  Tickets are on sale now, click here for more information and ticket sales.
BottleRock May 26-28 Napa, Ca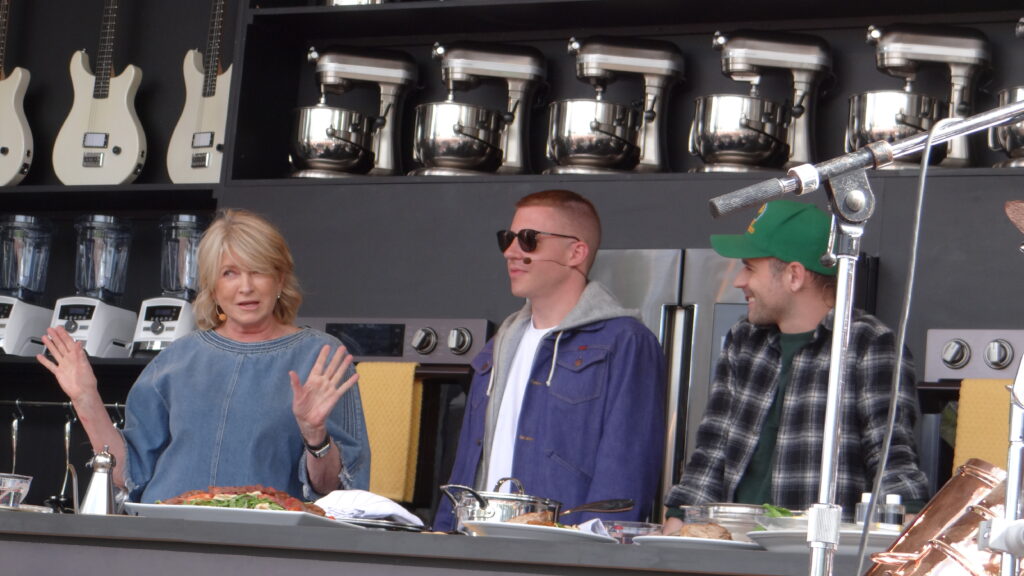 Photo credit Lisa Kaler, courtesy of The 420 Times, featured BottleRock in 2016.
Only at BottleRock in Napa can you see this! BottleRock is on another level bringing music, food, art, and don't forget WINE when you're in the wine capital city of Napa. The mash-ups of celebrity chefs and musicians coming together on a culinary stage are once in a lifetime opportunities. Every year BottleRock puts on a festival that celebrates great music, food, wine, and good living. Each year the line-up is for certain to blow your mind and this year we believe they have really outdone themselves. It also goes to show among all these great festivals throughout the country that live music and festivals are BACK and in a BIG way!
So, what can you expect to experience at BottleRock?
75+ bands on five music stages
Celebrity and chef performances on the culinary stage
Great sight lines throughout the venue
Access to gourmet food from the Napa Valley's finest chefs and restaurateurs
Dozens of wine cabanas where you can sip, savor and mingle with your favorite vintners making every festival goer feel like a VIP
Access to craft beer and specialty cocktails
Free Wi-Fi powered by Cisco & much more experimental attractions throughout the venue.
Check out this incredible line-up!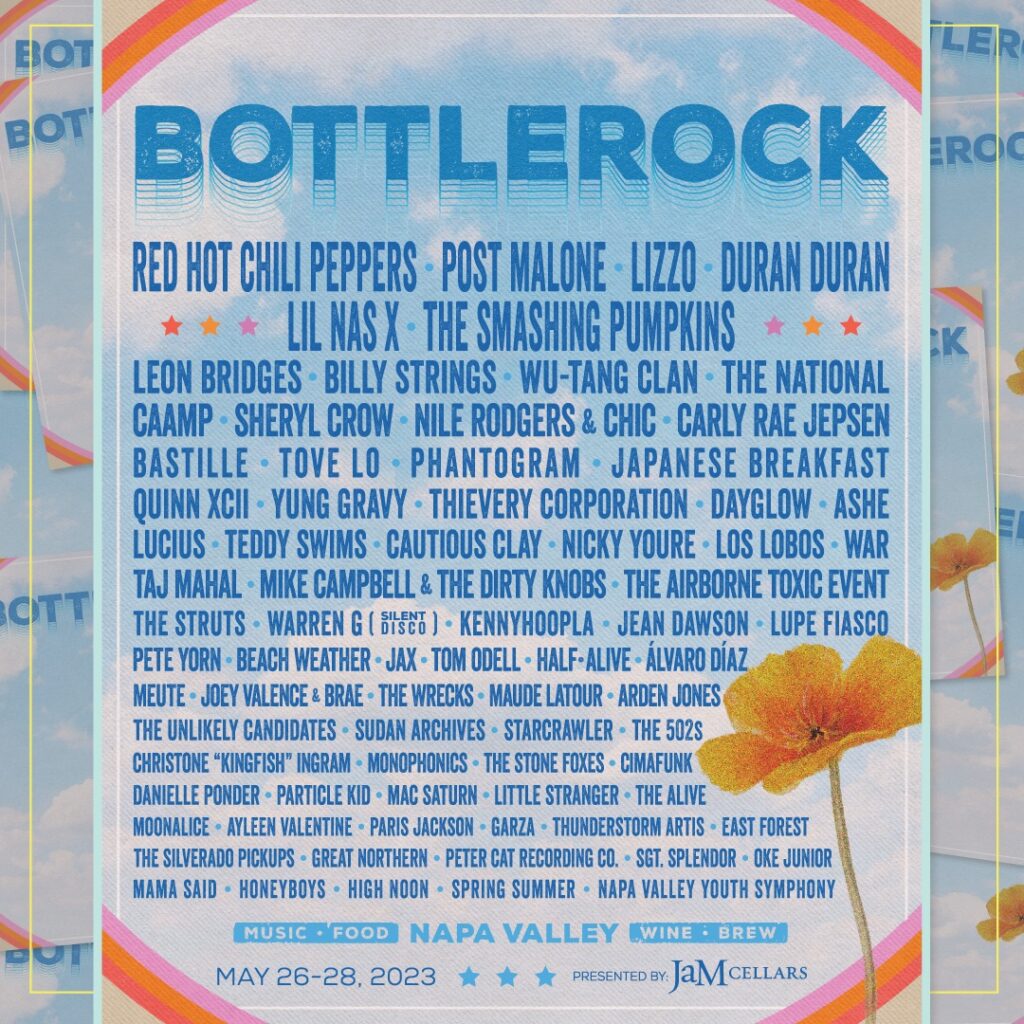 Boston Calling  May 26-28 Boston, MA
Here's the line-up poster!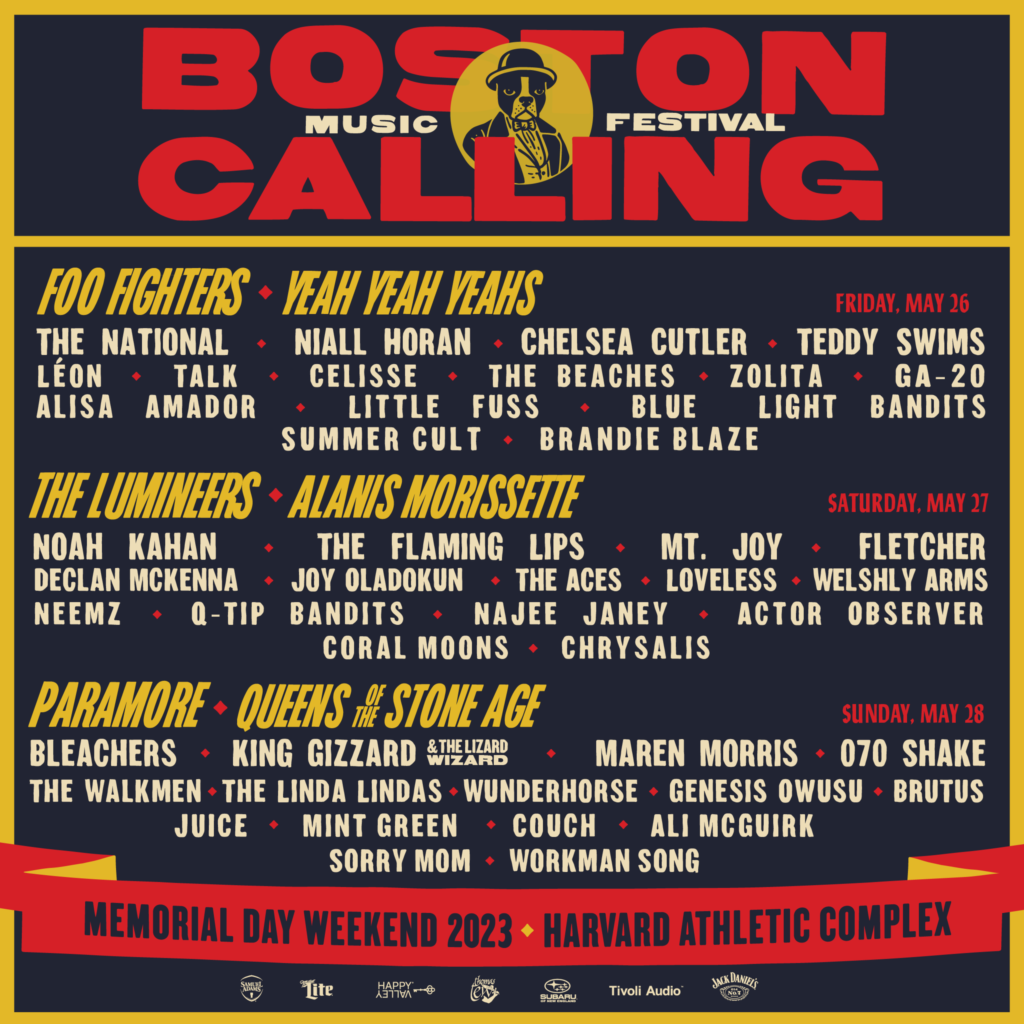 Get your rock on in Boston on the edge of summer, Memorial Day weekend this year starting with an incredible line-up of legendary rock stars alongside talented up and coming bands that are sure to inspire the next generation. Boston Calling is a well balanced festival that is sure to satisfy all tastes of music; rock, punk, pop, alternative, country and more.
Cannabis is now legal in Massachusetts!
Whether you are from Boston, within Massachusetts or somewhere else entirely, you can now benefit from legal Cannabis sales that are now in effect. That's right, you can have your Cannapolitan moments while at the show. Check out our favorite edible when in Boston, Betty's Eddies!
We have not yet been to this festival, but have been to Boston, some of the nicest people! To inquire about tickets and VIP packages click here.
Bonnaroo Music & Art Festival  June 15-18  Manchester, TN
Get ready for four mind blowing days in the south in June! Bonnaroo is another animal of a festival, it has it's own language and spirit unlike any other.
Four days of music, so many bands and artists! Check out the line up below.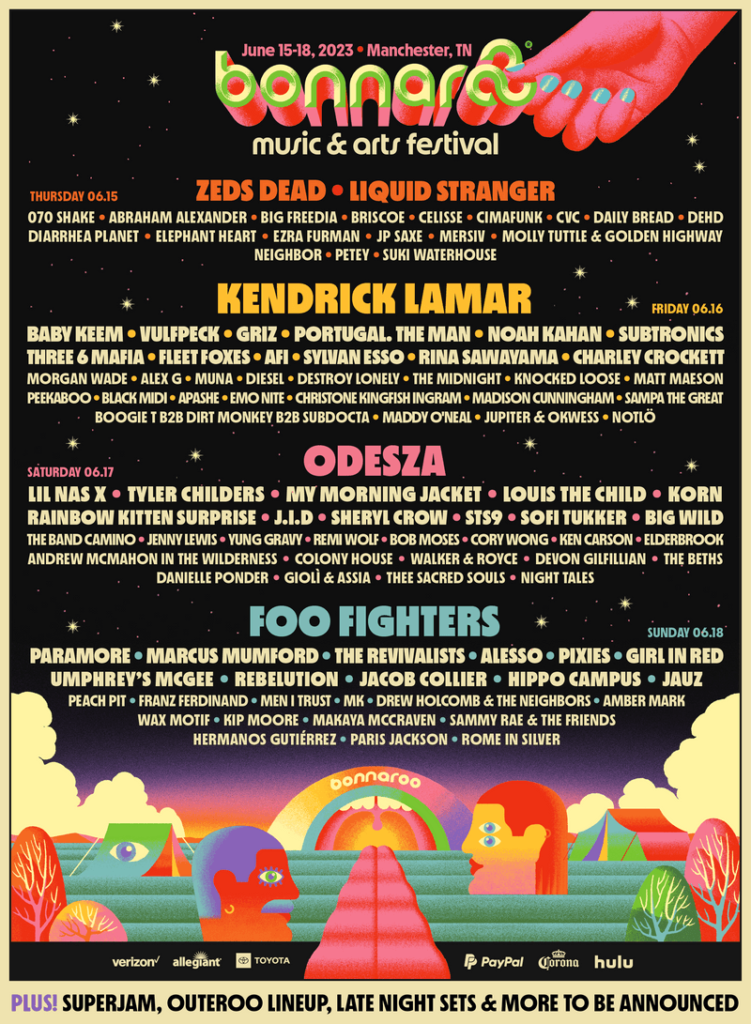 Foo Fighters will be closing out Bonnaroo!
The most exciting part of this festival is the return of the Foo Fighters. They are taking on several music festivals this year while they adjust to the tragic loss of drummer Taylor Hawkins. It will be interesting to see if this means Dave Grohl will be behind the drums or if a new drummer will be brought in for shows scheduled. Either way, we're thrilled to see them performing again.
Camp it out under the stars
Bonnaroo offers attendees to camp onsite or come for the day and stay in a nearby hotel. The camping option is certainly an appealing choice if you enjoy the outdoors. We're told it's easy to purchase your tickets (which go on sale 1/12/23, 10am ct) and also purchase your camping or parking option with ease on the site. Camping options start with primitive car camping starting from $50 to upwards of the ultimate glamping experience at a festival costing around $3,000. There are options in between those rates as well. Bonnaroo has spent years making this camping option fun for large groups of friends as well. There is an option for all types of tastes and how rugged one wants to stay. Here's a link for more details.
Blue Note Jazz Festival Napa, Ca July 29-31, 2023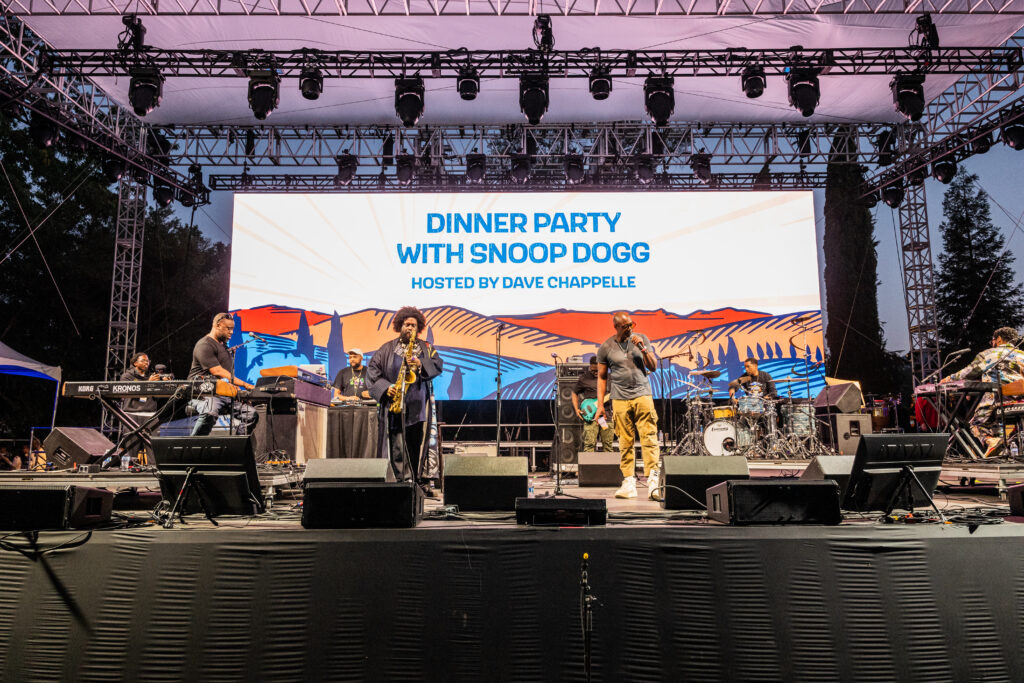 Above is a shot of last year's epic first Blue Note Jazz Festival on the west coast in beautiful Napa valley.
We are excited to feature this festival again this coming year! Check out our feature on Blue Note Jazz Festival here. This was one of our favorite festivals to attend for a number of reasons, the line up and the inviting and relaxing vibes that this festival puts out. Update 4/4/2023: The line up is official and tickets are on sale NOW!
Check it OUT! We're so thrilled to see Dave Chappelle once again hosting this incredible festival! Three days in the heart of Napa at the Silverado Resort & Spa.
We plan to be there to cover all things Blue Note! This makes the second festival on the west coast and we've heard it's going to be even more spectacular! Great food, wine, and Cannabis? Let's go! This line-up with the almighty Mary J Blige, Nas, and Chance the Rapper as the headliners has so many other incredible artists as well that makes this festival such a great value! We'll be covering this festival and featuring all the great moments and pure JOY that comes with the Blue Note Jazz experience.  Get your tickets here and don't sleep on getting yours soon! This festival is limited in size and tickets, we'll see you in the vineyard!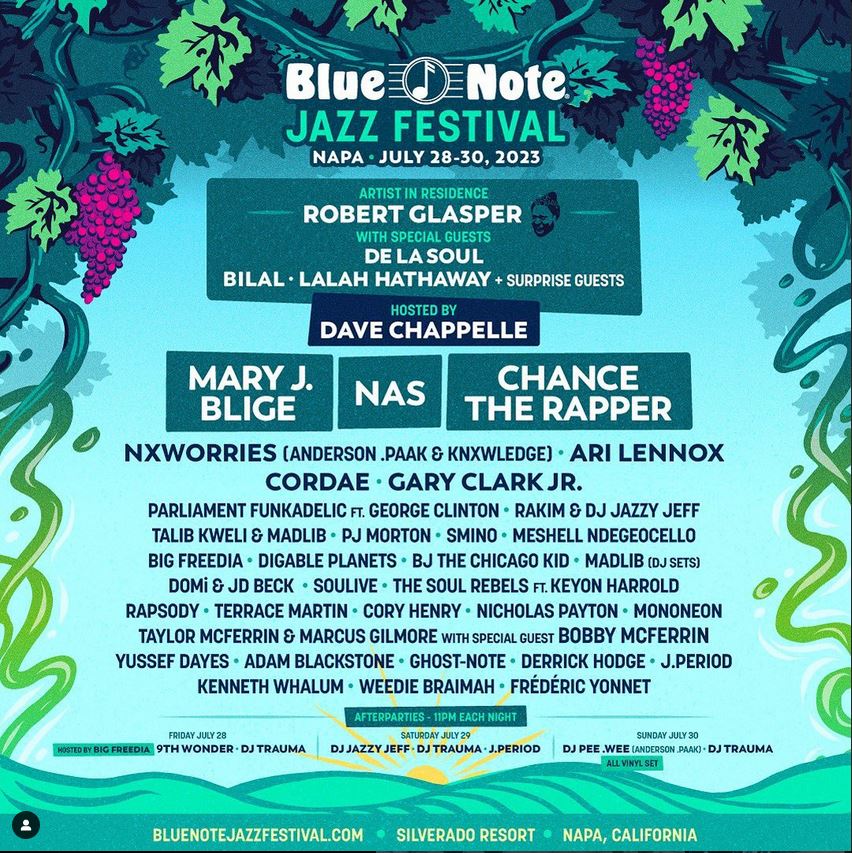 Blue Note Jazz Festival, New York June, 2023
Iconic Artists, Iconic Venues!
Blue Note Jazz Festival New York is back! This year the festival will be spread out into different venues.
• Sony Hall • The Town Hall •Beacon Theatre • Hammerstein Ballroom • Summer Stage •BRIC Celebrate Brooklyn
Jazz at its vibrant core, Blue Note Jazz Festival in New York has maintained its historical excellence while providing its audiences with a range of dynamic, culturally rich experiences and top artistry. The festival offers unforgettable shows by outstanding jazz, soul, hip-hop, R&B, and funk players, trailblazers, and influencers.
In 2023, the festival will feature iconic headliners such as Grace Jones, NxWorries, Robert Glasper, Pat Metheny, Buddy Guy, Bruce Hornsby & The Noisemakers, Chucho Valdés & Paquito D'Rivera & more!
Here's the details: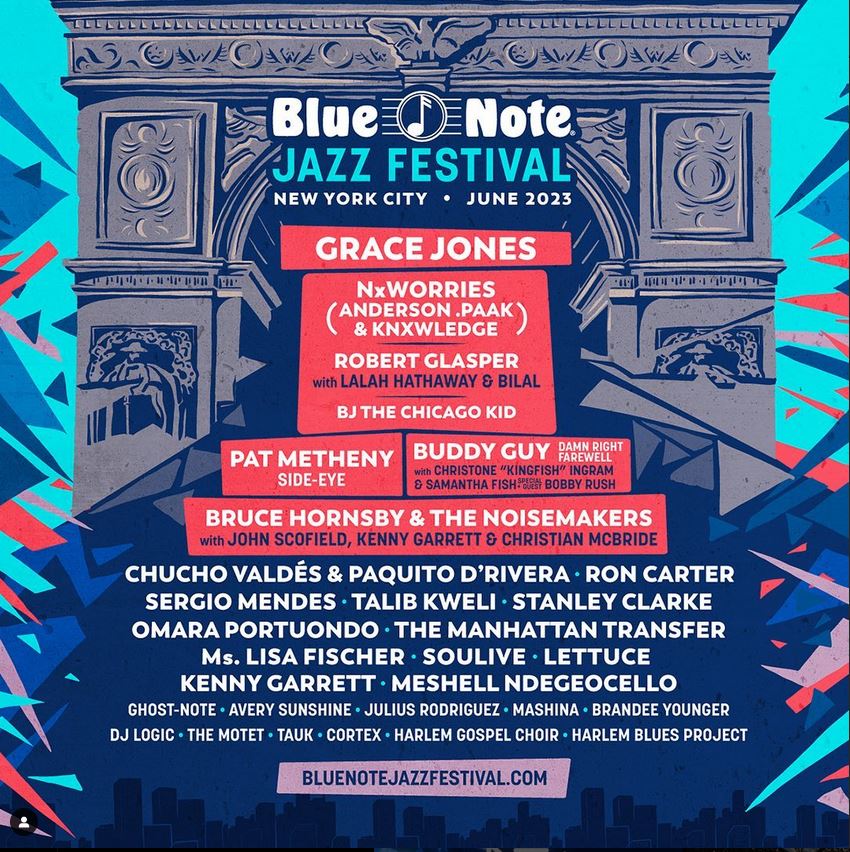 Northern Nights Music & Art Festival at Cook's Valley Campgrounds Humboldt & Mendocino County Line, Ca July 14-16 2023
Their tagline sums up how awesome this festival is: Music. Cannabis. River. Redwoods. Art. Wellness. Glamping.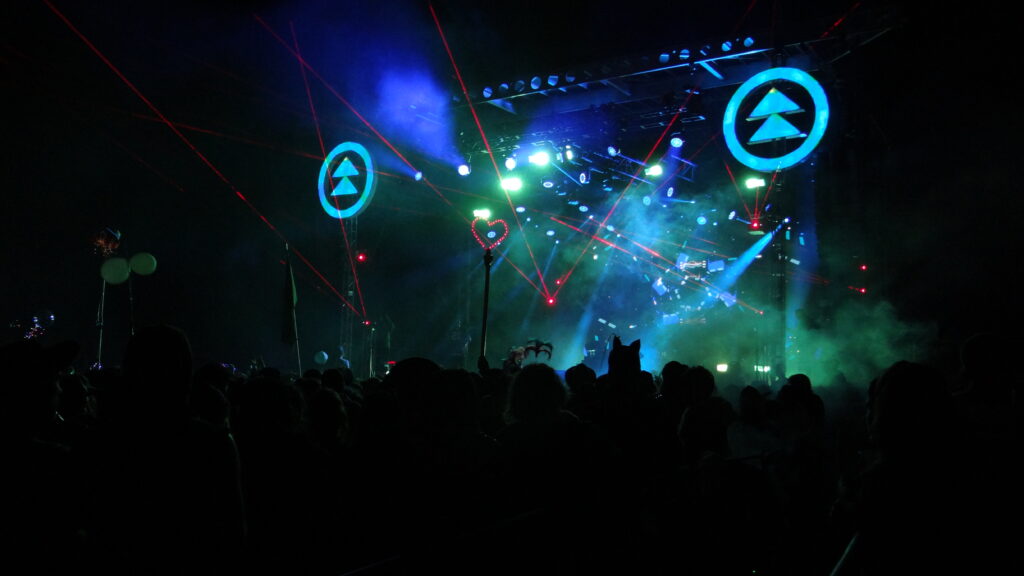 We have been to this festival in 2019, check out our full Northern Nights 2019 festival feature here.
This makes Northern Nights 10th year of success with the most incredible experience you have to witness for yourself. Memories, moments, and the smell of the redwoods will stay with you long after. Not to mention that this festival is all in! Music meets cannabis HARD this year at
Northern Nights
, who have announced that they will become the first music festival to create their own in-house cannabis strain to celebrate their 10th anniversary in 2023 while also announcing the music lineup listed below this video.
FIRST TO MAKE IT HAPPEN!!
In 2019, Northern Nights became the first music festival to have legal onsite cannabis sales and consumption. In 2022, Northern Nights became the first music festival to have dispensaries located at stages and the first music festival to have multiple on-site dispensaries.
This year, Northern Nights will continue its reputation as an innovator in the space by becoming the first music festival to create its own in-house cannabis strain! That's right!  The new "Northern Nights" strain furthers the commitment of the organizers to revolutionize the ways that Cannabis culture can be showcased in a music festival format while supporting local curators. This created a partnership with the world-renowned breeder Humboldt Seed Company.
Following a multi-year process of pheno-hunting for the best Cannabis qualities, Northern Nights will have seeds and samples of its own custom creation at the festival's farmers market. (Not to be confused with the infamous "Northern Lights" strain). The festival will be the only place to purchase and consume this very limited batch of Emerald Triangle grown products. Now, this is a game changer and what a cool souvenir to take home and grow! We look forward to checking this strain out!  Get tickets here: Tickets for Northern Nights has already begun, the line up has also been announced, check out the poster below.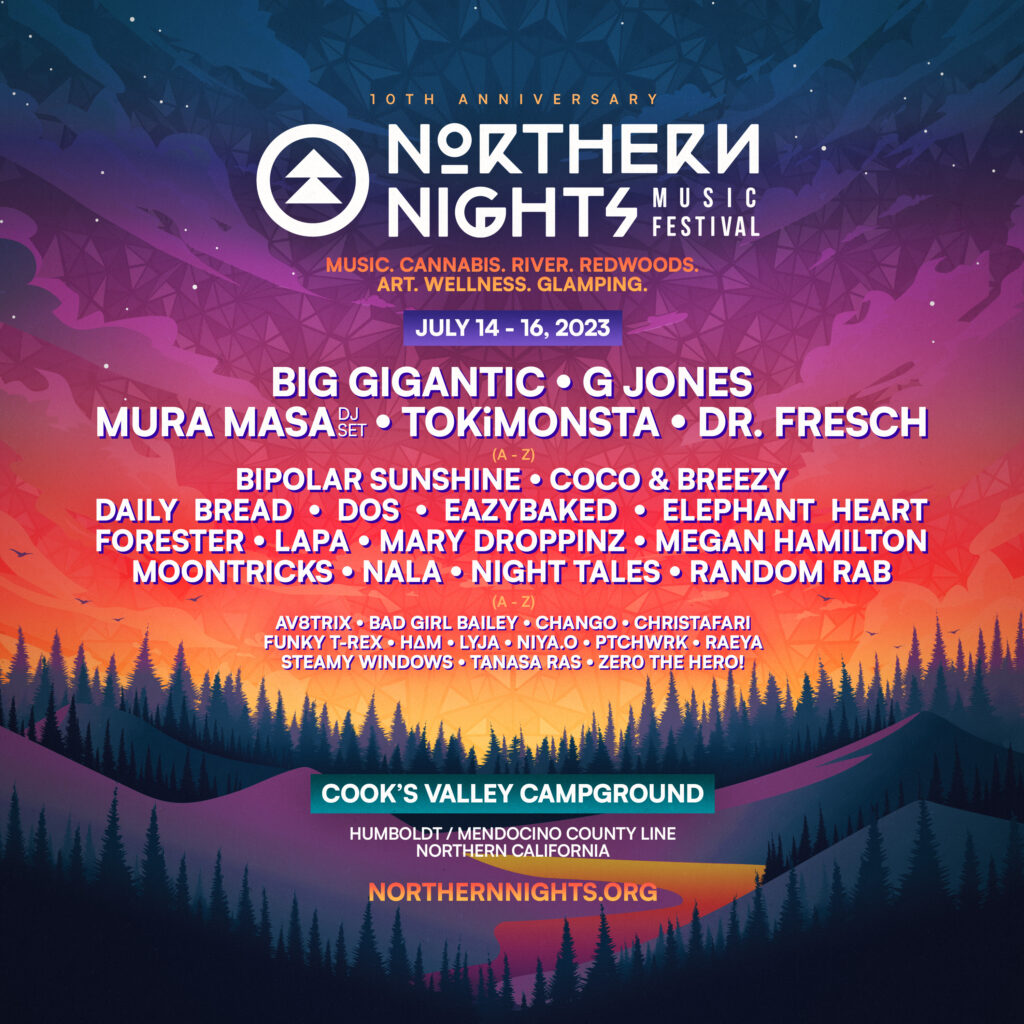 Outside Lands, San Francisco, CA. August 11-13, 2023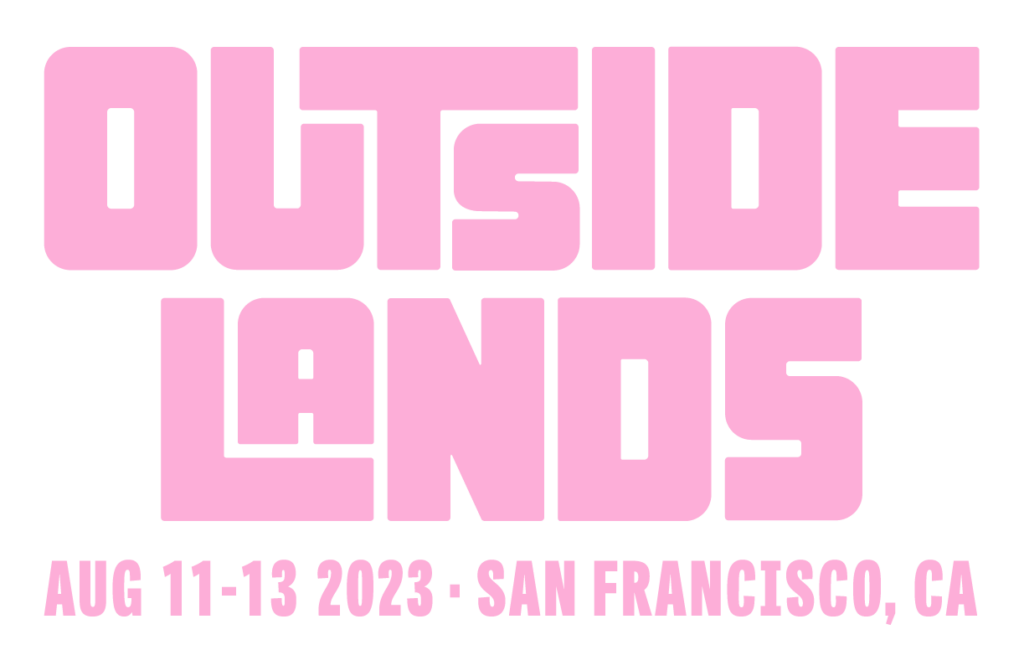 Get ready for the biggest party in San Francisco this August!
Tickets just went on sale with the official line-up now public, we can tell you the 15th Outside Lands is going to be EPIC!! This is a truly special festival, it's a whole vibe throughout. Make sure to put flowers in your hair and get ready to dance like no one is watching!
This is a MUST see and MUST experience Festival!
Local restaurants, wineries and breweries will also be showcased along with programming from Outsider Art, GastroMagic, Cocktail Magic and Grass Lands, "the first curated cannabis experience at a major American music festival," the press release stated. In celebration of this year being the 15th Outside Lands, Allen Scott, co-founder had this to say:
"​​When we started Outside Lands back in 2008, we had a vision to create a unique festival experience that had never been done before," commented Allen Scott, co-founder of Outside Lands and president of concerts and festivals at Another Planet Entertainment. "Fifteen years later, Outside Lands continues to be a bright spot for the city of San Francisco and pushes boundaries in music, food, drink, art and cannabis programming, as well as providing space for environmental and social initiatives. The festival celebrates everything we love about the Bay Area's rich cultural history."
Outside Lands is celebrating their successful festival of 15 years with iconic acts like Kendrick Lamar, Foo Fighters, Lana Del Rey, Janelle Monae, and so many more! This line up has heavy hitting rockers, rappers, and booty shakers. Something for everyone in a town where everything goes! The food, drinks and did we mention GRASS LANDS is happening again this year! We absolutely love what this festival has done for Cannabis brands and the community. Outside Lands really has embraced the community and built out a space within the festival where you can have a brand introduction and purchase that brand and enjoy it all within the same space! Not only is there booths showing off some of the biggest Cannabis companies in the state, but there is also some great educational opportunities as well. There is a stage that allows for the audience to enjoy a new artist or band while lounging in spaces that are dedicated for smoking. See pictures below of our favorite moments from the past 3 years of Outside Lands. We missed last year's show due to the date, we are planning to be at Outside Lands this year to give you all the highlights and moments that you shouldn't miss! Speaking of that, here's a link to buy your tickets! See you at Outside Lands 2023!
Check out this line up!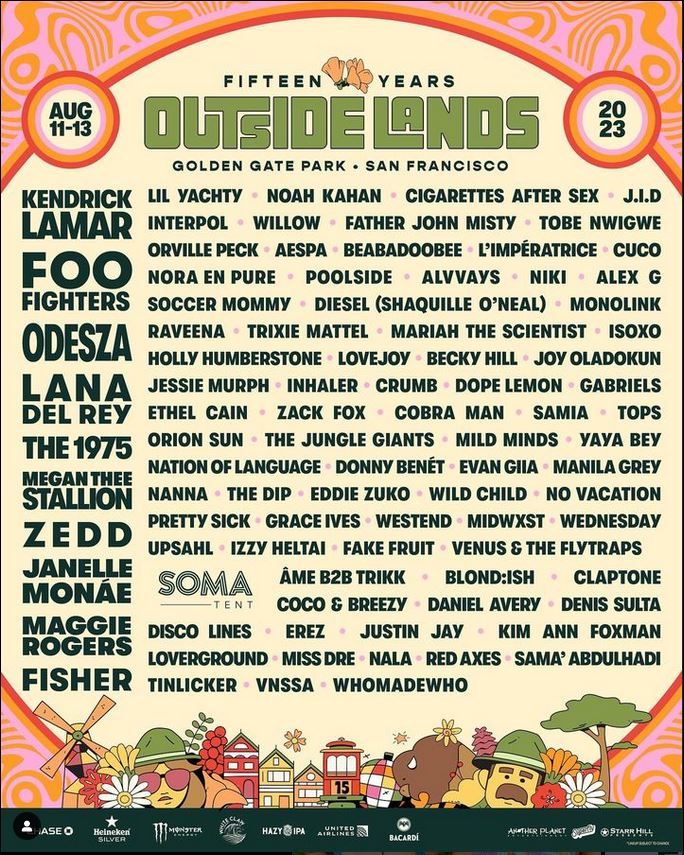 Check out these images of last year's festival! Scroll through the pictures. All images supplied by Outside Lands, Alive Coverage.