Featured Photo by Alive Coverage.
Cannapolitan's Guide to Outside Lands
This year's Outside Lands in San Francisco will celebrate its 15th year!
It's nearly that time again when the city of San Francisco braces for the influx of over 100,000 music lovers and ushers them all into Golden Gate Park once again for the 15th year of Outside Lands. Yes, that number sounds daunting but as an experienced Outside Lands reporter I will assure you that the crowd spreads out throughout the festival grounds very well. There is a great amount of open spaces between and among all the attractions, stages, food and beverage lands, and our favorite area- Grass Lands! Before you get overwhelmed with awesome, let's break it all down for easy digestion. After all, your stomach will thank you with all the amazing food you will encounter at Outside Lands. Happy Anniversary to Outside Lands!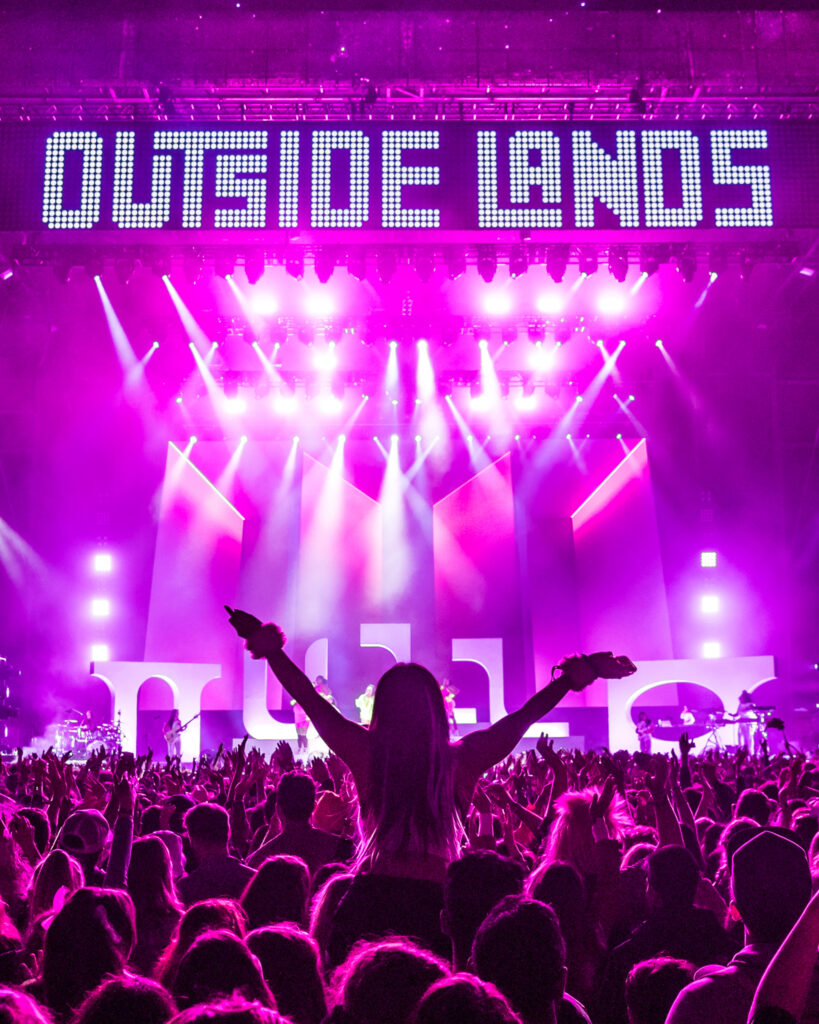 Photo by Alive Coverage.
Entering the Park
Outside Lands is inside the most glorious park in America, Golden Gate Park. To give you an idea of the size of this park, Outside Lands Music Festival only takes up what we guesstimate as maybe 1/8th of the park. The park is so big, it's considered one of the largest urban parks on the planet! Being that the park is over 3 miles long and a total of 1017 acres of land, you bet it is! Parking is fun (not really) but that's the city of San Francisco, it's not a driver's paradise for a number of reasons, but I digress. What you need to know is parking is limited around the perimeters of the park and parking lots, so we don't recommend as a first option. Unless you have VIP or paid parking, it's a bit scarce for that number of concert enthusiasts.
Another option is to take a car service to the park, this will save you a ton of time trying to find parking and will allow you to get straight to the show. Another approach and fast one is plan ahead and take public transportation. I have first hand taken this option before and once you get the hang of it and learn the stops, the city, and with the assistance of google maps, it's easy! You'll feel good knowing you don't need to worry on finding a spot to park. You're free to move among your fellow music fans towards the gates of Outside Lands with ease.
Security is a breeze, so long you know what is and isn't allowed to be brought into the festival. Click here to see what isn't allowed and what size bag and types are permitted (clear bags are great for security to check and get you on your way). We recommend personal water bottles or camel back water packs to bring (so long as they are empty upon entering). There are numerous places to fill your bottle or pack and stay hydrated without having to refill as often throughout the day with a water pack. Outside Lands is proud to be making a significant reduction on the environmental footprints that are left behind this epic party.
There are several entrances to the festival, click here to see a larger version of this map.

Welcome to Outside Lands!
Now that you're officially inside the festival, take a moment to take it all in, it's an experience you will never forget whether it be your first time or your 5th time at Outside Lands, every year is memorable. Hopefully you brought a friend or two with you, if not you'll be sure to make some after this weekend. Outside Lands may draw a large crowd, but it does have that sense of community, responsibility, and integrity that stands on its own. The festival organizers care deeply about the park, the environment, social equity, and community. If they didn't, I don't think Outside Lands would have made it here to its 15th year. So when you enjoy the festival grounds, remember it is a park of beauty and conservation, take your trash to the appropriate trash bins that are easily found throughout the festival. This makes everyone's experience even more enjoyable. This is San Francisco, put a flower in your hair and love your brothers and sisters and the mother, earth.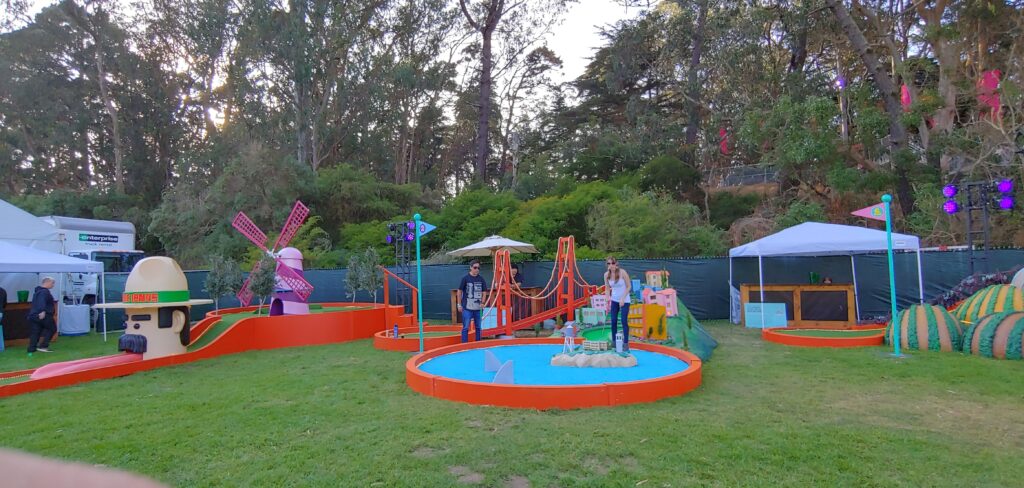 Outside Lands 2019. Photo by Lisa Kaler, Cannapolitan.
Now What to do First? Check the Line-Up Schedule and Get Accumulated to all the Awesome Surroundings
Outside Lands has ultimately 6 stages, 1 mega stage (Land's End Stage) within the polo field. There are two of fairly even size stages at different ends of the festival grounds; Sutro stage is somewhat adjacent from the main polo field. The Twin Peaks stage is the furthest end of the grounds that also has about the same size stage and audience space as Sutro.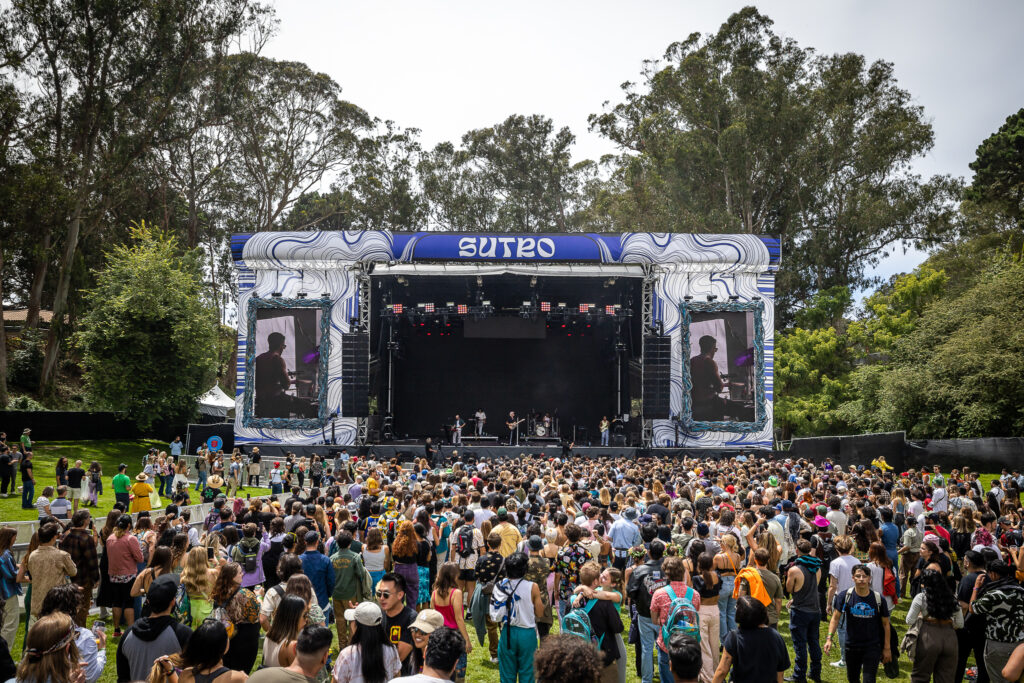 Sutro Stage, photo by Alive Coverage.
The Twin Peaks stage is nestled into the woods.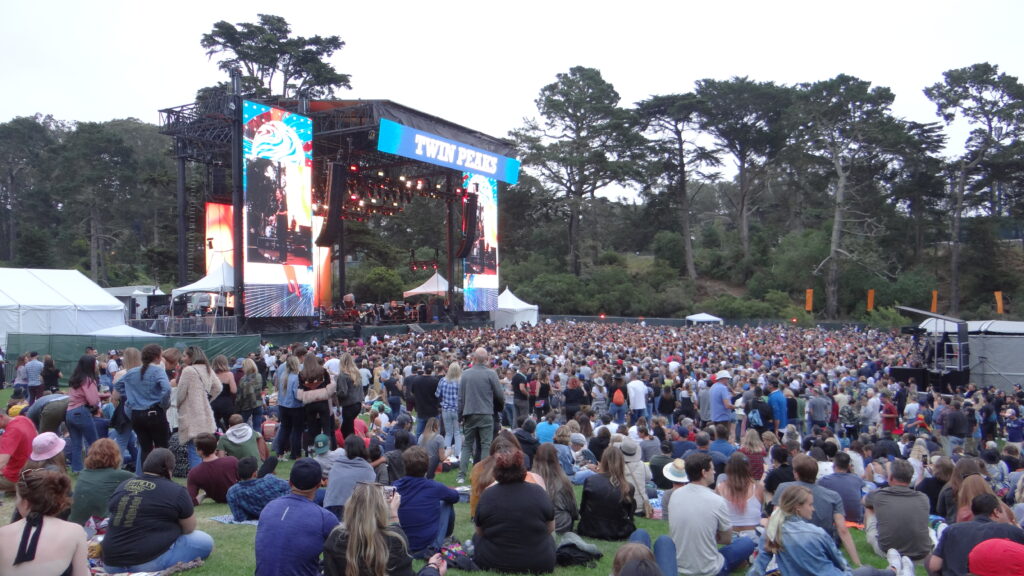 Twin Peaks Stage, 2019.   Photo by Lisa Kaler, Cannapolitan.
There is plenty of food and beverage options that run down the walkway over to a slightly smaller stage called the Panhandle Stage when coming from Twin Peaks. The other stages are in our favorite land, Grass Lands which we'll dig into shortly. The Soma Tent, which is all about all day and night house music, it's a dance fest! Last but definitely not least, Outside Lands has a new area/ stage this year to get down and funky called Dolores'. This FABULOUS stage and open air dance hall will have you kicking up your heels and making all the fierce moves.
Check it out here: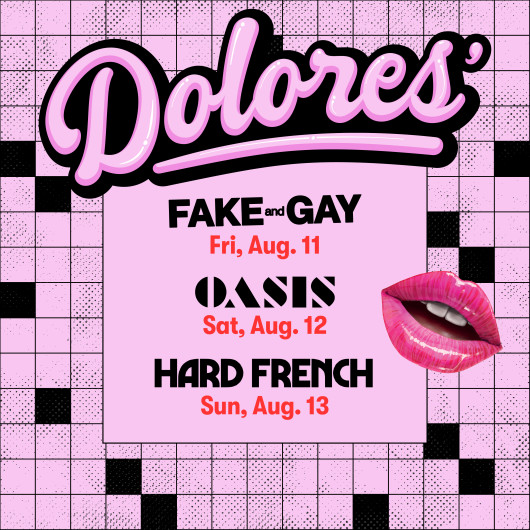 Dolores' is a brand new open-air dance club in the Polo Field celebrating the queer and trans communities and the DIY spaces that are vital to San Francisco nightlife and culture. The stage and scene pays homage to the rich history of queer parties, performances, and activism in San Francisco and around the country. Experience a can't-miss daily lineup of local artists, DJs, and drag performances programmed by local nightlife icons FAKE and GAY, OASIS, and Hard French.  When we have more details, we will update this feature.
There are plenty of fun activations with various brands and dazzling photo opportunities spread throughout the festival grounds to make all your friends jelly when you post to IG.
Here's a link to the schedule for all three days (link will be active once the daily schedule is released closer to the show date).
In the meantime, here's the poster so you can see which performers are playing and what day.
There are a Limited number of General admission and Golden Gate Club Tickets are still available for Friday and Sunday (single day ticket purchases) as all the other tickets and packages have SOLD OUT!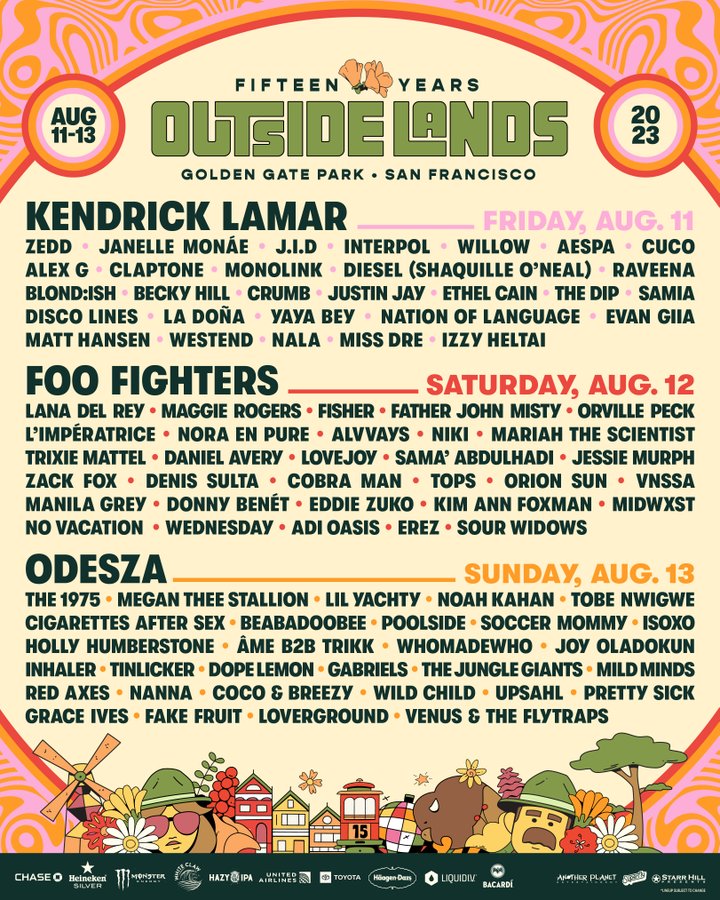 Outside Lands has Lands! We Sure Love these Lands! Beer Lands, Wine Lands, Food Lands, and our favorite, GRASS LANDS!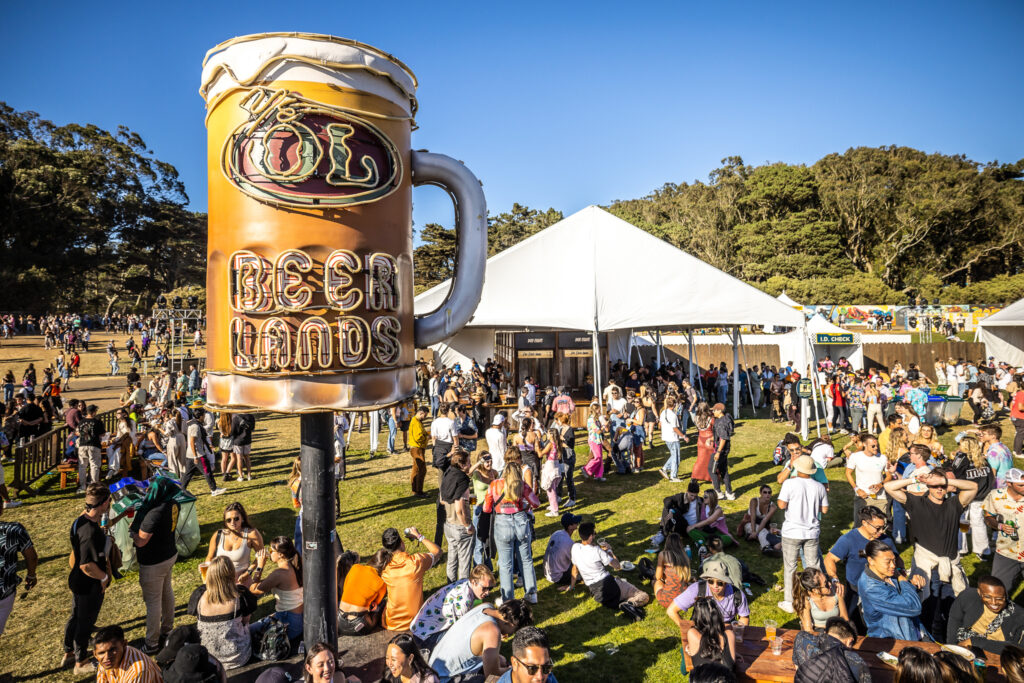 Every land throughout the festival has something to offer every desire or taste. Beer Lands and Wine Lands are represented by only the finest choices of brands and local brews in the Bay Area, we not need to explain that Wine Land is made up of many local vineyards from local wine making regions of northern California like Napa, Sonoma and more.  Of course Grass Lands triumphantly returns for its fourth year with legal sales being permitted within the Grass Lands Area only.
Grass Lands is Our Favorite Land!
If there was a anthem or song that would go along when saluting Outside Lands of being the most Cannabis friendly festival of its kind, we would sing or hum it proudly. In 2019 Outside Lands made history by being the first large scale festival in the country to have Cannabis sales and permitted consumption within the festival grounds. Grass Lands encompasses educational opportunities for patrons to learn more about the plant as well as brands that have booths within the land. This year's line-up of California Cannabis brands that are representing at Outside Lands is pretty spectacular. Brands like Traditional (whom we adore and have featured in Cannapolitan before, click here).
Co-branded Grass Lands products will be available this year via Sundae School and Zippo. Grass Lands will also feature unique food vendors to the area such as Total Meltdown, serving your favorite comfort foods and Bloomstock, a cannabis inspired café specializing in waffles and coffee located in San Francisco's Bay view.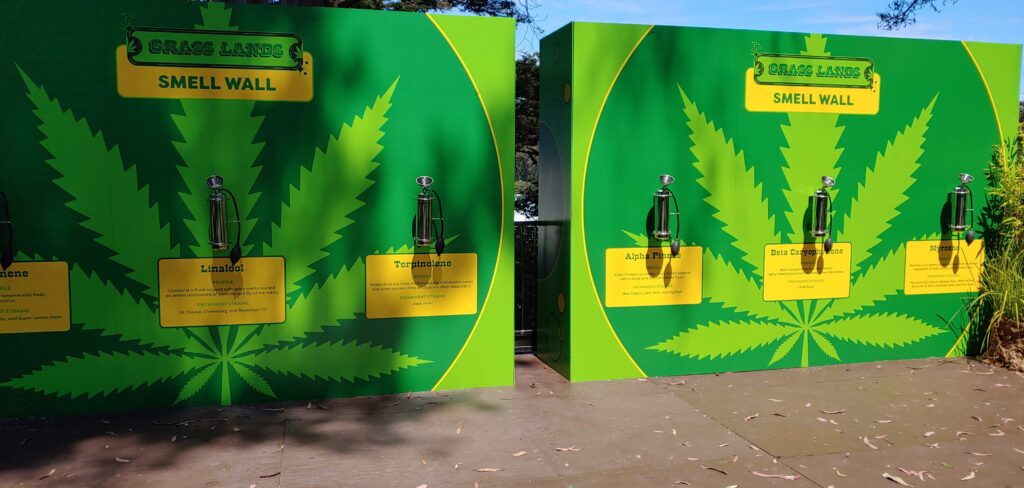 We're thrilled and excited to check out all of the Cannabis brands that are participating in another history making weekend. This year's Outside Lands is taking Grass Lands to the next level by highlighting social equity brands and operators that produce the best Cannabis grown throughout California. Including The Vapor Room, SF Roots, Oakland Extracts, and Moon Made Farms, as part of a curated menu by cannabis pioneers and advocates at the Equity Trade Network and longtime San Francisco operator Martin Olive. The Equity Trade Network is a Bay Area-based vessel for awareness and amplification of Black, Brown and socially equitable cannabis brands and regulatory structures.
This year's Grass Lands will be featuring over 25 brands representing some of California's best cultivators, brands and retailers, including Harborside, West Coast Cure, Keef, PAX, Hemper, Sluggers Hit, Pabst Labs and Claybourne Co. and many more. To see the full list, click here.
This is the place to chill and take in the moments that make Outside Lands uniquely special!
From the giant Grass Lands sign, you can view in the distance and watch the entire polo field of people dancing and enjoying the artist at the time on stage. Meanwhile turning your body towards the Grass Lands stage and take in the educational and musical acts that will blow your mind. Walking throughout Grass Lands, you can take in each brand's booths, and go to the dispensary and pick up some of the products being featured. We have our favorites in attendance, so we'll certainly be stopping by and partaking in all the experiences along the way.
Outside Lands has gone beyond and then some to make Grass Lands a success and at the same time never forgetting the culture and the community behind it all, that's Cannapolitan!
Everything You Need in One Festival, Epic Bands and Artists, Gourmet Food & Drink, Artists Being Discovered, and Memories That Last a Lifetime!
This is just a preview and guide to the awesomeness that is Outside Lands! The only way to find out is to be there! Don't sleep another minute and get your tickets for the days that are available. 
THE ULTIMATE VIP EXPERIENCE, GOLDEN GATE CLUB!
If you can do Golden Gate Club, then go for it! I've never seen an ultra VIP done RIGHT like I've witnessed at Outside Lands. They give you your money's worth with so much value and the views and rides to each stage ain't too shabby either! Your feet will thank you after the long day and especially after 3 days. You want to be treated like an actual rockstar? Get the Golden Gate Club pass- if you can afford it.
Here's what you can expect with Golden Gate Club passes:
Ken Fulk's Golden Gate Club is the exclusive, ultra-lux Outside Lands experience. Get up close and personal with front stage viewing, travel from stage to stage in our fleet of golf carts, wine and dine with a star-studded lineup of local culinary and cocktail legends, come and go easily via a dedicated entrance, and relax in the luxury of our exclusive private lounge! Featuring complimentary all-day food from beloved Bay Area Chefs Tyler Florence of Miller & Lux, Nancy Oakes & Dana Younkin of Boulevard and Ravi Kapurof Liholiho Yacht Club.
SINGLE DAY GOLDEN GATE TICKETS INCLUDE:
✓Up Close and Personal: Dedicated front-of-stage viewing areas with complimentary beverages at the 3 main stages (Lands End, Twin Peaks, and Sutro).
✓Mr. Fulk's Wild Ride: Travel in comfort, safety and style across the festival via our exclusive Golden Gate Club Stage to Stage Golf Cart Fleet.
✓Feast: Complimentary all-day food from beloved Bay Area Ravi Kapurof Liholiho Yacht Club on Friday, Chef Tyler Florence of Miller & Lux on Saturday, and Nancy Oakes & Dana Younkin of Boulevard on Sunday.
✓Imbibe: Complimentary drinks curated by celebrated cocktail, beer and wine talent.
✓Skydeck Parlor @ Lands End: Experience the Main Stage at Outside Lands from Ken Fulk's living room. 
✓Dedicated Entrance: Come and go easily throughout the day using your own lane at the VIP Entrance.
✓Personal Concierge Service: Dedicated concierge team to maximize your Outside Lands experience, including securing your optimal transportation plans.
✓Coatcheck, Charging Stations, Wifi, Premium Air-Conditioned Restrooms, and Exclusive Festival Gift: Let us take care of the details while you enjoy the show in comfort. 
✓Night Show Access: Keep the party going with exclusive presale access to all Outside Lands Night Shows.
Life is short- but you have Outside Lands to make your life the best!
We'll see you at Outside Lands 2023 and make sure to wish all your new friends at the show, "Happy Outside Lands!"