Cannapolitan Recommends Traditional Co., Los Angeles' Original Cultivators with Flavor and Quality!
We admit it, we are Cannapolitan and we are Cannabis nerds and true "cannaisseurs" (connoisseur definition). We didn't go easy on Traditional Co. We spent several months smoking their flower, here's what we discovered- They grow FIRE Flower ONLY! Their flowers not only smell and taste incredible once they go into the jar, their buds continue to improve over time and have long lasting smell and flavor that has yet to let us go. That's POWERFUL! That is why we can confidently say that Traditional is one of LA's great cultivators of flavors.  Without any doubt in our minds, our collective review team agrees with the following statements.
Traditional's Entire Flower Selection is in our Top 5 BEST for Southern California's Cultivators and Brands.
This is a big deal considering how many quality cultivators and brands there are headquartered in So Cal.
Our team had the opportunity to try twelve different strains that Traditional regularly produces. This was one of the more difficult reviews to do considering every flavor/ strain we tried had its own unique effects and flavors.
It was tough to decide which ones were our favorites as they all had incredible smell, taste, and effects we all enjoyed- they're all special.  This was a review of extreme pleasure for the whole team. We do our best to follow our established guidelines of how we rate and review strains. It starts with smell first, taste is second, looks is third, effects are forth, and intensity and length of effects follows them all. Which if you think about it, it's probably a similar method of how you rate buds you bring home from the dispensary.

Entering Flavor Town
We had the pleasure to tour Traditional from top to bottom in their downtown Los Angeles facility from their cultivation to their retail- everything is top shelf! Including the impeccable customer service and staff members who feel like family members.
As you walk up to the door, you're greeted by a pleasant security member that opens the front door for you.  As you enter the lobby, you're immediately transported into a wonderland of Cannabis. The vibe is set with the relaxing hue of purple couches and the clear glass that separates the lobby from the retail store. The glass allows you to look inside the retail space and their huge video wall in the back that shows off the Cannabis and jars floating through the space, it's heavenly. Their oversized jar displays are lit and show off their most popular strains inside from the top. This is one hella sexy store!
Check out this video by the architect's that built out this beautiful and inviting retail store:
Check out our exclusive gallery below of the twelve strains we sampled:
Tap on the photo and slide through each strain with their jar, followed by a bud shot on its own. If you're viewing on your phone, best to tap the photo and scroll through, if you're viewing on your computer you can tap the arrows to go through the photos that way. They do look best on a computer, but the photos don't do these buds enough justice. They must be smelled, seen and tasted to appreciate the levels of quality and flavor that each has.
The Facility Tour
After discovering the fabulous showroom, our gracious host Jessica took us on a tour of the active grow rooms, drying rooms, and how all the buds are cured and stored. Then we made it to the processing room where they trim every bud and roll each joint by hand.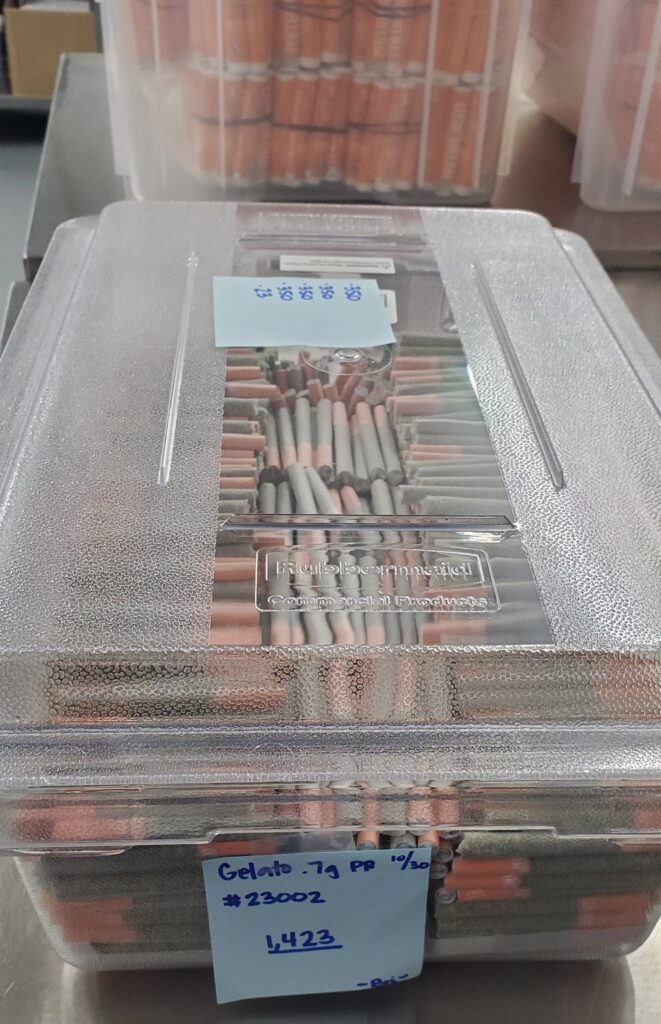 Traditional keeps their handmade pre-rolls fresh from filling to packaging.
I had tears of joy in my eyes when I witnessed their pro staff members trimming buds by hand. There's a lot of love that goes into every step of the growing and processing that goes into every bud at Traditional. We watched them take the full-size buds and grind them for what would be going into their signature pre-rolls. Everything is top notch here, including the staff. Their methods of how they take great care of their flower from start to finish is on another level of perfect execution and the end result proves it.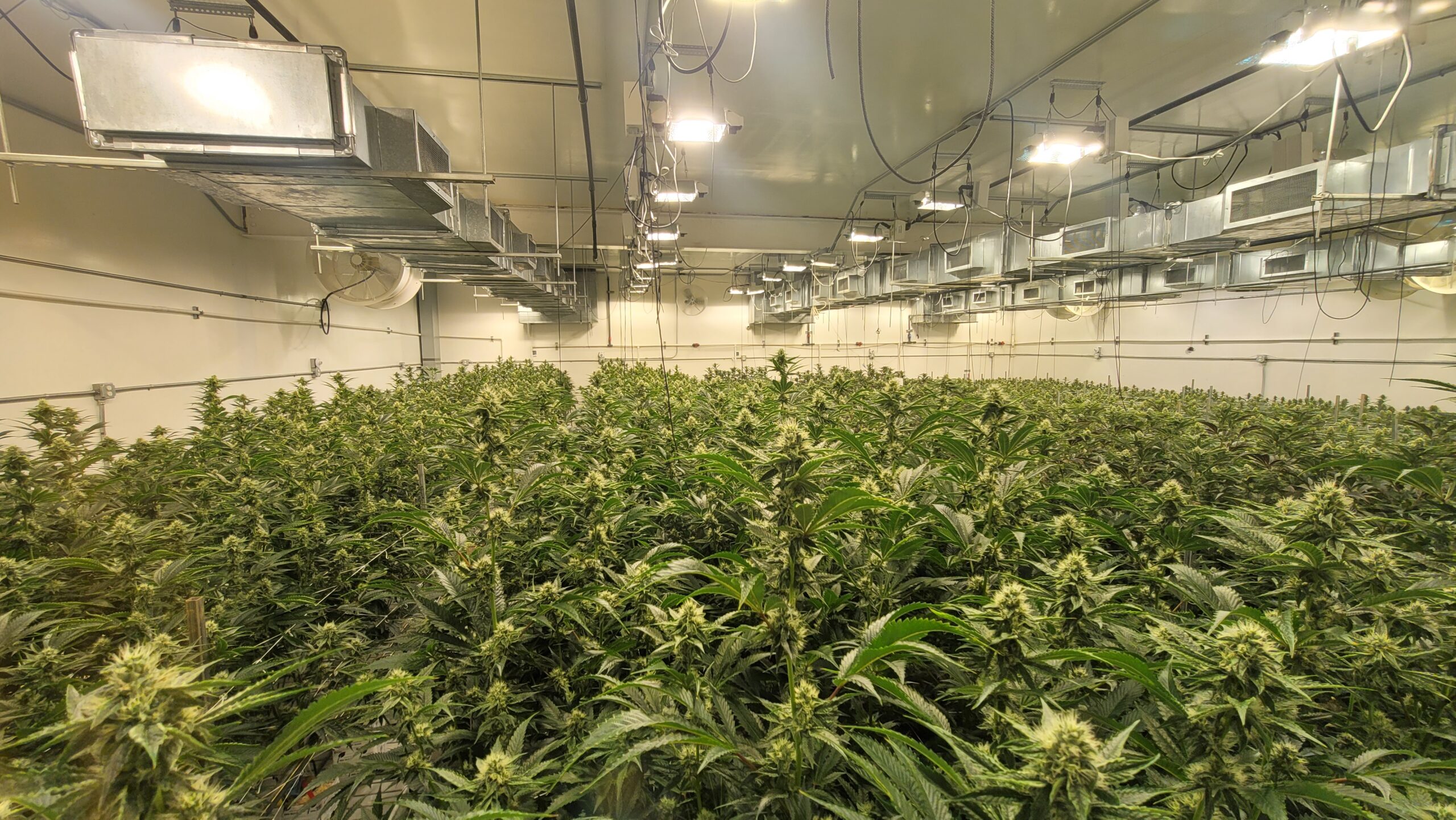 A view inside just one of many grow rooms inside the Traditional Co facility.
We were geared up with protective coats and booties before we were allowed to go into the growing areas, this keeps the plants protected from potential contamination of pests, etc. We really appreciated every detail of how they protect their plants. Each grow room we toured was incredible. From the moms (that's the genetic mother plant) to the nursery of clones, to the various stages of growth- there's a room for each stage.  As you can see from the photos here, it's a sea of beautiful green!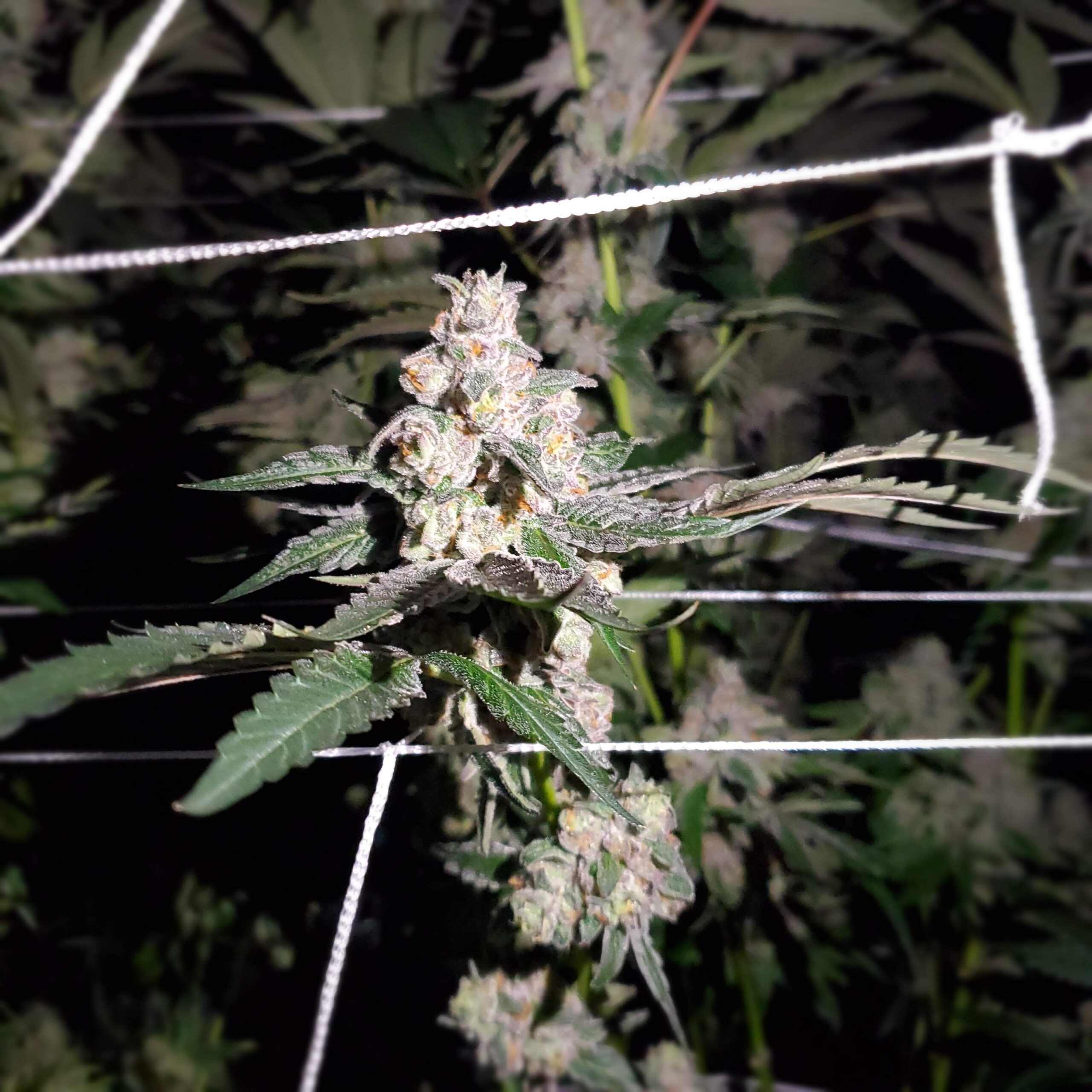 Check out the gallery below for all the other incredible images of Traditional's facility, grow rooms, and their masterful Kobe Bryant mural that spans the entire depth of the building.
There is a Strain for Everyone at Traditional Co.
Here's the strains we tried and the average effect that each of our reviewers felt was important to share. Everyone is different, Cannabis effects each user differently. This is why we have to have a team of different Cannapolitan members with a variety of tolerances and noses to establish an average of each strain. It's not science,  but it's based more on experience, tolerance, and having a knowledgeable palate for Cannabis. We literally will only smoke, vape, and roll each strain for a few days on each so we can give each a fair allotment of time and consideration of each strain. It's too easy to get your palate or experience confused with each strain otherwise. Here are a few of the attributes of each of the strains we sampled and the experience that came with each.
Suga' Pie – Floral with a secondary earthy aroma finished with a hint of pine. This strain will help you leave your day's stress behind and help you focus on the moment you inhale this dank sweet treat. Get ready to enjoy your surroundings and either hang with friends or get into your favorite hobby while you enjoy Suga' Pie.
Gelato– Vanilla, Citrus oranges, sweet, pine. This is one of our favorites; sweet citrus notes hit your tongue immediately followed by a slight pine note. We're not sure how this one classifies but we're calling it a Sativa hybrid. Gelato has a very uplifting feeling after smoked. This is also a creative and energetic strain, you have things to do, this is the strain to hit before you get into a project. Perhaps you need inspiration while writing a song, this strain may be able to help.
Mamba 24– The Champion of dank, never misses! The honorary strain dedicated to the GOAT Kobe Bryant. This strain has aromas of sweet fruits like blackberries and a hint of grapefruit. This too was a team favorite as it has an energy in it unlike others. This one is special and complex. We recommend gathering a friend or two to enjoy this strain as a team and get out there and enjoy the day feeling lifted and tasting foods afterwards. This one gives wicked munchies.
Milk censored– Sweet cream with a hint of pine. This sedative indica has a bite to it when smoked. Grab your favorite munchies and cereals and get ready to watch TV because you're going to be too high to go anywhere. This is a creeper strain that has a great taste and effect. Can't sleep? Have a bowl of this milk and you'll be feeling less anxious and more sleepy than you've experienced before. This is your insomnia cure.
Rockstar OG– Smells like a rockstar with a side of pineapple. Yes, it's an OG so it has that bite and earthly, gassy, dank smell finished by a sweetness that only can come from Traditional. This strain will expand your lungs and will have you feeling like a rockstar. Energetic during the day, a little looser in the evening.
Cupcakes– Doesn't have a sweetness, in fact it has more of an earthy bite to it. These cupcakes are more dank with gas. When you taste the earthy gassy cupcakes, you'll begin to slide into a paradise of liquidity, your body will enjoy the relaxing effects and you won't care if someone frosts you in frosting and licks it off. Ya, it's kind like that! Intrigued? You should be, this one is certainly a unique ride.
Jawbreakers– Strong hints of sweet lavender followed by a hint of pine. This strain will entice your senses when smoked or vaped. It has a lasting flavor that will leave you wanting more. The beautiful fluffy purple buds with hints of orange and covered in sparkling trichomes is impossible to deny. The lasting high is also probably the name, it has a longer set of effects of energy and euphoria. This is perfect for daytime outdoor activities.
Biscotti– mildly sweet cookie taste with a nutty walnut aroma. This one really does taste like a mildly sweet biscotti cookie. Another stand out strain for the team as a favorite. This one truly has a creative spirit and energy that lasts. The terpenes in this strain will really have you stand up and take notice when you smoke it. Expect the creative energy to flow and brew a cup of coffee to go with this masterful strain.
NC-17– The minute you open the jar's protective seal you're struck by a strong pungent aroma followed by a with a strong pine scent. This strain is for those that enjoy a dank dense bud that will leave you feeling like a floating balloon. The head high is strong along with a willingness to want to sink into your couch and stay there. This is a smoke and chill out watching a movie type bud. This bud is definitely a creeper, kind of like the character on the jar. The detail on the jar is so clever too.
Caicos– Getaway from it all with the distinct aroma of cedar, hints of pine, with an earthy finish. Caicos is named after the famous Turks & Caicos islands near the Bahamas. This strain will have you ready for a vacation with a tropical vibe or a relaxing staycation in your very own living room. Either way, you're set for a good time. This strain is evenly balanced in energy and in flavor. After you smoke or vape this flower, you'll understand why Traditional has kept this strain as a staple strain. Feel your best life approaching when you enjoy Caicos.
Cotton Candy– This strain is like walking through a forest of pines, it has a very strong pine smell followed by a slightly woodsy aroma. The golden brownish orange hairs throughout the purple colors deep in the nugs with the fluffiness of cotton candy clouds. This is definitely a day time, fun time strain perfect for morning, mid-day or for late afternoon energy and inspiration. Tastes much like it smells.
Black Diamonds– The most difficult of ski slopes, this is for professional smokers who appreciate a layered taste experience. The aroma of dark fruits like Blackberry followed by herbal notes of what reminds us of Dandelions and Cilantro, yes it's truly a unique exotic strain to say the least. One of our favorites when all we have to do is smoke and relax and enjoy this strain in all its splendor. It has a creative cerebral high, at the same time a relaxing flower to end your day with great conversation or playing your favorite video game. We highly recommend trying this strain to wake up your palate, it's truly a special strain unlike any other.
But wait, there's more!
Traditional doesn't do half-assed anything, including their merch! 
Most Cannabis companies have learned the value of having great merch that people can buy to represent their favorite brands of Cannabis. We sometimes think there are some companies out there that focus more on merch than the Cannabis itself. We won't name names, but when it comes to Traditional's gear, everything is top shelf materials and quality is what counts! For example, their sweatpants and sweatshirts are made from the same materials as a famous Italian designer brand. The sweatpants are appointed with deep well constructed pockets and the fabric is extremely durable and soft all at the same time. Their sweatpants and hoodies are athletic and glam at the same time. These are pieces that will last a lifetime in your closet. The sweatpants and hoodies are colored accordingly with their strains. See images below.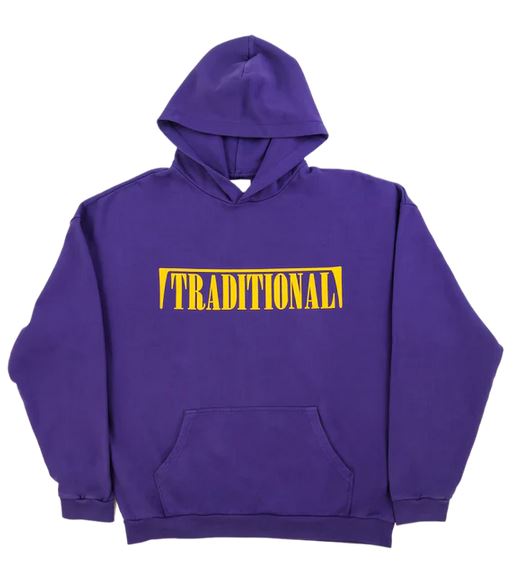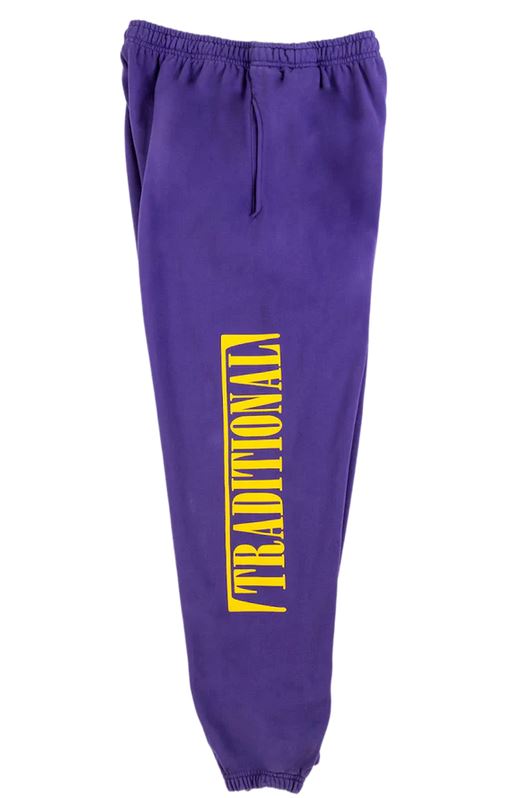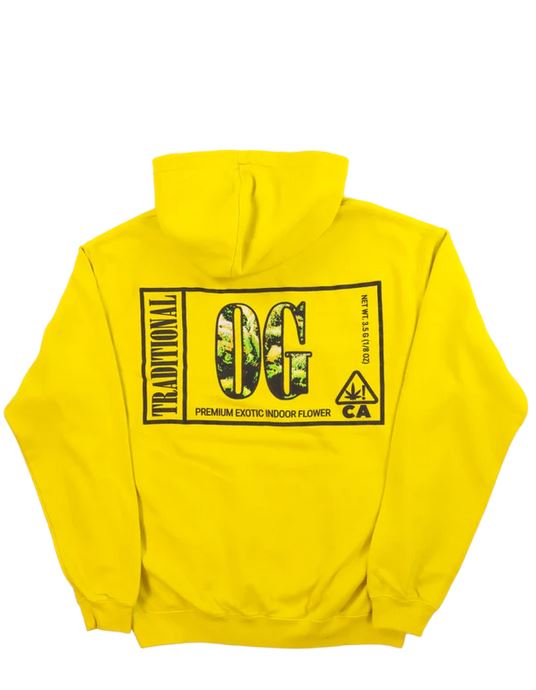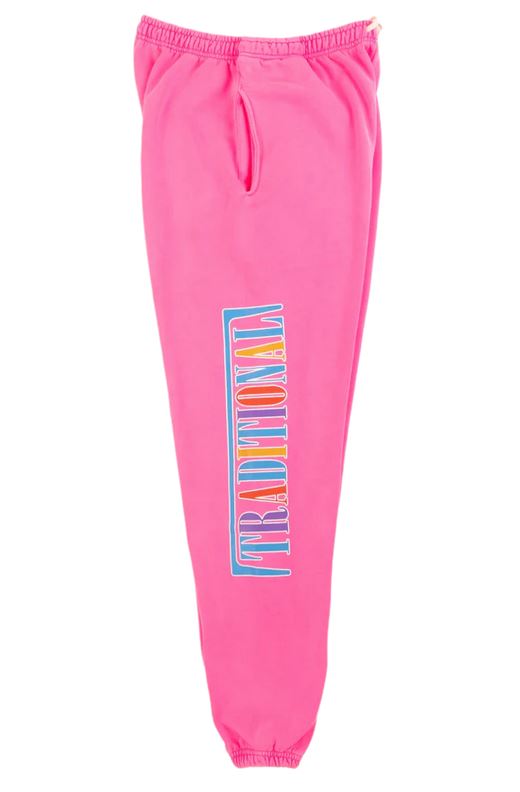 Traditional Co. is Cannapolitan in Every Way
Traditional is an impressive company as a whole. From the cultivation department to the CEO, each eighth you find at your favorite dispensary or their facility, each jar has been thoughtfully put together. From the fantastic graphics, sparkle logos, to the theme of each jar's labels and the color of the jar that is keeping your buds protected. Each jar has a small window on the side too so you can see the evenly filled jar. Every jar has top shelf buds in a variety of sizes, mostly large full buds straight from the branch. Every aspect of presentation has been thought out and executed to perfection. If that wasn't enough, each jar is sealed under the jar lid for maximum freshness. That's loving the plant the right way, respecting the process and the end user with only the best.
Traditional has been operating long before official legalization here in California and has been a top producer for medical Cannabis since 2005, they have had the experience and time to build an extraordinary brand that should last for decades to come for the next generation to enjoy. It took a lot of work for them to get where they are today, but they are an OG in Los Angeles with the guts and glory to survive the storm and stay smokin in the process. Thank you Traditional for trusting us with your flower and sharing your goodness with our readers.
If you visit Traditional's flagship store on Olympic, you'll benefit getting your fire directly from the source and save some green in the process. They have eighths as low as $25 and starts around on average of $35 gets you their signature jars of flavors! Quality, flavor, superior smell and smoke, what more can you ask for? Get down to your local dispensary or Traditional's shops today to discover for yourself which strains will become your favorites.
Here's their signature store locations:
2222 East Olympic Blvd., Los Angeles, Ca
4665 West Pico Blvd, Los Angeles, Ca
Photos below of jars with buds coming from the top are courtesy of Traditional.