All photos by Lisa Kaler
Bob Marley's Life is Celebrated at the One Love Experience, Now Open in the Heart of Hollywood.
Internationally beloved human, artist, philanthropist, humanitarian, activist, and an original Cannapolitan, Bob Marley. He is being celebrated in an immersive and educational experience unlike any other exhibition you've been to. There is something for everyone of all ages and backgrounds to enjoy and experience. This exhibition will introduce new generations to the legendary singer that changed the entire world with his music. The interactive environments welcome patrons to take pictures inside Bob's world. Each room provides a different perspective of the man- all the while you're listening to his music playing throughout the 15,000 sq ft space. Welcome to Bob Marley's One Love Experience!
Getting to and Entering the Experience
You'll want to park your car in the parking lot that is a bit closer to the Dolby Theater, which is off Orange Dr., north of Hollywood Blvd. The Bob Marley One Love Experience found the ideal location to showcase perfectly at the renamed shopping and entertainment center now called Ovation Hollywood. It was formerly known to locals as Hollywood & Highland. The space is on the second floor left of the Dolby Theater entrance. The exhibition is above the world famous Hollywood Walk of Fame. This is a major attraction for locals and tourists alike on the famous Hollywood Blvd where icons are everywhere.
Few icons in Hollywood have had the world-wide impact that Bob Marley has had on generations of people everywhere. Bob Marley was only 36 years old when he passed. His legacy and message still lives today. This exhibition certainly celebrates his life, legacy, and the music he created for generations to enjoy for infinity.
Here's a view of the doors outside the venue.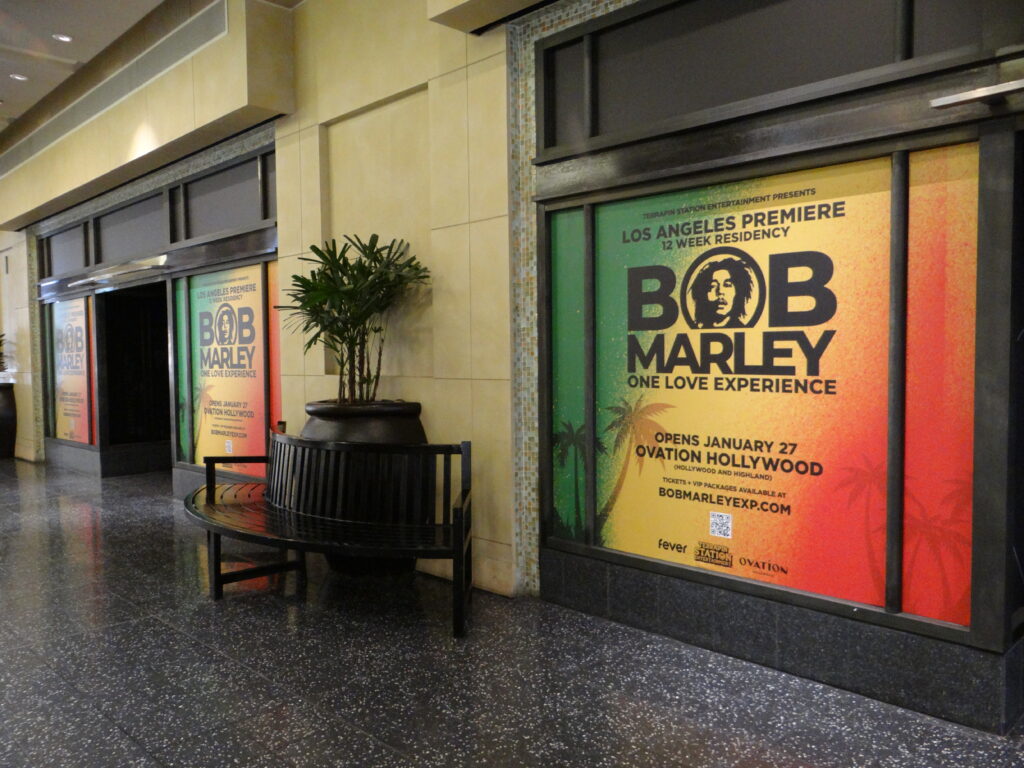 Not Just Another Selfie Spot
This exhibition serves the fans with stories, art, artifacts, and yes some really fun and beautiful sets to take photos of you and your friends and family to celebrate Bob. The walls are covered with Bob's vibe, the influence he's had on Reggae, song writing, and activism that he stood for during his lifetime. Memorabilia like Bob's soccer shoes, denim shirt, guitars and more are also on display within different parts of the experience. Each room has a different theme to encounter such as the One Love Jungle room shown below.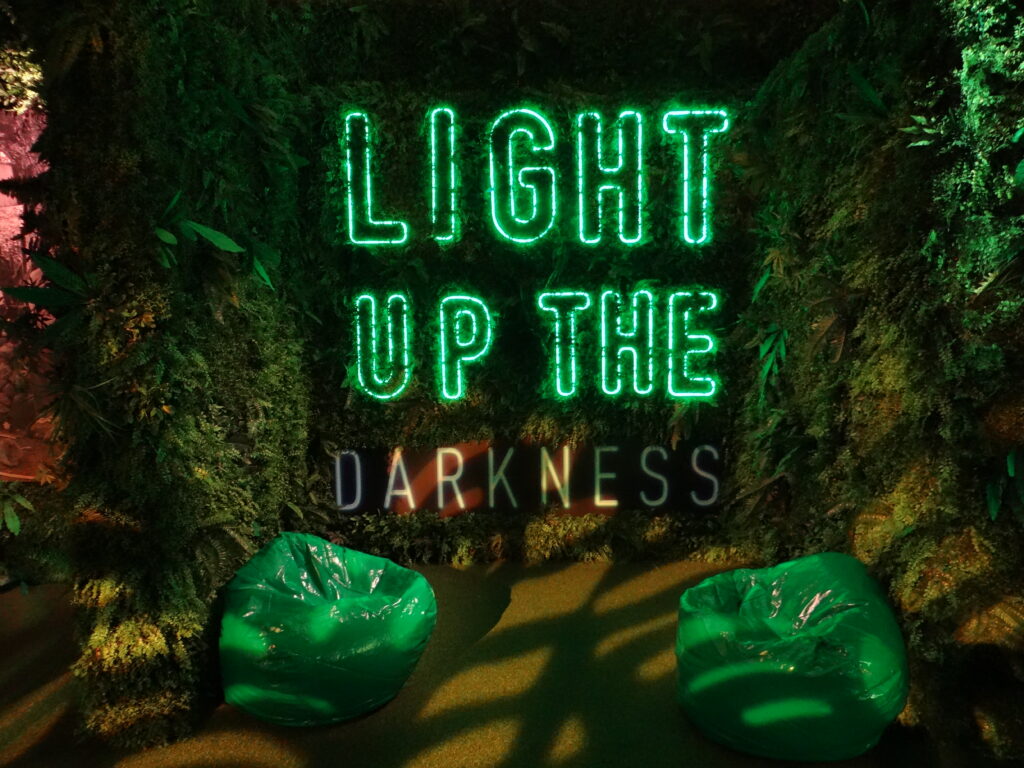 The Original Cannapolitan Activist, Bob Marley knew Cannabis was the answer.
One section within the jungle portion of the exhibit gives praise and thanks to Bob's love for Cannabis and how he was unashamed of his use of the plant. This was one of our favorite photo worthy and selfie spots within the exhibition.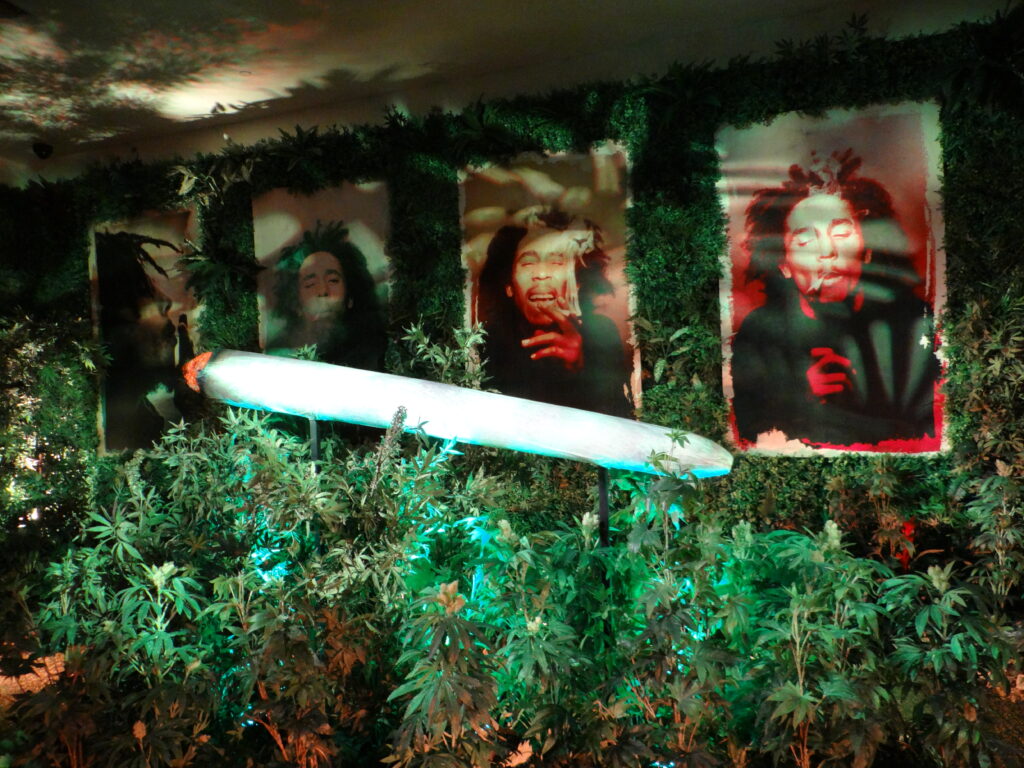 Come into Bob's living room for some chill time…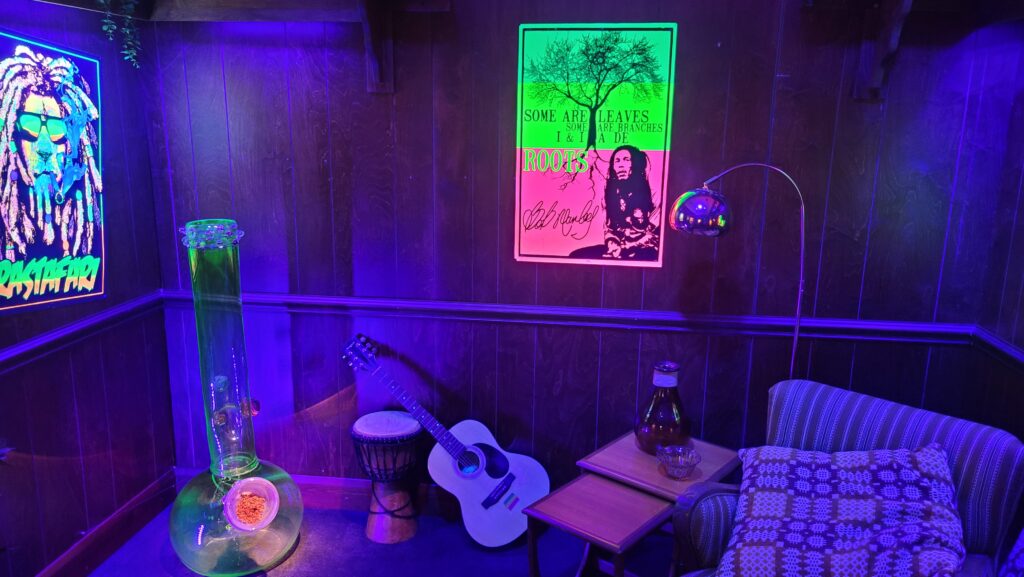 Bob Celebrated in Art Worldwide
This exhibit is packed full of epic artifacts, photos and never published photos of Bob's life. There is a room for artists inspired by Bob as well. Walls of original street style art along with 3-D pieces of art that will have you taking a double take. Have a seat and take in the view of these highly detailed portraits and murals that are guaranteed to make you smile.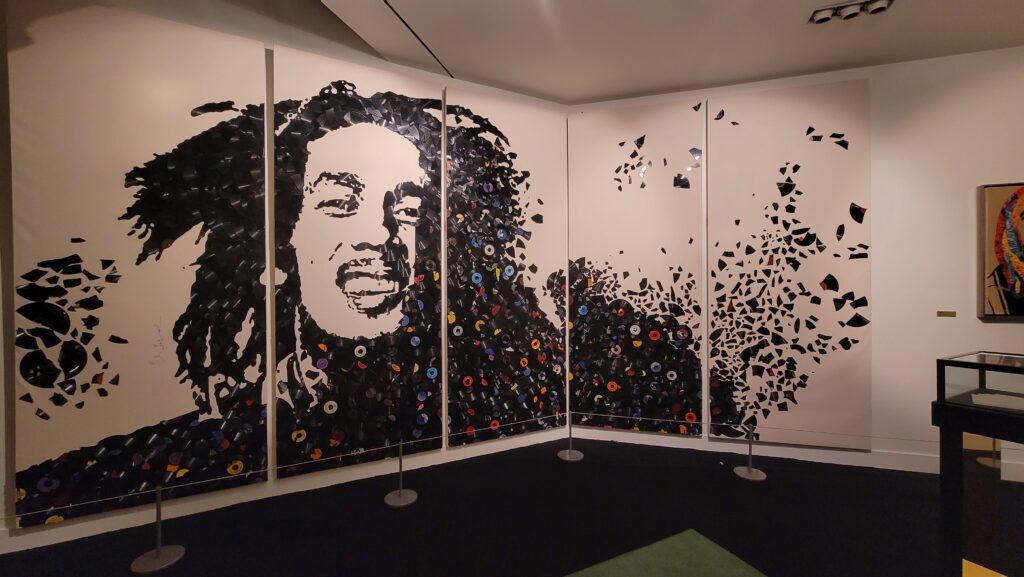 From the Concrete Jungles to the Streets of Trench Town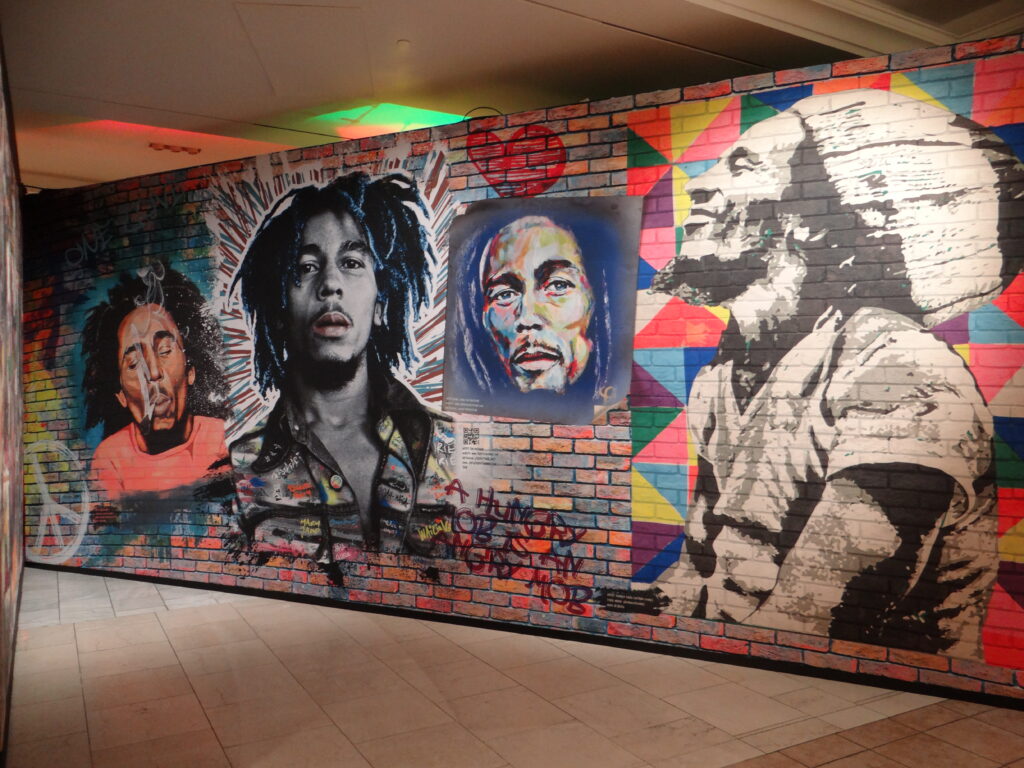 Life on Tour, Live Shows, and Career
The exhibit also highlights some really cool tour artifacts including the original cases for the instruments and equipment cases for various tours. Images of the view from the stage perspective is incredible and not often seen. Other items worthy of checking out are the various awards, including the Rock and Roll Hall of Fame induction award. There is a dedicated sign for each area discussing the purpose of the room and stories from author and friend, Chris Salewicz who wrote a biography on Bob called Bob Marley: The Untold Story.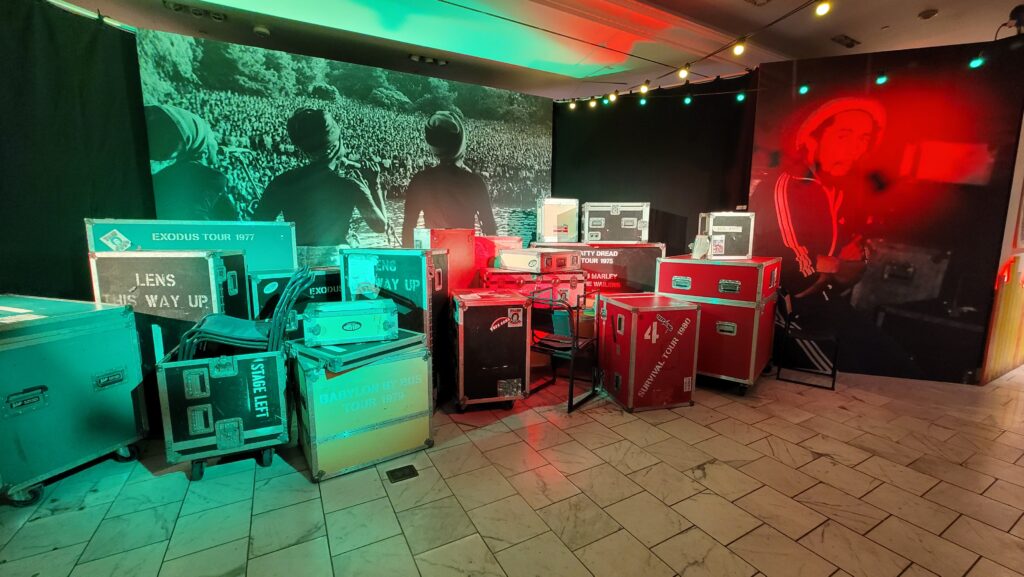 The Marley Family Legacy lives on with the Talented Children & Grandchildren. Spreading Bob's message of Peace, Love & Music.
One room is dedicated to Bob Marley's family and the legacy that continues to grow. This space celebrates the legacy of music and world changing work that Bob's descendants are continuing to share with the world. Whether it is Bob's messages of world peace, legalization of Cannabis and Hemp, music, art and education for all. The Marley family carries on these truths today and continues to spread world-wide.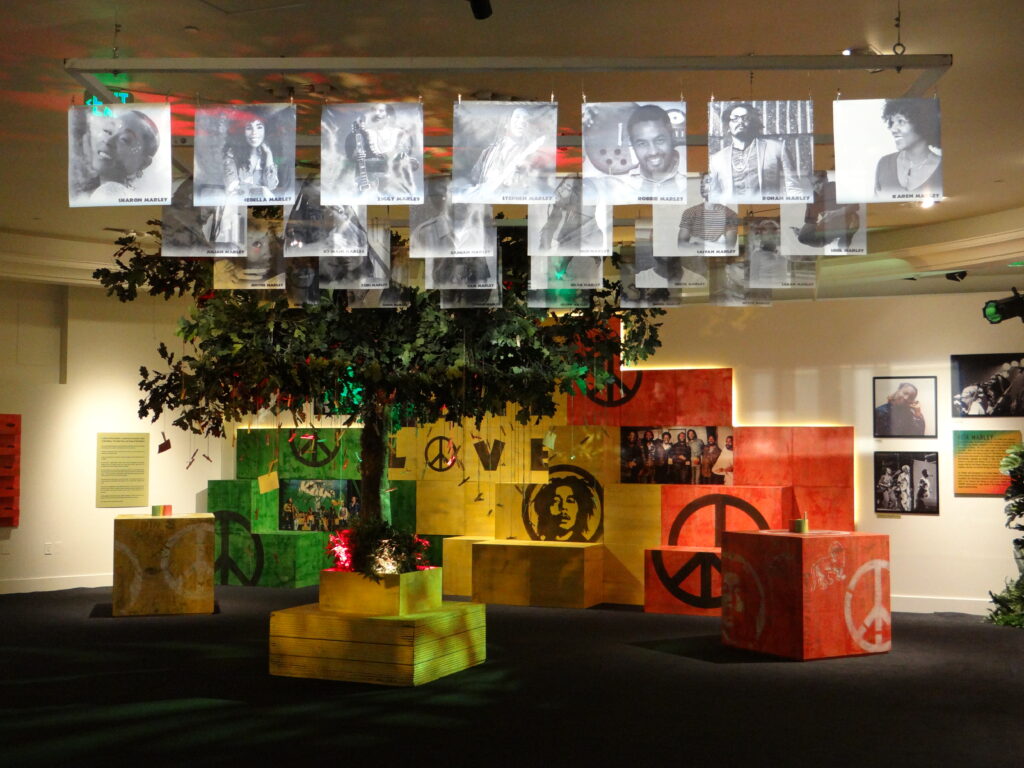 There is a lot to see in this exhibition and we certainly don't want to show it all without you experiencing it for yourself.
You can get more information and purchase tickets for this limited 12 week exhibition, Bob Marley's One Love Experience by clicking here.
Here is a small gallery below of what to look forward to when you visit Bob Marley's One Love Experience