Photos with logos provided by Blunt Brunch. All other photos by Cannapolitan
Ladies that Lunch and Smoke Cannabis
It was a glorious summer day in downtown LA, the weather was warm, but reasonably comfortable. Blunt Brunch events connect women in Cannabis for celebration and inspiration by sharing their stories in the Cannabis industry.  This is no ordinary group of ladies that lunch, these are Cannabis entrepreneurs enjoying the company of other women in the industry. "The industry", is vastly expanding with more women than ever before taking the reins on their own futures.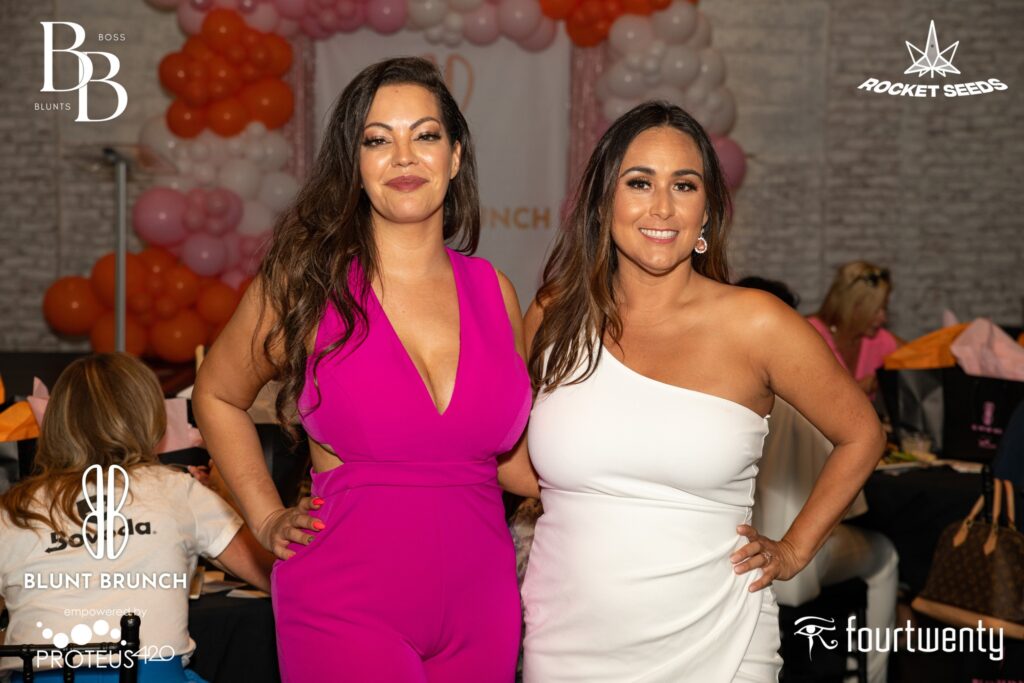 Parisa Rad & Adelia Carrillo
The Founders and Inspiring Women
Who have successfully curated this Blunt Brunch experience are also Cannabis driven women, who have businesses that are servicing the community and within the Cannabis industry. Parisa Rad and Adelia Carrillo are taking their vision nationwide with this event. Parisa is President of a Cannabis company called Fourtwenty Collections. Adelia has been ahead of the curve for years, she co-founded a event online ticketing platform called Eventhi for Cannabis events.  Together, they are spreading the wealth of knowledge, networking, and encouragement to hundreds of women in the Cannabis community and industry in major cities.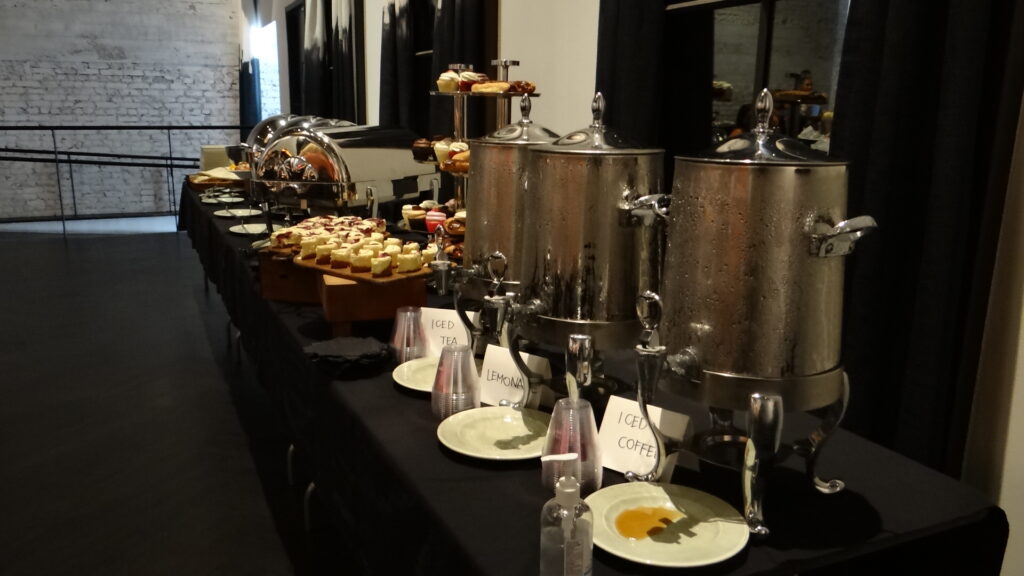 The Food and Venue
The day started with a wonderful lunch inside a beautiful ballroom at the Mayfair Hotel in downtown Los Angeles. The buffet style lunch was incredible, with plenty of options for all dietary needs. The venue was a perfect fit for this event. On the inside the elegance of the ballroom with the linens and beautiful gift bags on all the tables. The center of the room above was this beautiful chandelier that reminds me of a tropical flower shape.  The ballroom then leads outdoors to a large patio with several areas that are enclosed for the sponsors of the event to show off their products and engage with the guests.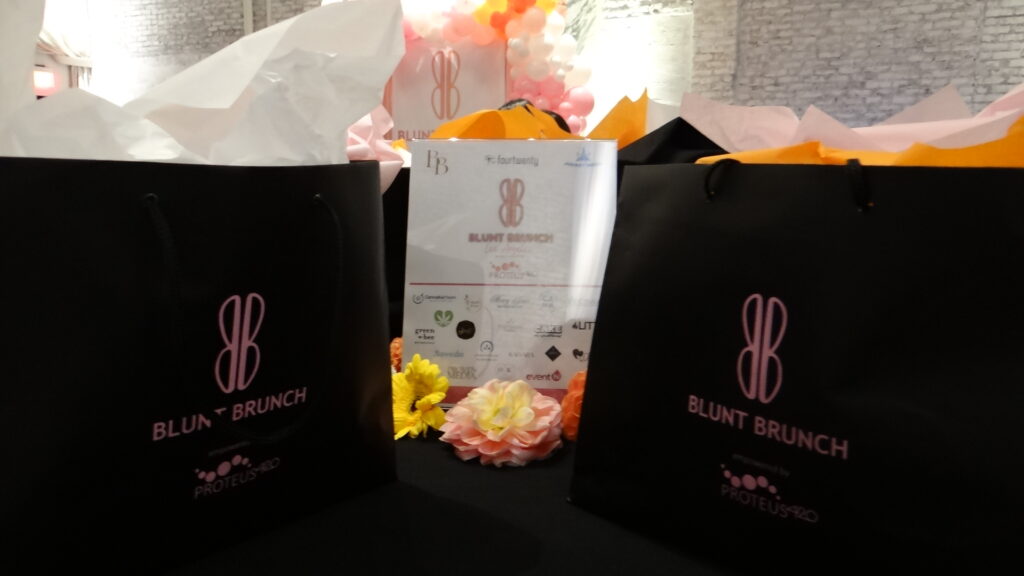 The Sponsors & Gift Bags all Made Sense for the Audience Receiving.
Each were abundant with full size samples of skincare, body care, edibles, and flower, making this an even more enticing event to be a part of.
Every sponsor was well represented inside as well as outside surrounding the patio and pool areas.
The Main Sponsor; Proteus 420, specializes in the Cannabis industry's seed-to-sale, their Real-Time ERP system is the industries trusted enterprise solutions for the recreational, medical and industrial hemp industries. From wholesale, retail, delivery, cultivation and processing/Manufacturing. To learn more visit proteus420.com
Boss Blunts, founded by Markus Booker, son of Entrepreneur super star Marvina Thomas. Markus decided to follow in his mothers footsteps by not only serving his community by means of founding his own behavioral health company called Happy Living. But has also started his own cannabis line of infused non tobacco pre-rolls. Light up like a boss, with Boss Blunts.
Rocket Seeds is a trustworthy seed bank, with faith and trust, you purchase marijuana seeds. With more than thousands of types of cannabis seeds accessible to purchase, their collection of weed seeds is one of the greatest worldwide. To learn more visit rocketseeds.com
CANN, a Cannabis infused bubbly drink was offering samples of both infused and non infused versions of their low dose drinks.
Each gift bag for the lunch guests were abundant with full size samples of skincare, body care, edibles, and flower, making this an even more enticing event to be a part of. The following were found inside:
Kalvara is another fascinating new infused beverage that activates when you turn the cap and the Cannabis and flavorings blend into the bottle of water creating a drink on its own or add to another beverage to expand on the experience.
Green Bee Botanicals is another woman owned and operated Cannabis skincare company. They supplied a full-size bottle of one of their skin serums in each gift bag. We'll have to talk more about this product in the future once we've tried it out on ourselves. The development of all the ingredients and care that was put into these products is truly special.
Fourtwenty Collections offers a variety of Cannabis and hemp products to serve the body, mind, and spirit. They were also one of the event sponsors. We were gifted inside the gift bag with a pouch of their gummies. We'll feature a more in depth review in the future of these.
Riverview Farms provided an 1/8th of their delicious flower called G-Mac, a Sativa hybrid that a wonderful pungent smell and taste. The flower is greenhouse grown in the Salinas valley area in the heart of the state. This was some really tasty flower and the nugs were beautiful.
Garden Society is a women owned and operated Cannabis company that is known for their exquisite edibles as well as their variety of pre-rolls called Rosettes. Each gift bag had a sample tube of two of their high CBD, low THC Rosettes. We've featured Garden Society's line of edibles and Rosettes in the past here.
Cake Vapes. These tasty Cannabis rechargable disposable vapes are next level! I've never seen a vape that claims to have "cryo cured resin" inside! Their tagline "she hits different" is certainly true! We received the lemon pound cake flavor, WOW! Check them out here at shehitsdifferent.com
Boveda, the original brand of humidity-controlled packets. Insert these babies into your jars of Cannabis to keep them fresh and keep your flower at a controlled humidity, ultimately preserving your terpenes as well. We absolutely love Boveda and after many years of having to hide in the closet on what they actually do for the Cannabis community, for the past few years they have finally been marketing the products directly to the industry and the end consumer, thanks in part to legalization throughout the country and Canada.
Inspiring and Empowering Words of Resilience
The lunch is more than just women coming together, having a great lunch, networking, and celebrating the plant… It's about inspiring and lifting each other up! During the end of the eating portion of the lunch, Parisa and Adelia took to the stage to introduce themselves and give the guests a bit of background of themselves and why they started Blunt Brunch. They also had prepared certificates of appreciation for every guest that was there, empowering each woman to know that they are appreciated and that they are winning in every endeavor they strive for. The topic of the event was resilience. These ladies understand what it takes to survive and thrive in the industry.
Those certificates were the perfect opener for the two speakers to follow.
Marvina Thomas and Dawne Morris gave exciting and motivational speeches to both the lunch guests and the afternoon networking guests. These two ladies are fire! Absolutely inspiring stories and empowering words of encouragement to the audience. Each with her own story and background that got them where they are today. They brought the house down with their genuineness and integrity for the Cannabis plant.
The title sponsor of the event was Proteus 420. Dawne Morris started in the Cannabis industry back in 2010 with her husband. Their software company specializes in dispensary operations and beyond. Her  company and software, Proteus 420 began as a way of helping dispensary owners manage their inventory and more and has since grown into a fully compliant software platform that allows dispensary owners and operators to manage every part of their business without even having to be on site.
They were the first company to offer such things back in 2010, I know I was there. Dawne and I go way back to the first Hempcon in 2010. Amazingly, we're still standing today firmly within the community and have both watched the change and growth over the years, good and bad. Dawn was far ahead of the "industry" before it was an industry and she knew it would be heavily regulated. Her years of experience and knowledge in the Cannabis industry are priceless!
"It all started with a bar of soap!" Marvina explains…
Marvina's company, Fourtwenty Collections started with a bar of soap as the trigger that set her Cannabis career in motion. From being a caregiver to a rehab specialist, to a Cannabis entrepreneur- she has come full circle and understands her assignment in life.
Marvina came to the stage first with a burst of empowering music (Amerie, 1 Thing). She pumped everyone up and then began introducing herself and sharing a bit of her background and work that she's most passionate about. Her philanthropy projects with her rehab centers and tiny home community plans are and will be life changing for so many people that were not given a second chance at a better life without drugs and alcohol. Here's a taste of Marvina's speech:
Marvina and Dawne's time on stage was certainly one of most energetic talks of the day.  Marvina Thomas founder of Fourtwenty Collections and Dawne Morris of Proteus 420 were truly a pleasure to listen to and get inspired by their tenacity and attitude. We plan to do an additional profile on each of these ladies in Cannapolitan soon, they have a lot to share!
If anything, what I witnessed at the Blunt Brunch, is that this world is full of motivated and dedicated women that are determined to work together to help lift each other up as a community. That's as Cannapolitan as it gets in my book.
We're on the Right Path, Stay Out of Our Way!
There are those reports that indicate that women are a small percentage of CEO's and high-level executive positions are also declining in numbers in the Cannabis industry. One headline I read recently said "Is the Cannabis industry hostile to women?" It's true there are far less women in leadership positions in the legal Cannabis industry today than even two years ago. We're hopeful that there are a greater percentage of women that are making their own path by building their own businesses instead of working for someone else that doesn't share values that matter to them.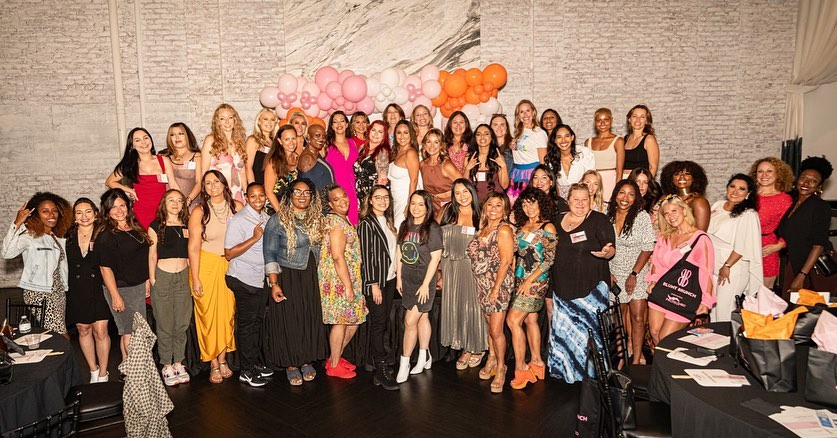 The Future of Cannabis is Female!
More women walk into a dispensary than men. It may seem the opposite at times, but the truth of the matter is that women are greater than men when it comes to the workforce. Of that, women make a majority of household decisions on what to buy. If Cannabis companies want to get serious about selling their products, they better start considering who they are targeting.
Sex Sells- As They Say… But What Does It Have to do With Cannabis?
Since the beginnings of medical Cannabis in California and abroad, there were advertisements in magazines that were more exploitative of women's bodies than the Cannabis itself. As a professional marketer and a woman in the early days, I hated those publications that were full of bikini clad women or sexy nurse images in their ads. These ads completely missed the mark and were tacky to say the least. Thank goodness that I was supported by a publication that didn't accept those type of ads. What is the purpose of turning off half your audience?
The ads with sexy nurses may be less obvious today, but has the general attitude changed? I've seen on a number of occasions of help wanted ads for bud tenders, specifically requesting young women and a full body photo was requested as well with the application. Has that practice gone away? I've witnessed dispensary owners demand that their female bud tenders dress sexy in revealing clothes otherwise they would soon be out of a job. What happened to having knowledge of the products that are being sold as an important job requirement? There is discrimination on every level of the legal and medical Cannabis industry towards women, members of the LGBTQ communities that is just not visible to the average consumer.
The Next Generation of Cannabis Consumers Expect More!
Women are more experimental with Cannabis products, we're down to not only purchase flower and edibles, but we also are interested in topicals and beauty products infused with the good stuff. So, if women make up a larger percentage of the customer base, shouldn't more women be involved with the types of products being offered and how they are marketed? It makes logical sense, some companies learned this early on and embraced their customers.
Events like Blunt Brunch are So Needed and Appreciated.
We discovered so many amazing women at this event! The stories of empowerment and perseverance and the day's theme of resilience was evident everywhere you looked throughout the venue. Women of all shapes, sizes, colors and back grounds were all being represented and it truly was a beautiful sight. Not to mention dozens of women gathered; laughing and sharing their stories while partaking their Cannabis, it truly was a special afternoon.
Blunt Brunch in Las Vegas!
That's right! You too can be part of this amazing event series by reserving your place among other amazing Cannabis industry professionals by visiting Bluntbrunch.com now! Don't sleep on this, the event is scheduled for November 15th.  Go straight to this link to Eventhi to purchase tickets directly.
Check out our Gallery of photos of the event below: