Featured Photo by Alive Coverage for National Cannabis Festival in Washington D.C.
Click on tab below to see each corresponding state's events listed

Come Join Us and Light Up in Celebration at our 420 GREENHOUSE Party!
April 20, 2019 – Location: Downtown Los Angeles
Cannabis Friendly Smoking Environment.
Hookah, Vape Bar & Flower Cannabis Experiences
DJ, LIVE Entertainment and Experience Zones.
Metered & Lot Parking Available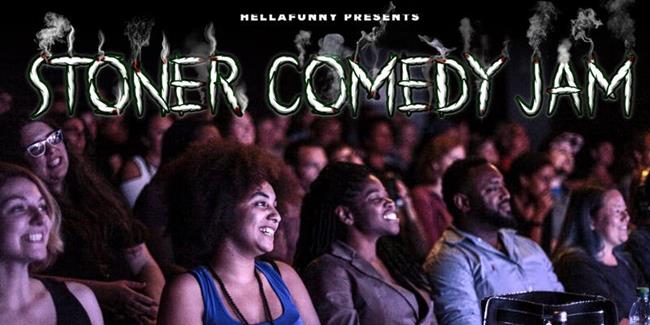 Stoner Comedy Jam
Located at:
Neck Of The Woods
406 Clement St
San Francisco, CA 94118
When: Fri, Apr 19, 2019, 10pm.
SF has a rich comedy scene. It's also got a rich marijuana scene. Put 'em together and you've got the San Francisco Stoner Comedy Comedy Festival. It's SF's best comedians (from Cobb's, Viceland, NBC and ABC) sharing their most epic stoner jokes and stories.
This event will be sponsored by California Love Bud. They will be providing the following.
Complimentary Pre-Rolls, Vape Pens, CBD Oils and more! (while supplies last of course)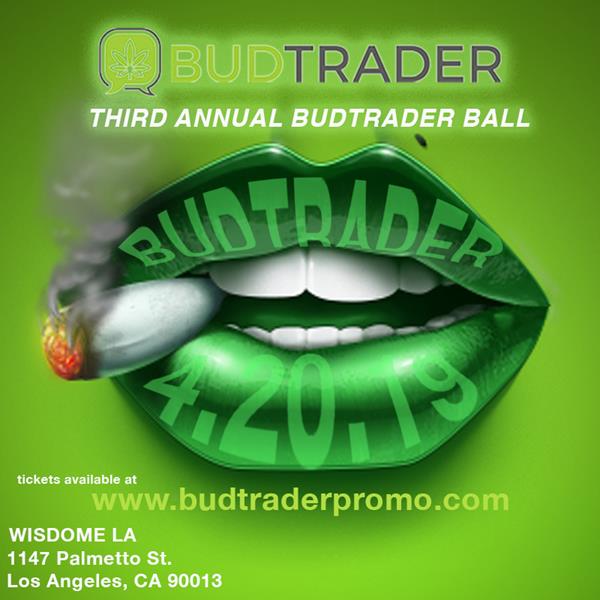 The BudTrader Ball
Date: Sat, Apr 20, 2019  Start Time: 10:00pm  Contact Details: (800) 831-1755    [email protected]
Location: Wisdome LA
1147 Palmetto Street Los Angeles, CA 90013
Los Angeles, CA 90013
MUSIC & ENTERTAINMENT
Get your 420 groove on with DJ Lord (Prophets of Rage, Cypress Hill, Public Enemy) // Burgundy LA delivers Jazz/Blues/Funk by Dylan Meeks (Imagine Dragons), James Yoshizawa, Chris Lawrence, Philip Lassiter (Prince, 10 Time Grammy Award winner) & more special guests // Infinitespin Records presents: Alec King (Spotify #1 new hip-hop artist), Peel'd (Vampire Weekend, Edward Sharpe and The Magnetic Zeros) .
DRESS CODE
Dress to impress. This is a black-tie event. After all, the BudTrader Ball only happens once a year, so why not get dressed up in your most impressive attire? We will have a strictly enforced dress code, we do ask that you look sharp!
COMPLEMENTARY VIP SWAG BAG
BudTrader.com has partnered with the most exciting, up-and-coming brands in the industry to put together an out of this world swag bag! Each attendee will receive one gift bag, valued at over $500, full of MMJ goodies, freebies, tech, and more. Bags will include limited and early-release products, given exclusively to attendees of the Bud Trader Ball!
For Tickets click here: Budtrader Ball Tickets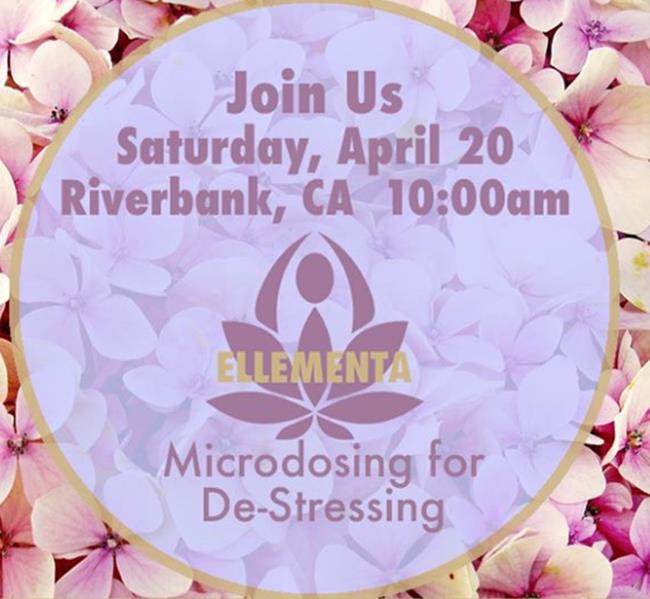 Ellementa CA Central Valley (Riverbank):
De-Stressing & Microdosing With Cannabis
This is a women only, non consumption event focused on education.

Saturday, April 20, 2019 10am
Riverbank Cannabis Collective
6609 3rd Street
Riverband, CA 95367
Join us at this Ellementa Women's Wellness Gathering for empowering knowledge & conversation!
This month, we're talking about microdosing cannabis:
~~ What is microdosing and why do women do it?
~~ How can microdosing reduce stress and anxiety?
~~ What forms of cannabis work well for microdosing?
~~ What products on the market are best suited for microdosing?
If you are looking to understand how cannabis interacts with your body and brain and want to improve your health and wellness or simply feel better, this Gathering is for YOU.
Learn from our local Ellementa Leaders, Guest Experts and Trusted Brands at Ellementa Women's Wellness Gatherings. Our female-forward events are warm, comfortable and welcoming to women/female-identified who are new to cannabis as well as the more experienced.
Share knowledge. Take charge of your health. Get inspired. And bring a girlfriend!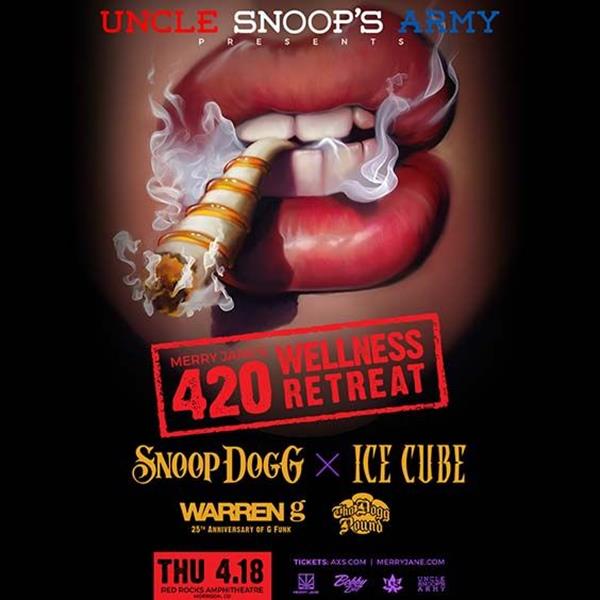 Merry Jane's 420 Wellness Retreat
Date: Thu, Apr 18, 2019  Start Time: 7:00 PM  Location:  Red Rocks Amphitheatre 18300 W Alameda Pkwy
Morrison, CO 80465
It's Snoop Dogg, tha Dogg Pound, Warren G and Ice Cube, need we say more? Come packin for this show, it's gonna be a smoke out!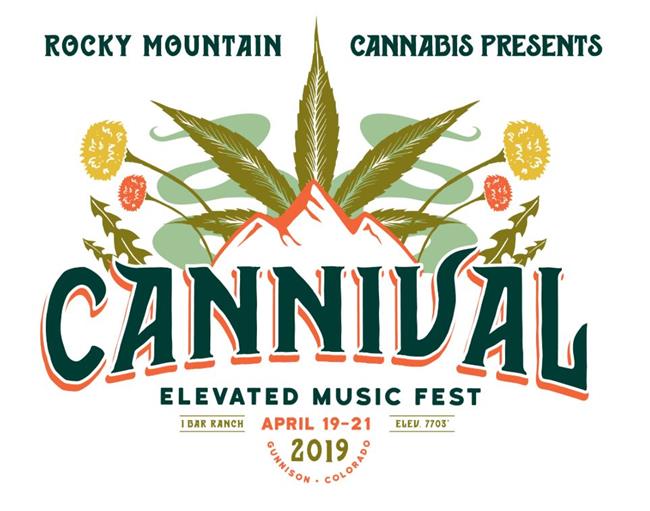 Cannival – Elevated Music Fest
Gunnison, CO
Friday, April 19, 2019 – Sunday, April 21, 2019
A 3 day Campout Festival celebrating life, art, live music, and of course, the legalization of recreational cannabis. On November 6, 2012, Amendment 64 was voted into law. Summit county, Colorado was the first place to sell 100% Legal Weed. We are living history here in the Centennial State. Come celebrate with us at the beautiful I Bar Ranch in the HIGH country of Gunnison, Colorado!
Beginning on Friday 4/19 and running through Sunday 4/21, we invite you to be a part of the first ever 420 CANNIVAL. International & local musicians, artists and enthusiasts alike, together for 3 days of unforgettable music & entertainment. (This is a 21+ over event)
The experience will include: 3 nights of live music, 420 Olympics! (More info coming soon)
Movie Lounge featuring classic ganja loving movies. Paint N' Smoke area.
Morning Cannabis Sermon + Yoga.  Workshops + Discussions
Mechanical Bull, Glass blowers, Industry Vendors, Food Trucks, Massive bonfires
On-site Camping, On-site VIP Glamping options. Hiking/biking trails on + around the venue
More to come!
420 Eve on the Rocks with Method Man & Redman
The band 311 is a guest again with Method Man & Redman  for Red Rock's 420 Eve on the Rocks concert. Featuring guest performances by reggae band The Green, rapper Dizzy Wright and reggae artist Jesse Royal. This will be a magical and smoke filled night at the most iconic Colorado amphitheater!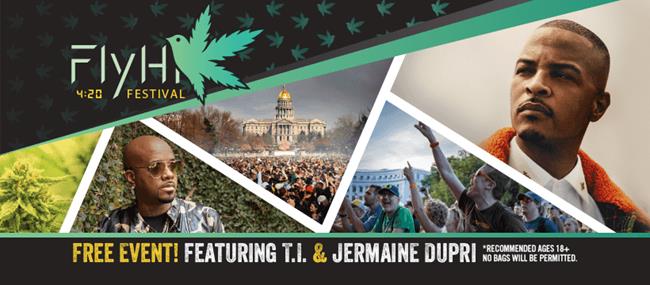 Mile High 420 Festival
Denver, CO Saturday, April 20, 2019
100% FREE FESTIVAL, opens at 10am and continues until 6:00pm on April 20th, 2019
Civic Center Park
101 West 14th Ave
Denver, CO 80202
As the first state to legalize cannabis, Colorado has a unique history with the marijuana movement. As a result, The Mile High 420 Festival draws advocates from around the world. Re-imagining what the holiday has represented in the past, our goal in 2019 is to continue to fight the stigma while celebrating the booming cannabis industry here in the Mile High city.
Join us with over 50,000 people as we celebrate the cannabis culture and the future of what continues to be is a flourishing industry for our nation.
Headline entertainment includes top acts and world-renowned artists from across the country. Local music stage, presenting some of the best performers from around Colorado that will feature some of the best in the biz. This event is open to all ages, however we strongly recommend ages 18+ due to the adult nature of the celebration. In an effort to insure safety, all patrons will be required to pass through a security checkpoint with metal detectors. No bags will be permitted, please make arrangements prior.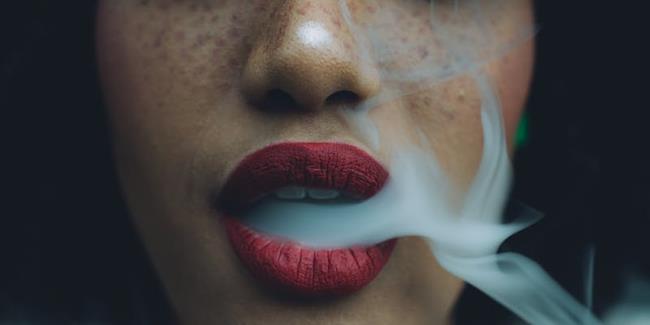 Sex and Cannabis How-To with Cannabis Expert Chelsea Cebara
Date: Sat, Apr 20, 2019 Start Time: 7:00 PM Location: Babeland 707 East Pike St Seattle, WA 98122
Cannabis-infused everything is all the rage these days- and with good reason! Learn how to incorporate infused lube into your sex life at this fun and informative mini-lesson taught by cannabis expert Chelsea Cebara, co-creator of Velvet Swing lube. You'll learn the basics– different varieties of cannabis lubes, their benefits, and how to safely use them. Enjoy sips while you listen in on sex tips, plus get a chance to win a massage candle to enhance the experience.
Chelsea Cebara is a professional sex educator and an absolutely massive weed nerd. She has been helping humans effectively and mindfully combine sex and cannabis since 2010 as a medically-certified cannabis consultant and product developer. She lives in Seattle and speaks nationally on the intersection of cannabis with sex, kink, and consent culture. For more info and tickets click here.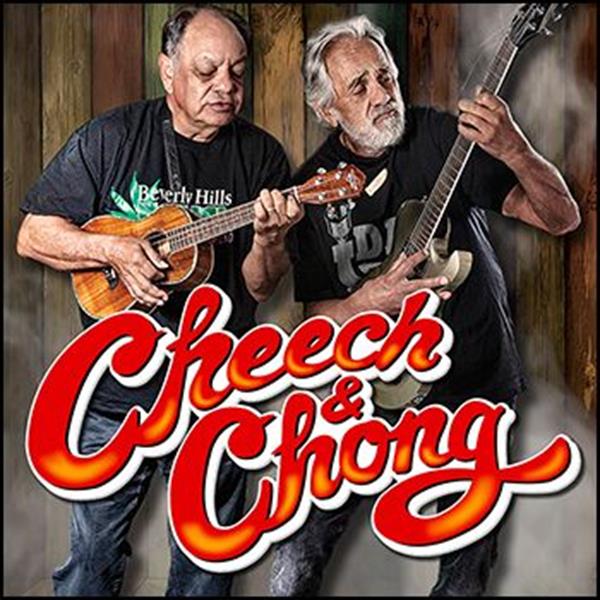 Cheech & Chong – Emerald Queen Casino
Saturday, April 20, 2019  Start Time: 8:30 PM 
Location:
Emerald Queen Casino I-5
2024 E 29th St
Tacoma, WA 98404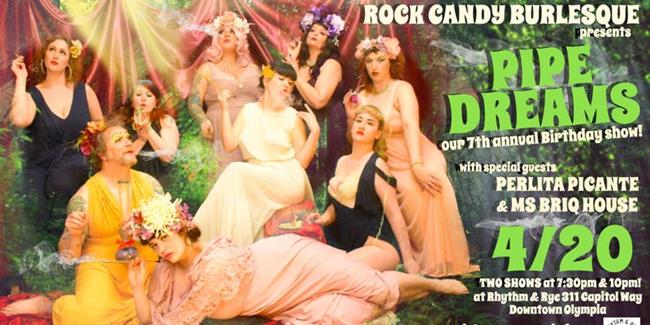 Rock Candy Burlesque presents: Pipe Dreams!
Date: Sat, Apr 20, 2019  Start Time: 7:30 & 10:00 pm Location:
Rhythm and Rye
311 Capitol Way North
Olympia, WA 98501
Rock Candy Burlesque presents: PIPE DREAMS!
Join us as we celebrate 7 years as a performance troupe! Our anniversary celebration is happening on 4/20 this year, and that's no coincidence. We love cannabis and all of its varied benefits. This show is our love letter to Mary Jane, one of earths greatest gifts to humanity. This show expresses our individual and collective appreciation for that many ways that Mary Jane influences our lives, dreams, and cravings. Come get high with us!
Special guests:
PERLITA PICANTE
And
MS. BRIQ HOUSE!
And brand new performances from Candies
Bananas Foster
May B. Naughty
Momo La Vein
Rainie Dae
Riveting Rosie
Vanessa the Witch
Zsa Zsa Bordeaux
Hosted by Frida Fondle
Two shows! Early show at 7:30 pm and later show at 10 pm
$20 GA, $25 VIP Tickets here
Timesless Refinery Presents: Up in Smoke 420 Gala
Phoenix, AZ
Saturday, April 20, 2019
The event is free with RSVP, but space is limited. Event is 18+ and a valid MMJ card is required for entry.
Timeless Refinery is pleased to announce the theme and line up for their annual 4/20 Green Gala. The theme of this year's event is "Up in Smoke" as reinterpreted by renowned Phoenix artist, Lalo Cota.
Timeless Refinery is the enterprise behind popular Arizona cannabis brands Timeless Vapes, Canary Raw, and The Original Waffles Co.
This annual medicated event is a celebration for Arizona patients of all things cannabis related; art, music, food and, of course, medicine.
The event will feature the unveiling of an interactive art instillation by Lalo Cota, bringing the theme of "Up in Smoke" to life. This unique art installation is being created in conjunction with a brand new Timeless Vapes x Lalo Cota Battery and Flip Case Combo to commemorate the "Up in Smoke" event.
Attendees can expect a wide variety of entertainment throughout the evening from world-class musicians and DJs. Stage host Carl Denali will be emceeing for the evening, keeping the fun going all night long, in addition to raffling off gifts to attendees. Carl Denali is best known for his cannabis themed podcast "The Carl Denali Show" and his cannabis marketing company seedleSs Media. Phoenix-based group The Stakes, is a seven-piece live hip-hop soul funk jazz fusion band known for their high-energy performances. This eclectic group will get the party started with their unique, upbeat, and enthusiastic music. Phoenix-based band of diversity, The Color 8, will take the stage with their multi genre music, representing "different types of music for different types of people". Starting their career at local Phoenix events, they have expanded to playing countless local festivals and opening for acts like Lil Wayne and Futuristic. Timeless sponsored Producer and DJ Tony Choc splashed onto the scene working with artists like T-Pain and Cap G. Splitting his time between Phoenix and LA, we are thrilled to have Tony joining us for this 4/20.
The DJ Mane One, popular local DJ from Power 98.3 will also be taking the stage. He is known for his numerous weekly residencies such as "ProperFridays" and "LocalsOnly" at popular establishments across the valley.
The headlining act for the evening is Timeless sponsored rapper Futuristic. He rose to stardom in 2015 after his self-published album "The Rise" hit the Billboard Top 200 Charts. From touring with Dizzy Wright, and Tech N9ne, to being on The Tonight Show Starring Jimmy Fallon, Futuristic is one of the most successful rap artists to come out of Arizona, and we are ecstatic to have him headlining the "Up in Smoke" event.
There will be non-medicated food available for purchase from popular local food trucks in case you get the munchies while enjoying this medicated event. Food vendors include popular local food trucks: Flyin' Hawaiian, Qup BBQ, Safronn Jax Stonebread Pizza, and Fantasy Funnel Cake. A variety of seating options and lawn games will be available in the food truck court. Water is being provided courtesy of Molly Water.
Timeless Vapes will have some of their newest, most popular and unique flavors for patients to sample, and plans to unveil at least one new flavor at the "Up in Smoke" event. Canary Raw will also be on site sampling their full line of CBD-rich cartridges.
The Original Waffles Co. is excited to introduce the first-ever full service Waffles Bar. Patients will be able to dab the signature product, Waffles N' Syrup, and then will get a chance to chow down on a fresh non-medicated waffle.
Attendees will have an opportunity to try to the full line of luxury CBD skincare from Prince & Flower including CBD facials and muscle and pain relief cream.
Additional vendors to be announced in the coming weeks.
Doors to the event open at 6 pm. Upon entry, patients will receive a free raffle ticket for prizes (must be present to win).
The event is free with RSVP, but space is limited. Event is 18+ and a valid MMJ card is required for entry. Valet available, but we recommend pre-arranging rides if you plan on consuming on site.
2019 National Cannabis Festival
The BIG Government city is coming in hot for this 4/20 with Ludacris & Action Bronson to headline a full festival. Only in the Nation's capital where government has the opportunity to make change!
The Festival includes four educational pavilions focusing on the intersection of cannabis policy and culture, hemp and CBD, health and wellness, and cannabis cultivation. Attendees can engage in discussions on the medicinal benefits of cannabis, speak with medical professionals and dispensary owners, and focus their minds with free yoga sessions. In addition to Education programming, NCF also hosts a wide range of exhibitors offering the best cannabis accessories and lifestyle brands.
This year's Festival also features a special Veterans Program with an onsite lounge sponsored by The King Weedy Collective, a D.C.-based non-profit, and hosted by U.S. Army Veteran Jose Belen, founder of Florida Mission Zero. Through the program, veterans, reservists and active duty military can access free passes to attend NCF and special discount codes for festival tickets. Get Tickets Here