The biggest & best 420 events 2022 edition is here!
4/20/2022 is nearly upon us and finally after two years of cancelled gatherings and massive smoke outs being literally being put out, it's on this year once again! It's every Cannapolitan's extra favorite holiday, 4/20! The history, the lore, the excitement of what has become a worldwide celebration of Cannabis has grown every year since it began. Each year in the past 20 years we've watched the US and Canada and other parts of the planet make a move to either make it legal for medical purposes or for adult use.  Thus, why the celebrations only get bigger and more inventive. Many events are held every year, go back to 2019 here and compare.
The great Willie Nelson pleaded with President Biden to make 4/20 a national holiday for Cannabis… but you know how far that got. Good on Willie for making the effort and the continued work that he does to normalize Cannabis use and his work in working with small family farms. Willie's Reserve flower is grown by small legacy growers throughout California and growers in other legal states that his brand is sold in.
In Other 4/20 News
it looks like everyone's favorite bartender is about to be budtending! Woody Harrelson and his partners (including Cannabis advocate Bill Maher), are opening a new Cannabis dispensary and lounge in everyone's favorite loose city (we mean that in a nice way), West Hollywood. West Hollywood has always been more open minded on many civil liberty issues and embraced them.
So, it makes sense that even though there seems to be a shop on every corner of West Hollywood, this one will also be a friendly place (maybe where everyone knows your name?) Shop and partake, take in the sights and sounds of what Woody and his partners have envisioned. I hear there is a Koi pond and it's going to be super chill and beautifully dressed. Woody wants to focus more on sun grown Cannabis that is sustainably grown. Good on Woody! We got a list of Sun grown Sun + Earth certified farmers to choose from here. We hope to get an opportunity to interview Woody soon on this endeavor as the opening date approaches, so stay tuned in here to Cannapolitan.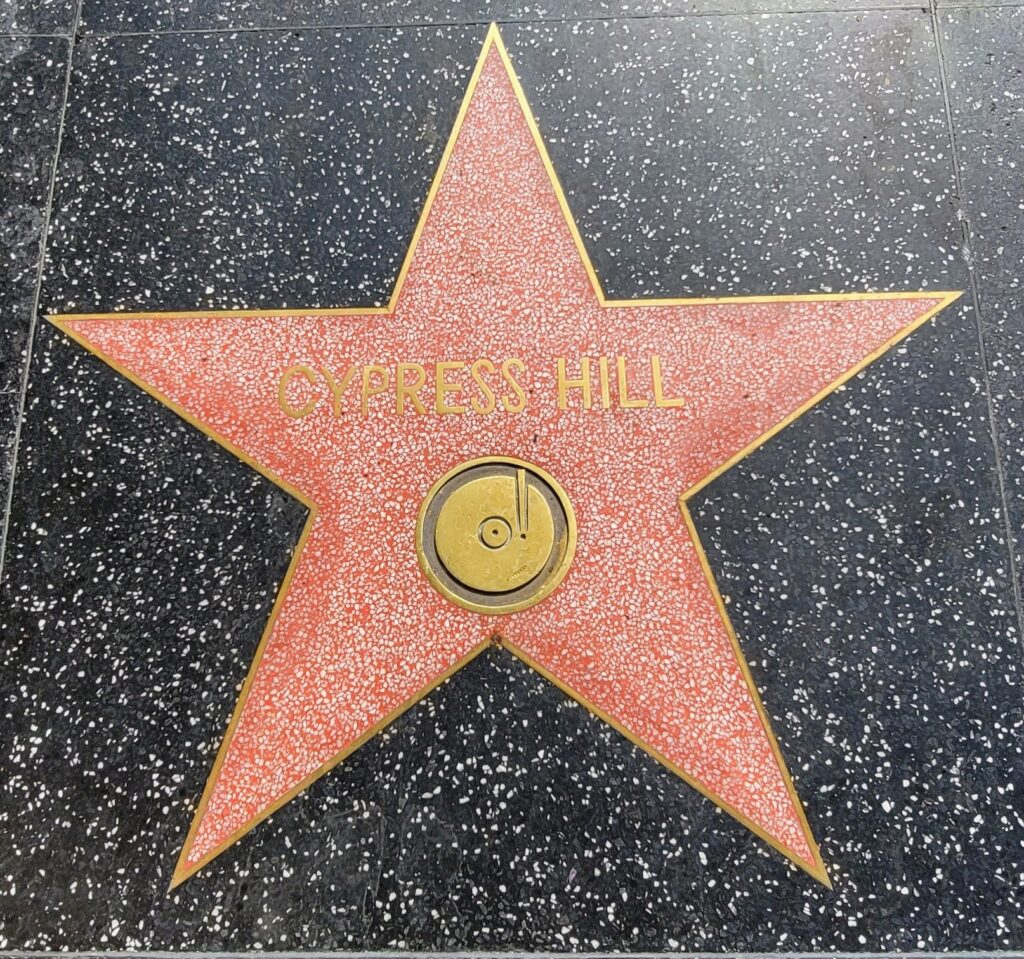 Southern California Kings of Hip-Hop & Our Champions of Cannabis Activism- Got a Star on the Hollywood Walk of Fame!
From the very beginning Cypress Hill was completely unapologetic about their love for Cannabis and promoted legalization before any other artists or bands were willing to put their careers on the line for it. B-Real, Sen Dog, DJ Muggs and Eric Bobo never apologized and their fan base only grew that much stronger. It makes this Cannapolitan very proud of all that they have achieved in 25+ years as artists and for how they took more than just one for the team when Cannabis was being frowned upon. Now that its legal in New York, will Cypress Hill ever be invited back to SNL? It feels kinda good to be banned though- hypocrites be damned.
It's part of my generations' history and appreciation for the plant that drove us all to be vocal about our Cannabis use. As a fan and fellow Cannabis activist, I'm  extremely happy to that see these guys are getting their flowers now (in this case BIG FAT BUDS) and being inducted into the Hollywood Walk of Fame. This was a big deal for Hip-Hop as Cypress Hill is really the first Hip-Hop band to be on the Walk of Fame that I know of. I encourage you to check out the film described below.
Staying in or throwing your own 4/20 celebration?
Make sure to check out Showtime, they have a great documentary on everyone's favorite Cannapolitan hip-hop masters, Cypress Hill. This documentary takes the viewer back in time to the humble beginnings of this legendary band that pioneered and blazed their own trail, all the while being completely unapologetic about their Cannabis use. When you hear Cypress, it's like you HAVE TO LIGHT UP! (At least that's how this Gen-X, Cannapolitan feels.)
When you hear those screeches and beat right at the beginning of  Insane in the Brain – it's like a Cannabis call and anthem! The entire Black Sunday album has that vibe. The minute you start playing the record you feel inclined… no instructed to light up! This is the magic that B-Real, Sen Dog, DJ Muggs, and Eric Bobo bring to your ears. Their entire sound is steeped in smoke filled anthems.  If there was an adult ice cream truck that sold Cannabis and you heard even just the beginning of I Want to Get High bumping down the street… you would get it and find your wallet! Here's a link to Showtime, get a trial subscription and accept the prescription from your GOOD doctor, Dr. Greenthumb… keep it Phuncky!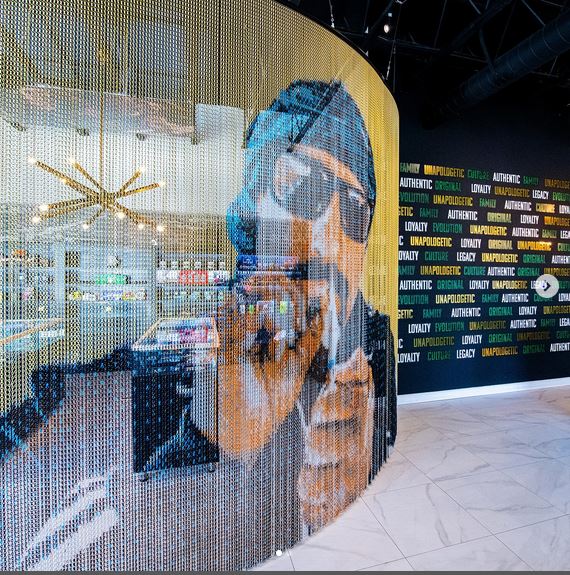 Photo credit@drgreenthumbs
Dr. Greenthumb's is a Force!
Speaking of Cypress Hill, the good doctor, B-Real AKA Dr. Greenthumb, is opening another shop!! This time near LAX. As soon as Hip-Hop fans land in LA, you can make your way to Dr. Greenthumb's LAX for the hook-up. I saw pictures that they are posting of the store on Instagram, looks amazing! There's a huge wall of beaded curtain that is printed on with an image of B-Real smoking, it's freaking bad ass! Finally, after years and years of being a Cannabis activist/ artist and promoting the use of Cannabis at every show for over 20 years, B-Real is dominating the dojo with his impressive chain of stores (now 6 stores in Cali and counting.) Good for him and his partners for keeping it real as true activists, not just a celebrity owned brand. B-Real has well paid his dues as an activist and voice for the community, even the wall in the new LAX store holds his core values on the wall.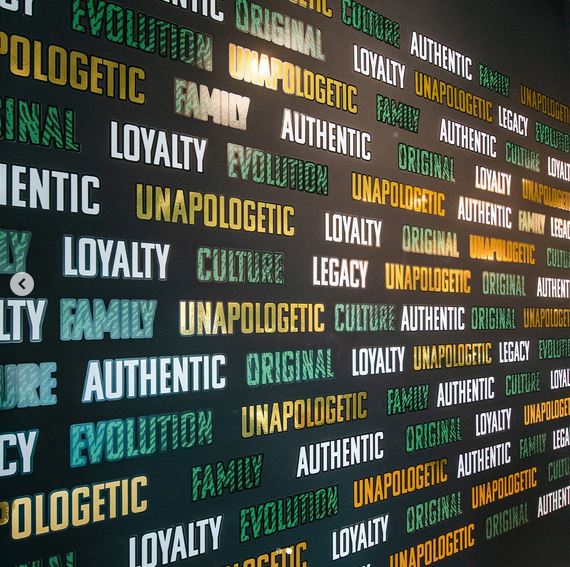 We're excited to see how B-Real and his team will change the game once again.  Grand opening this Saturday, April 16th. B-Real will be there from 12pm and on to meet and greet and be the bad ass Cannapolitan we know he is. Congrats to B-Real and his entire Dr. Greenthumb's team! Here's a link to the official Dr. Greenthumb's stores.
Stay in or go out, we got the list of the hottest spots to spark up and celebrate.
420 Week events by state, click on your state for local events.
Arizona 4/20 celebrations:
 420 Freedom Festival: Featuring Lil Flip; Lucie's, Glendale, AZ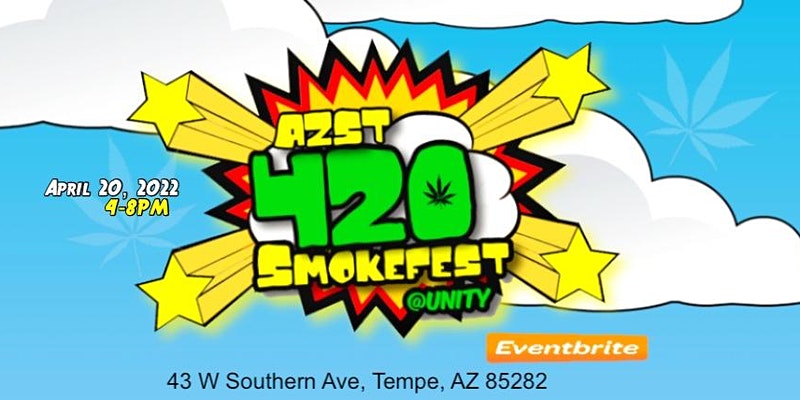 Live Music, Vendors, Food Trucks, Raffles, Contests and more! Come celebrate 420 with the AZST aka The AZ Smoking Team in Tempe! We will have some amazingly talented musicians, vendors, raffles and contests, giveaways, food trucks and more! The venue is "420 friendly" so bring your herbs and smoking utensils! Tickets, see link above.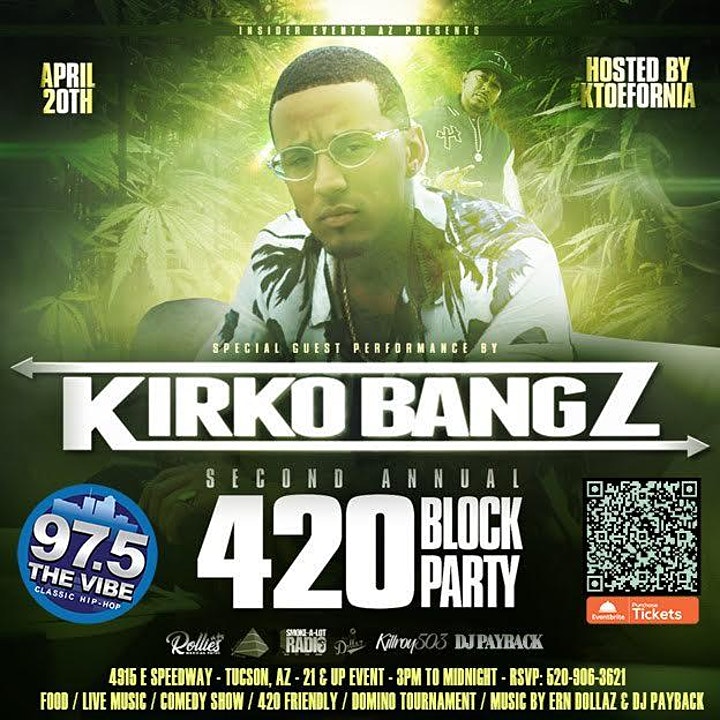 Kirko Bangz and more; House of Bards, Tucson, AZ
Insider Events presents The 2nd Annual 4/20 Block Party at House of Bards on April 20, 2022 at 3PM. Come on out and celebrate one of Tucson's biggest events, co-sponsored by 97.5 The Vibe. Tickets in link above.
California 4/20 events:
Not Another 420 Show: Comedy at The Nightcap, Burbank, CA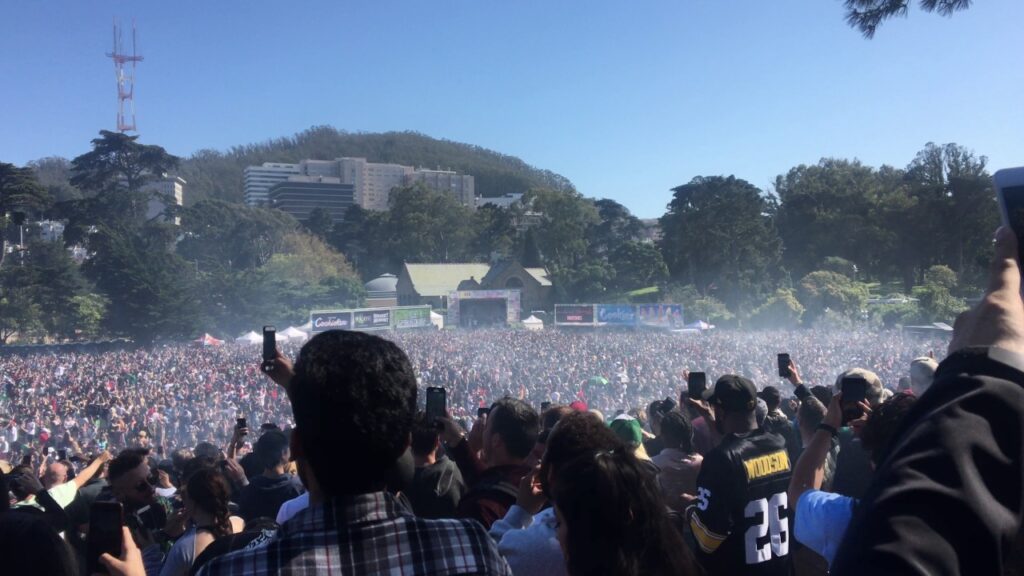 4/20 on Hippie Hill: It's back! The legendary smoke out that adds another kind of fog to San Fran! Featuring Berner, Mike Tyson, Hannabal Burress and more; Golden Gate Park, San Francisco, CA
 Pass the Love Benefit Concert, Hacienda Saucedo, Frazier Park, CA
 Movie Night: Up in Smoke at The Garden Shoppe, Hollister, CA
 Underground 420 Fest: Featuring Skeme, Lil Deuce and more; The Boiler Room LA, Inglewood, CA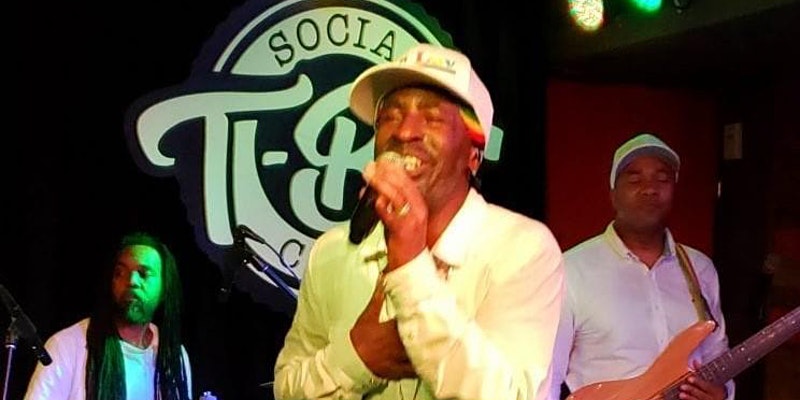 420 Celebration: Featuring Pato Banton; Reggae Legend celebrates 4/20 at the T-Bar Social Club, June Lake, CA
 4/19 Bicycle Day Celebration & 4/20 Launch Party, The Vortex, Los Angeles, CA
 420 Tribute to the Funk Legends, Whiskey a Go Go, Los Angeles, CA
 Crenshaw 420 NFT-Canna Event, GoVerde Incubator, Los Angeles, CA
 Super Mario 420, Mecca Mid City, Los Angeles, CA
 The Cannabis and Movies Club: Watch Up in Smoke at the historic The Montalbán Theater, Los Angeles, CA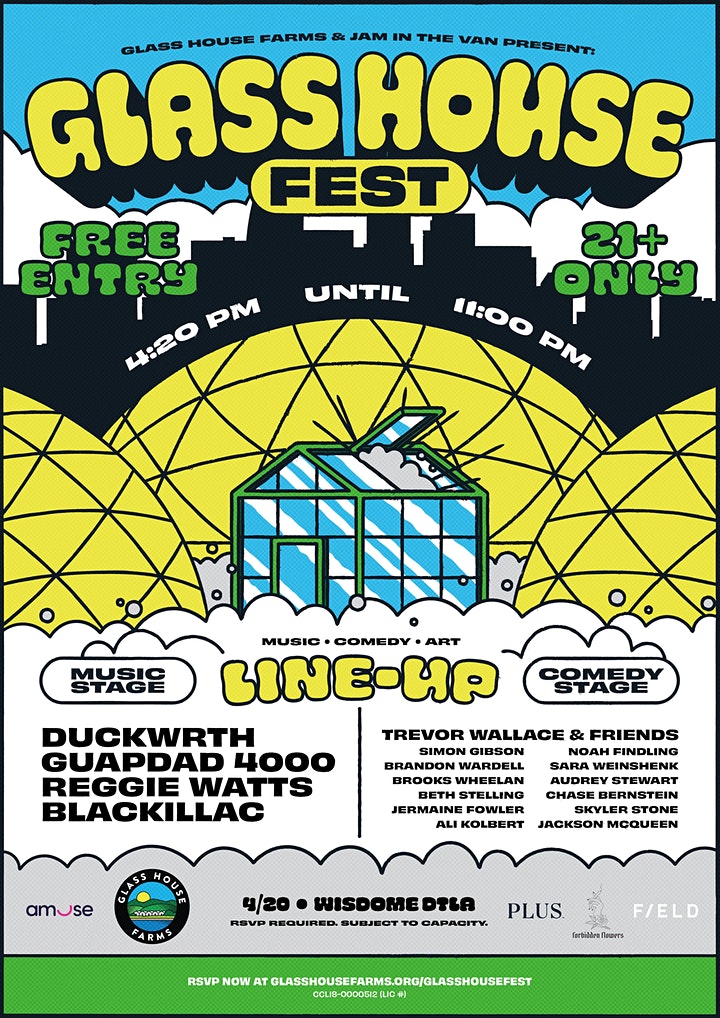 GLASS HOUSE FARMS FEST 2022, Should be a fun time downtown! This place is awesome, the Wizdome LA, Los Angeles, CA
Blunts & Booty '90s Dance Party, The Siren, Morrow Bay, CA
 The 420 Tour: Featuring The Grouch & Eligh; Miners Foundry Cultural Center, Nevada City, CA
 420 Innovators Cocktail Party, 420ioi Global, Newport Beach, CA
 420 Festival, Liberation Park, Oakland, CA
 420 Block Party, Sacramento, CA
 Mike Glazer & HIs Buds 420 Extavaganja, Punch Line, Sacramento, CA
Colorado 4/20 Week Events
As far as concert venues go, Colorado's gem outdoor amphitheater understood the assignment every year when it comes to 4/20! This year they really took advantage of what they call "420 week" in Denver and throughout Colorado. They brought out ALL the Smoke Heavy artists, check it out: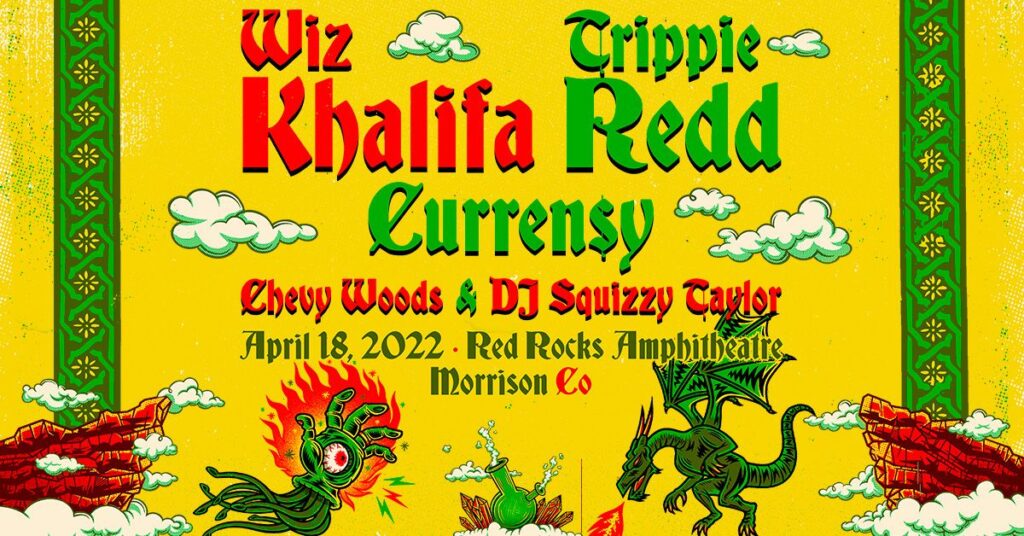 Wiz Khalifa & Trippie Redd and Curren$y, Chevy Woods, DJ Squizzy Taylor at Red Rocks on Monday, 4/18/2022.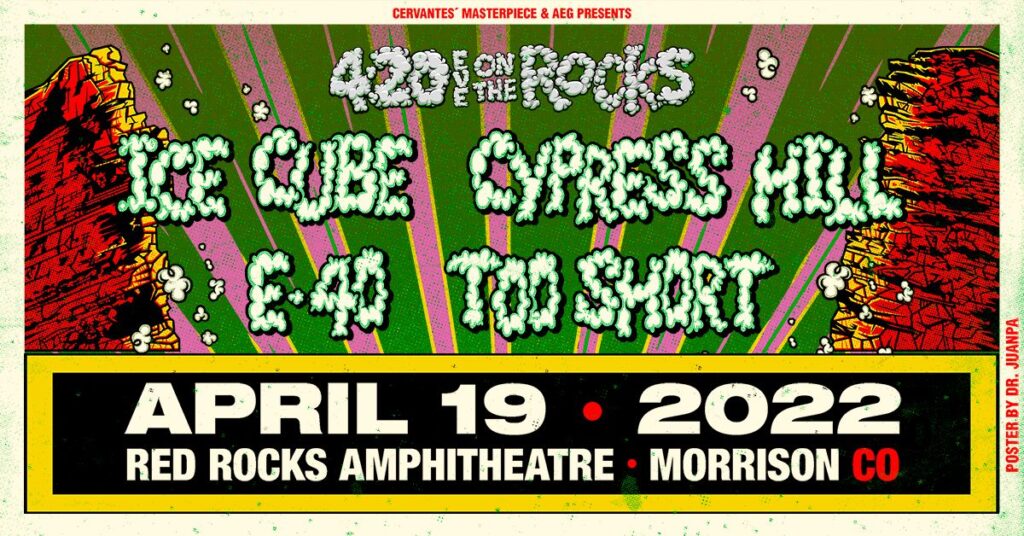 ICE CUBE & CYPRESS HILL live at Red Rocks Amphitheater. Also featuring E-40 and Too Short on Tuesday, April 19th, 2022.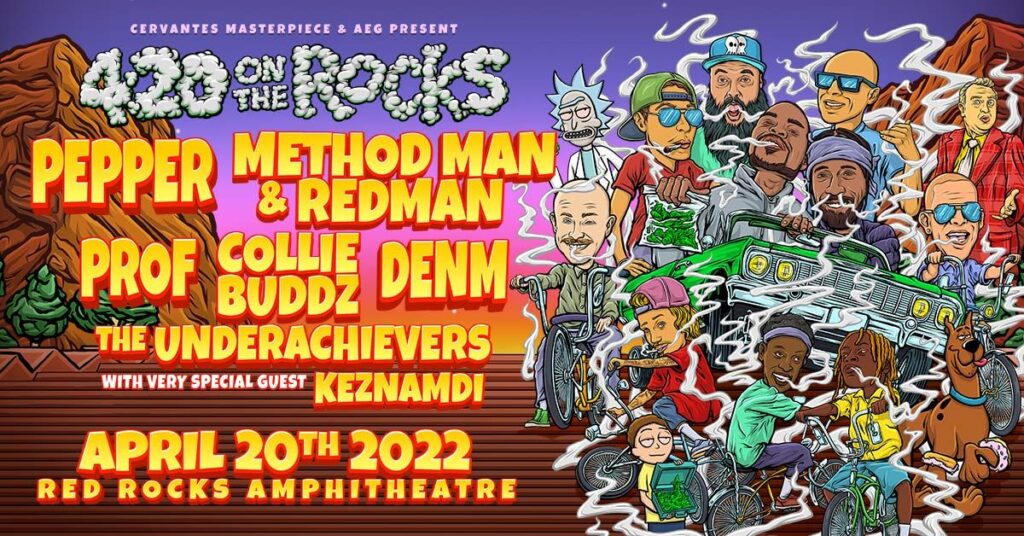 4:20 on the Rocks Featuring Method Man & Redman, Pepper, Collie Buddz and more; Red Rocks Amphitheatre, Morrison, CO
Mile High 420 Festival Experience at the World's Largest 420 Festival in the heart of Denver, right outside the State Capital building on April 20, 2022 at Civic Center Park in Denver, Colorado. Concert featuring Lil Jon, Talib Kweli & Big Boi. There should be plenty of vendors as well on site to explore while serving civil disobedience- smoking Cannabis. This is quite the sight to see and and epic experience to be a part of!
Other notable and fun events going on in Colorado: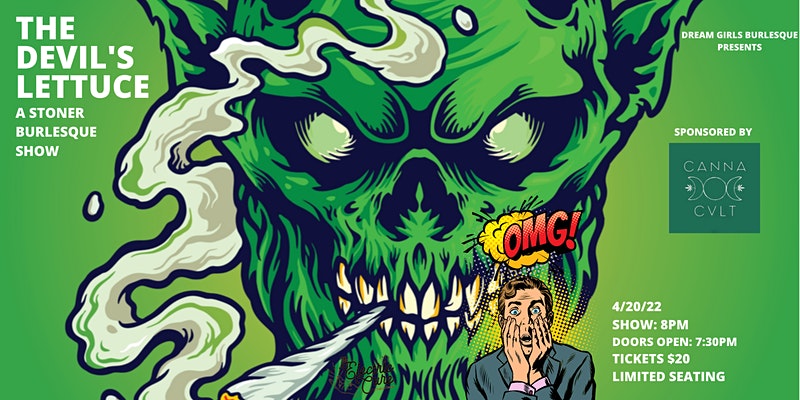 Devil's Lettuce: A Stoner Burlesque Show, The Electric Cure, Edgewater, CO. Sounds like fun!
ExtravaGanjah, Vali Sol Sanctuary, Boulder, CO
 The Savage 420 Comedy Show, Jordinelli's, Brighton, CO
 420 @ RIVER, Denver, CO
 420 Party, Denver, CO
 420 Show: Featuring Chris Webby and special guests at Cervantes' Masterpiece, Denver, CO
 Cannabis & Clay, Denver, CO
 REEFER MADNESS!!! Presented by THE CVLT SLVTS, The Jester's Palace, Denver, CO
 Tokes & Brushstrokes, Denver's best 420-friendly painting event for all level artists and cannabis users (16″x20″ canvas). No other smoke and paint compares! The Coffee Joint, Denver, CO
Florida is a mixed bag of fun this year for 4/20! Check out these music festivals and seshes!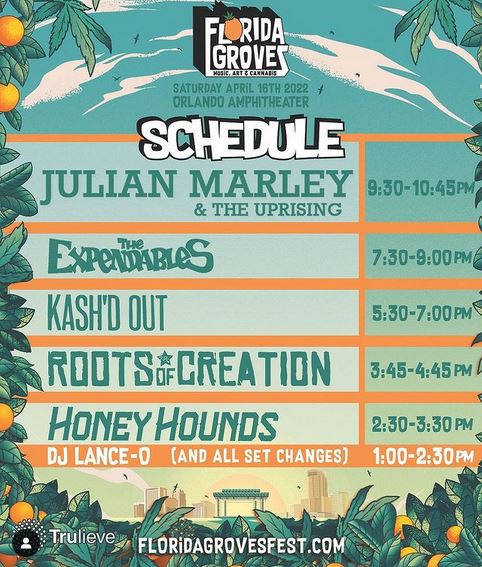 4/16- Florida Grooves, a full fledged Cannabis, Art, and music festival certainly to get your vibes goin!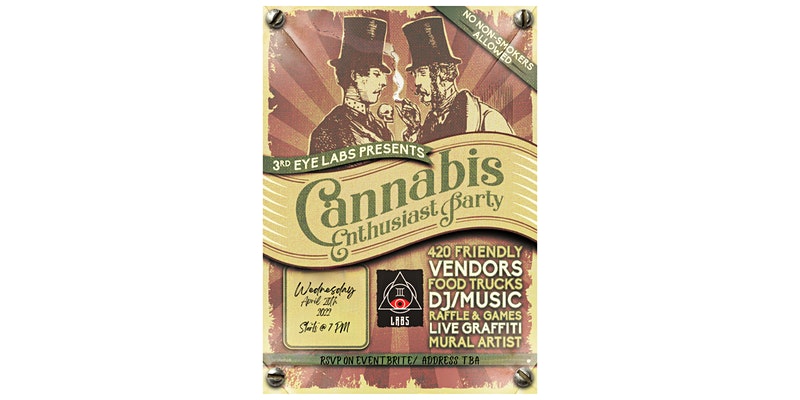 420/Adults Only Party. Join us for A Cannabis Enthusiast Party. Fresh Flower Exhibitions, 420 Games, Raffles, Giveaways, Food, Music and More
 Hemp, Health & 420, Purwell, Boynton Beach, FL
Miami Improv 4/20, Doral, FL
The Bud Bash, Lallos, Lauderhill, FL
420 @ The Joint, Miami, FL
420 Blazed Up Concert, Miami, FL
420 Celebration, Better Days, Miami, FL
420 Fest, Miami, FL
BluntDAO 420, Island Vibes Kava Bar, Miami, FL
International Peter Tosh Day, The Anderson, Miami, FL
4/20-4/21: Benzinga Cannabis Capital Conference, Fountainebleau, Miami Beach, FL
Green Vibes Only, Swirlery, Orlando, FL
420 in Wonderand, Hooch and Hive, Tampa, FL
Michigan is picking up speed in the legal Cannabis space. There are now dispensaries and lounges for consumption that are making their own mark in the industry. Here's a few events happening throughout the state:
420 BBQ & Blues Party, Hawk's Nest, Benton Harbor, MI
420 Outdoor Festival, Detroit, MI
420 Smoke Out, Detroit, MI
Dab Expo, Detroit, MI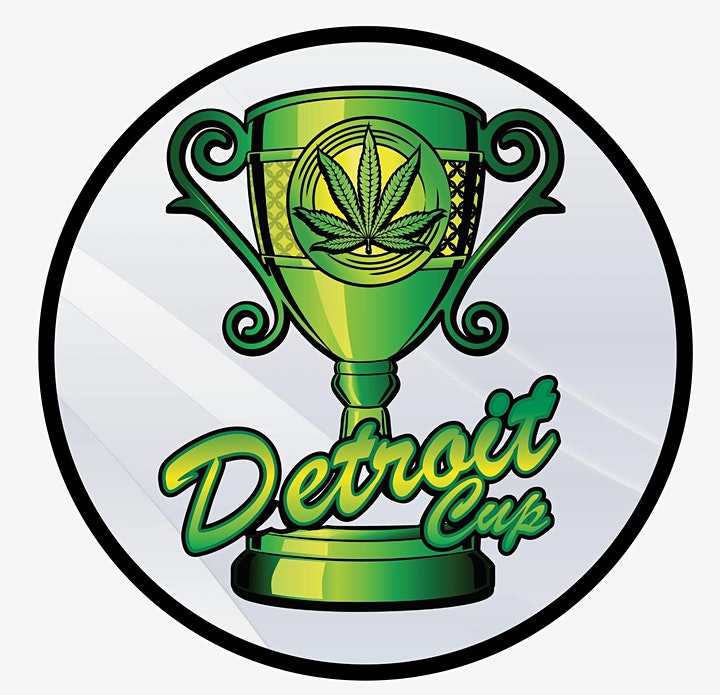 Detroit Cup 2022, Detroit, MI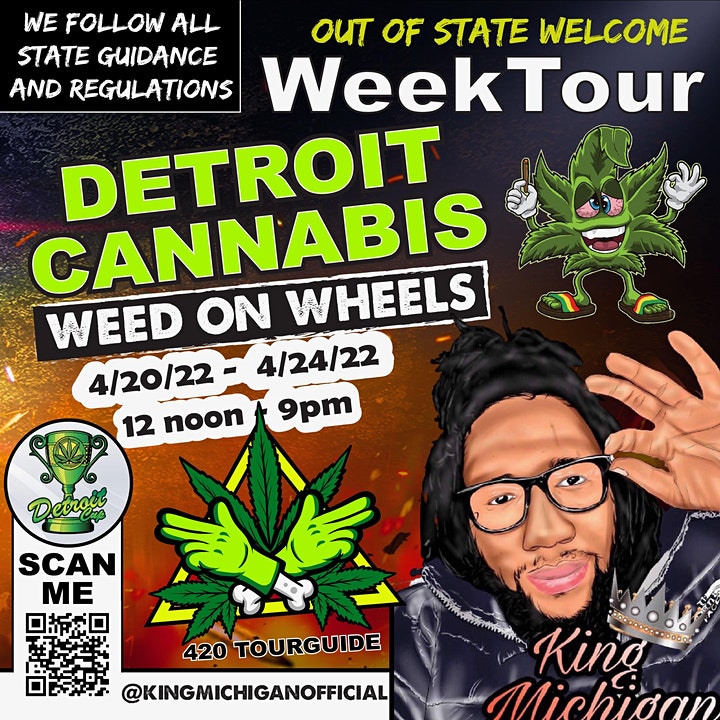 Detroit Cannabis Week Tours 4/20-4/24 Detroit, MI
420 Friendly Sip, Puff, Paint and Karaoke, Grand Rapids, MI
4/20 Seaweed Painting, Kentwood, MI
Trap-n-Paint, Ultimate Craft Studio, Livonia, MI
The 420 Concert Takeover, Crofoot, Pontiac, MI
New York 4/20 Events
New York used to be a fairly scary place to be with Cannabis, but not anymore! They're coming out HARD now that they legalized it in the Empire State. New York City in particular used to have these frisk and search police tactics to find Cannapolitans and punish them with arrest. Those days are over thank the voters of NY for standing up! The laws are so loose right now that it's not illegal to smoke on the streets (just be mindful of where) but still we're loving that! Check out these fun events happening in New York:
420 Smoke Fest, Brooklyn, NY
Baked in Brooklyn's 420 Event, Baked In Bushwick Presents: Our 2nd Annual 420 Event! An evening filled with complimentary gifts, totes and smokes! Wandering Barman, Brooklyn, NY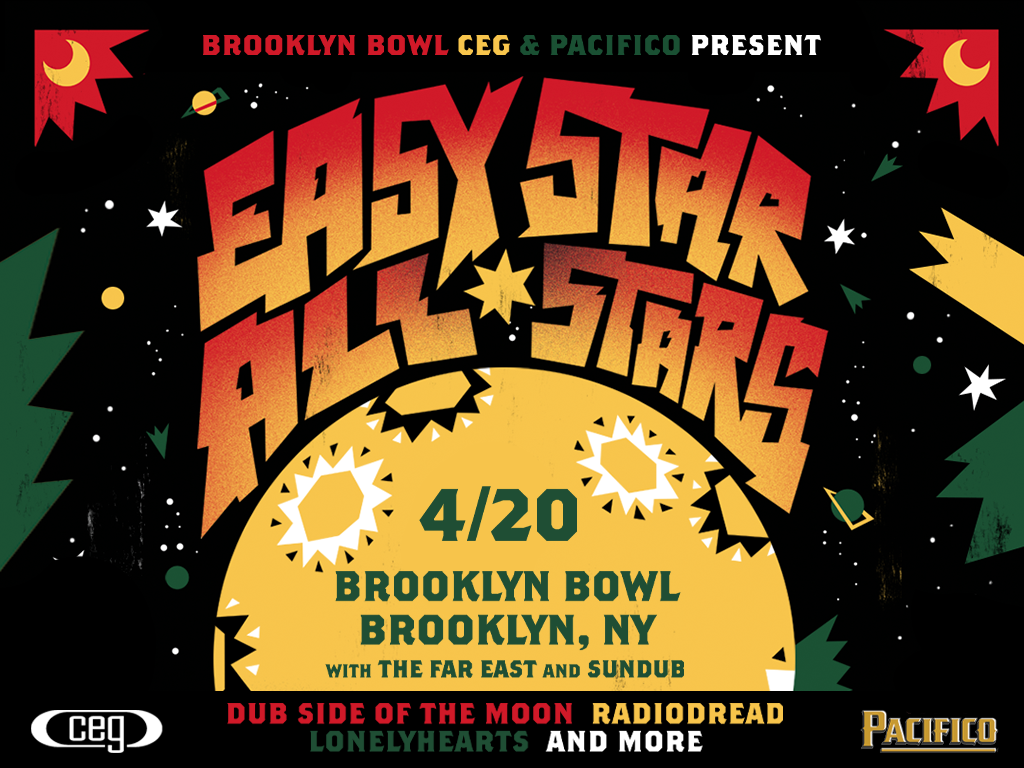 Easy Star All-Stars: The Return of 4/20,  This legendary band should NOT be missed! Their Reggae driven cover albums including their own originals are amazing! Get super high and catch them at the famous Brooklyn Bowl, Brooklyn, NY
Puff & Paint, Brooklyn, NY
The Cannabis Carnival Festival, Brooklyn, NY
420 CannaMarket, Ithaca Hotel, Ithaca, NY
420 at Cafe Wha? Featuring the sounds of Niambi Ra, and Zaven! New York, NY
50th Anniversary Tribute to David Peel's The Pope Smokes Dope, Parkside Lounge, New York, NY
 4/20 Tribute to Bob Marley, Groove, New York, NY
HoneySuckle 420, Club Cumming, New York, NY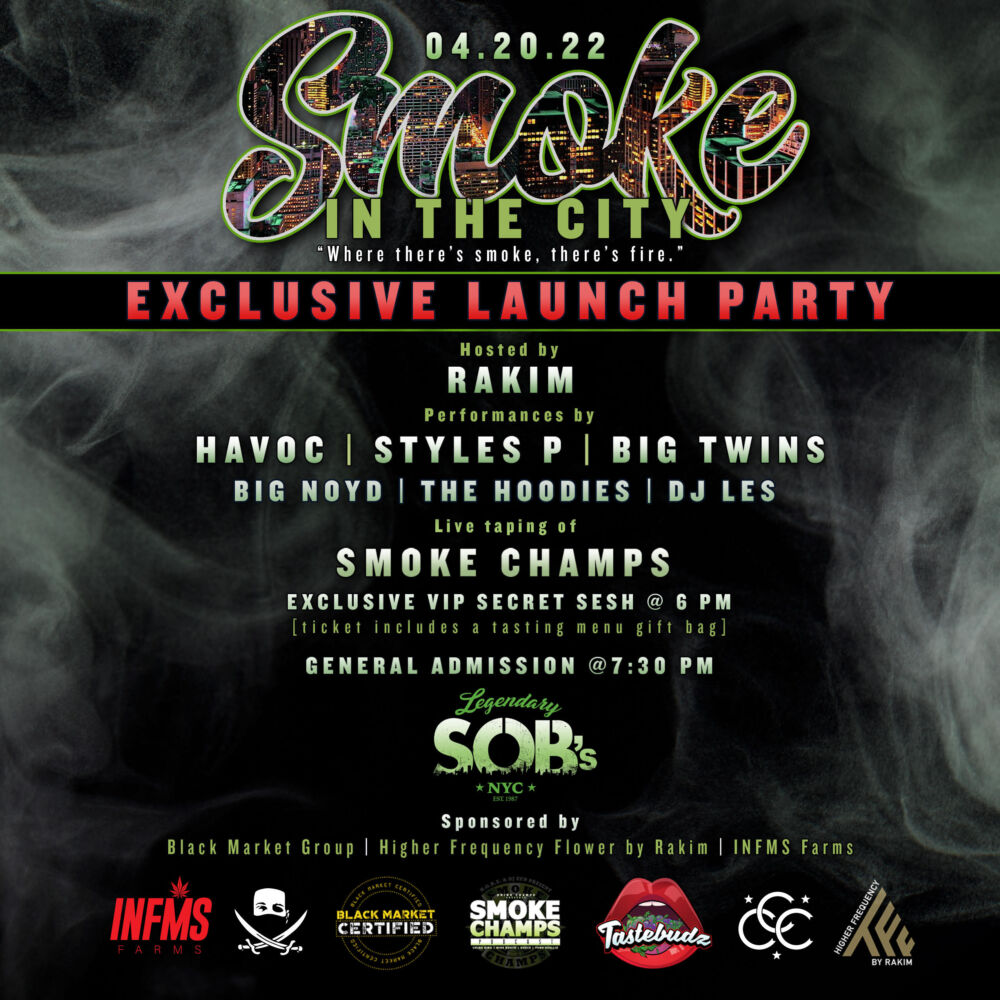 Black Market Certified Launch Party: 4/20 Launch Party Hosted by Rakim, featuring a special VIP taping of Smoke Champs! Performances by Havoc, Styles P, Big Twins, Big Noyd, The Hoodies, & DJ LES.
Sponsored by Black Market Certified, INFMS Farms and Higher Frequency Flower by RakimFeaturing Rakim, Havoc, Styles P and more; SOB's, New York, NY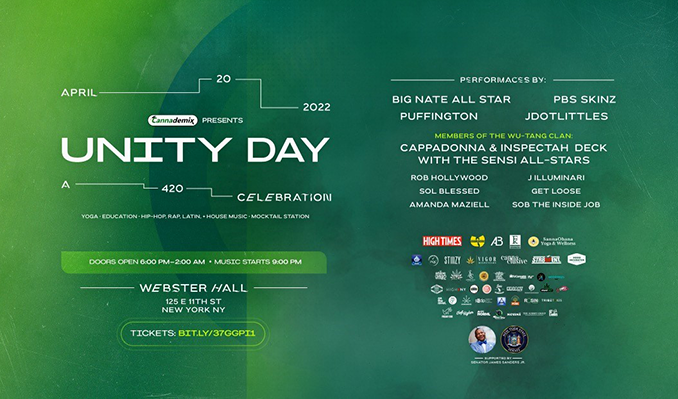 Cannademix Unity Day: Featuring Wutang's Cappadonna and Inspectah Deck. Also: Sensi All-Stars, Big Nate All Star, PBS Skinz, Puffington, Jdotlittles, & More! Webster Hall, New York, NY Ages: 21 & Over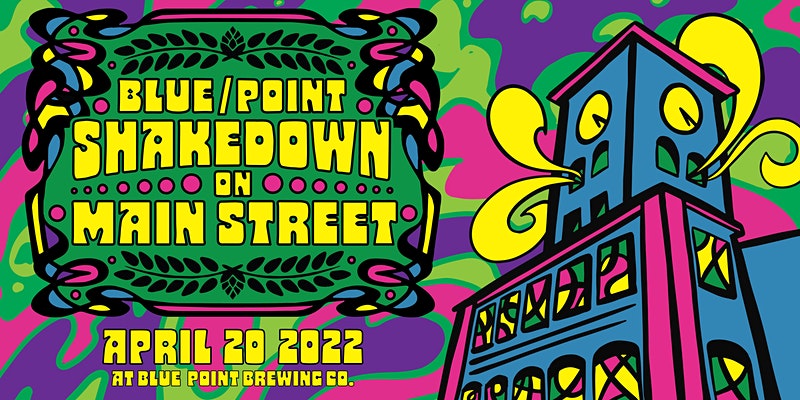 4/20 Shakedown: We're bringing Shakedown on Main Street to a whole new level with a day full of beer, music, terpenes, munchies, vendors, good vibes and grilled cheese. And it's all headlined by legendary funk band, LETTUCE. Bluepoint Brewpub, Patchogue, NY
420 Paint & Puff, The Chill Spot, Queens, NY
Laff Ya Face Off Comedy Fest 4/20 Edition, Casa De Ewu, Queens, NY
NYC 420 Celebration: Featuring the Original Wailers, Makeda Marley, Immortal Technique and more; Amazura Club, Queens, NY
4/20 Music & Arts Festival, Inner Harbor, Syracuse, NY